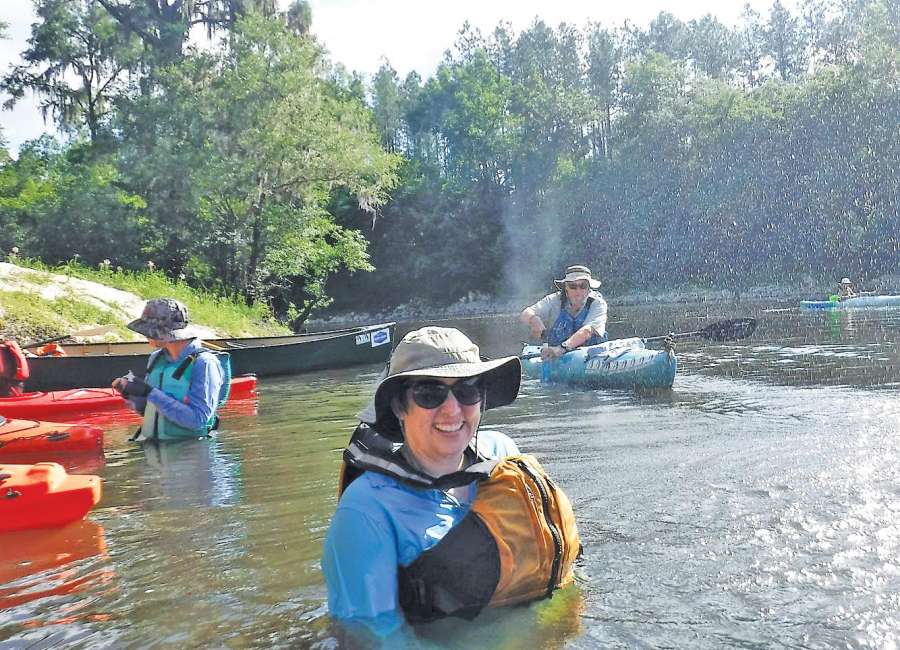 By Brittany Shivers  
Michelle McClendon from Newnan participated in Georgia River Network's (GRN) Paddle Georgia 2019 from June 15-21. 

Paddle Georgia is a seven day, 92-mile river journey that occurs on a different river each June, and this year it took place on the Withlacoochee and Suwanee rivers. 
The event is the largest week-long river camping adventure in Georgia according to GRN's Executive Director, Rena Stricker. This year approximately 350 kayakers and canoers participated from all over the U.S. and Canada. 
This is McClendon's eighth year participating in Paddle Georgia out of the 15 years that it has existed. 
McClendon initially got involved as a Project WET Instructor, a teacher who is involved in instructing water education. 
She was one of the training teachers who received a scholarship to go on her first trip, and this year the Georgia River Network wanted her to come back and teach activities to the kids. 
"I hope to show them that science is something that is exciting, and I hope they develop a love of nature as well," McClendon said.
The kids got to make catapults, straw rockets, rafts and s'mores, according to McClendon. 
Although the event is a fun time for kids, it is also a great opportunity to learn and advocate for river clean-up and protection. 
"Travelers turn into advocates for river protection and stewards for our waterways," Stricker said. 
This proves true in McClendon's case, she speaks about the impact the trip has had on her for the past eight years.  
"To spend seven days out there is just a really unique way to see the world," said McClendon. "You also get to see how humans have an impact on it, and it inspires you to want to help the rivers and protect them."
Paddle Georgia is about helping the rivers and, in turn, helping the environment and the economy.
"We're working to develop more water trails as rural economic development increases the outdoor recreation economy across Georgia," Stricker said. 
On top of its environmental friendliness, Paddle Georgia is a place for people to come together and see nature they wouldn't be able to otherwise. 
"The greatest part of this years trip is that we went past a lot of Blue Hole Springs and the water was a bit colder," said McClendon. "It was great to get out and swim and people were snorkeling too."
Having a community of friends is one of the main factors that has kept McClendon returning to Paddle Georgia each year.
"There are people that I have met at my first Paddle Georgia, and we just get together every year. Some people even paddle together on other trips," said McClendon. "We look out for each other, and we've shared highs and lows."
Paddle Georgia's environmental purpose is inspiring to the many individuals that participate, and many friends come back each year to experience new rivers. The one-week journey is an amazing opportunity for the adventure-seeker and the nature-lover alike.