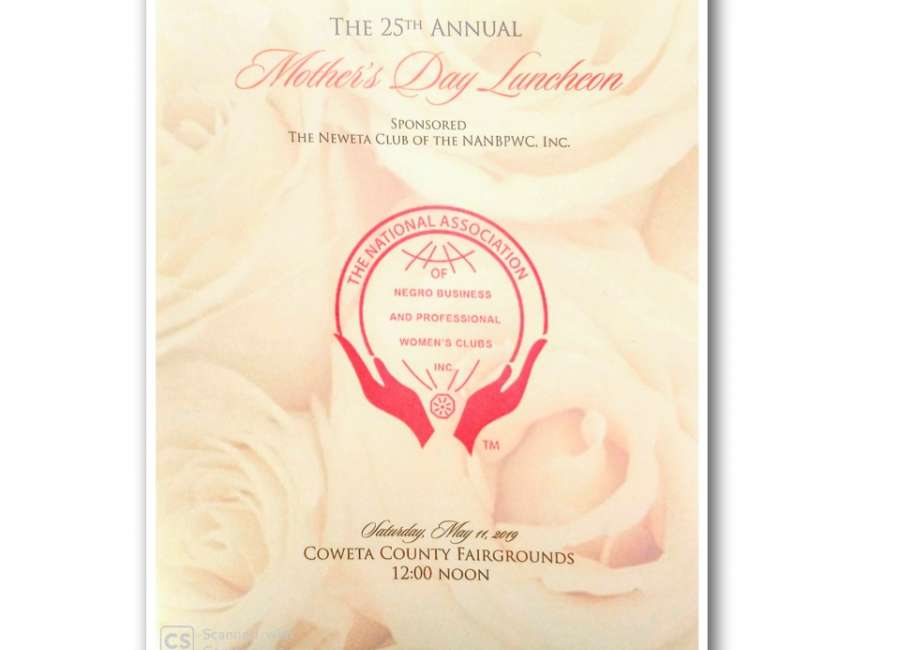 The Neweta Club of the National Association of Negro Business and Professional Women's Clubs Inc. recently held its 25th annual Mother's Day Luncheon, but instead of choosing a new honorary, all past honorees were recognized.

Of the thirteen honorees who are living, seven were in attendance. They were:
– Annie L. Hill, 2001
– Alice Malcolm, 2004
– Andrea Stephens Austin, 2008
– Tammy Render, 2011
– Min. Sara Brooks, 2015
– Geraldine Whately, 2016
– Margaret Thompson, 2017
The luncheon was held at the Coweta County Fairgrounds on Pine Road in Newnan. As documented by past president Brenda Martin, Linette Ward, former Neweta Club member, came up with the idea of hosting a Mother's Day Celebration to give back to the community.
Ward envisioned honoring a special mother each year as nominated and approved by the club members. Honorees would have to meet established criteria. According to the club, the local mother of the year must exhibit unique and noteworthy contributions to family, friends and community.
"We have been proud to sponsor the annual observance, and it has involved into one of our major community programming activities," Cathy Moses, club president said.
The first Mother's Day Luncheon was held in 1995, according to the Neweta Club, and the club has never missed a celebration year, with the exception of 2012.
Moses said the luncheon is a "fun-filled fellowship."
The luncheon typically is planned with an exhibit of fashions, vendors to shop for last-minute Mother's Day gifts and door prizes donated by Neweta members.
To commemorate the longevity of the luncheon, the 20th anniversary celebration also honored past honorees.
The Neweta Club is a nonprofit organization that focuses on service to the community and the youth.
Past honorees note present at this year's celebration include:
– Gertie L. Perdue, 1995
– Marth Lou Smith, 1996
– Mildren Arnold Mitchell, 1997
– Fannie M. McRae, 1998
– Linette C. Ward, 1999
– Ola Kate Womack Pace, 2000
– Marion Rouse, 2002
– Gertrude Nall Smith, 2003
– Jeanette Clark Brown, 2004
– Pearl Ann Jones, 2005
– Grace Mae Green-Mitchell, 2006
– Lejuana "Lady" Grooms, 2007
– Myschica S. Martin, 2009
– Olivia Hill Penson, 2010
– Emily Russell, 2013
– Wilma Yvette Simmons, 2018