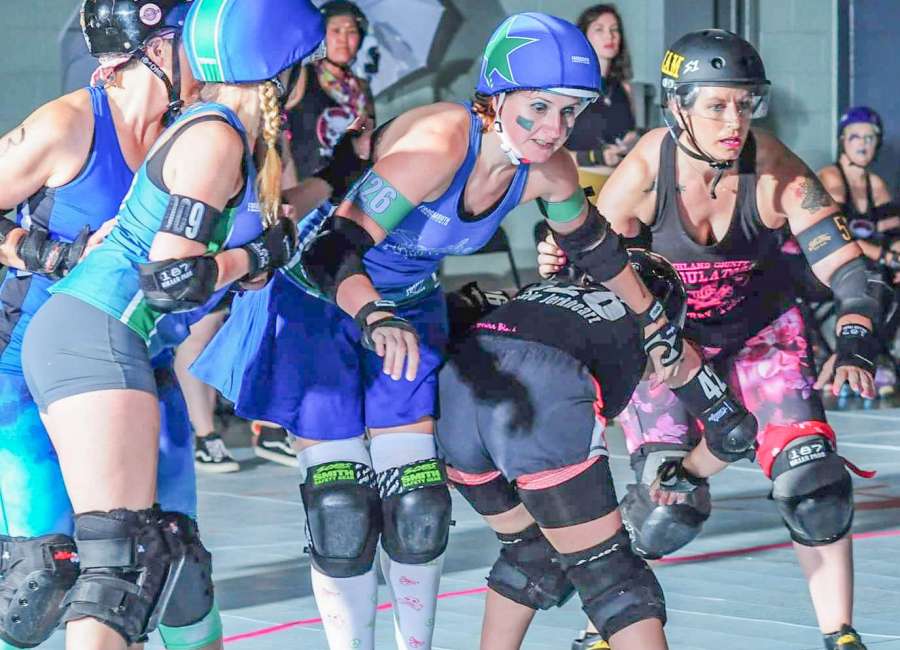 By BRITTANY SHIVERS - brittany@newnan.com
The Southern Harm Derby Dames are right in the heat of their 3rd full roller derby season as a team.
The Dames have had a rough start this season with a few bout losses, however, they still have a chance at redemption with the three derby bouts that are left. 
Each roller derby bout consists of two 30-minute halves, and the halves are broken into jams. Jams can be a maximum of two minutes. 
Throughout the bout, each team sends four blockers and one jammer. 
The blockers' job is to block the opposing team's jammer, while also helping their jammer get out of the pack. 
After the jammer gets out of the pack on her initial pass, she can score points for her team for each opposing blocker that she passes.
Since roller derby is a sport where skaters must heavily rely on their teammates, it only makes sense that the Derby Dames are as close as they are. Susan Hone D'Agostino, aka Sue-Nomi, has been a part of the Dames for just over 3 years and has made some close friends.  
"My favorite part of the sport is being able to skate and spend time with a group of incredible women who I not only call teammates but also my family/friends," said D'Agostino. 
D'Agostino was extremely excited for the first bout of the 2019 derby season because it was the first time she was able to skate after she suffered a broken leg injury in July of 2018.
Becky Rosenberg, aka Blitz, has been a part of the Dames for four years and says that this season has been somewhat of a change.
"This season is a little different from last season because we have had a lot of teammates move and a lot of new girls going through freshmeat and are new to the team," said Rosenberg. "We have been working on a lot of new strategies which is fun, always love learning something new."
Freshmeat is the term for the newest additions to the Southern Harm Derby Dames. The team holds boot camps twice a year that help new members learn skating basics. 
Both men and women 18 and older can go to these camps to learn to skate better. The next camp starts in August. However, only women are allowed to be on the team as it is a women's roller derby team. 
To make the team, women must move on to the derby skills camp. After completing the camp, skaters must pass a minimum skills test to compete with neighboring leagues and roster for the team.
Sarah Lees, Assistant General Manager for the Dames and a Coweta County Resident, is known as TinkRebel on the derby track. Lees says the team was created for women to try something different.
"We were created to give adults identifying as women a chance to learn something new, push their bodies in a physical way, meet other women and have fun," said Lees.
The Southern Harm Derby Dames will be back in action on July 27 at 7 p.m. in Knoxville, Tenn.