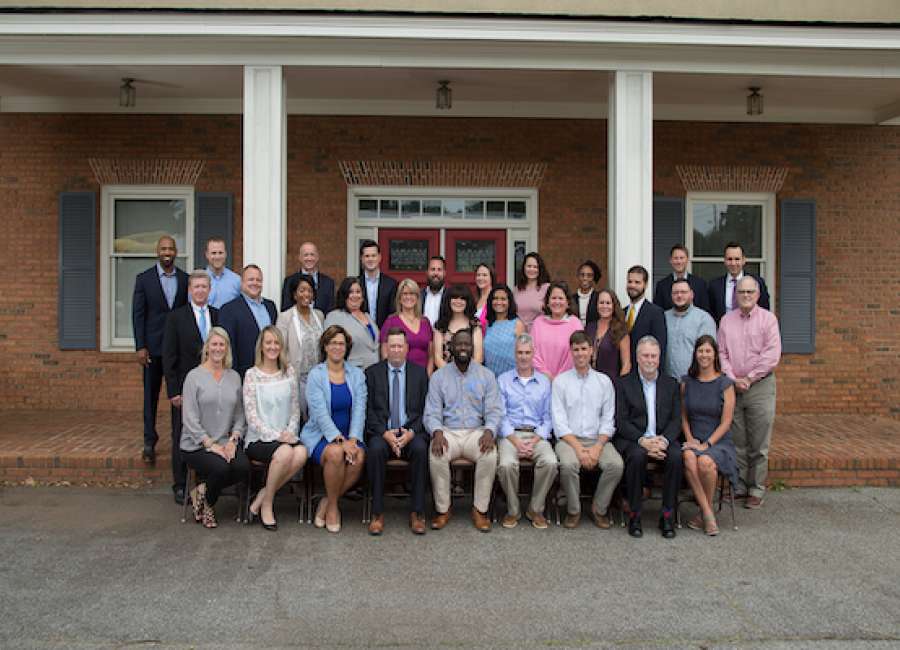 Leadership Coweta, a leadership program created by the Newnan-Coweta Chamber of Commerce, celebrated the 28 Coweta professionals who completed the program at Lillian Gardens on June 11.
Each graduate was recognized for their completion of the program, and they presented their class project.
This year, the group added an herb garden at Ruth Hill Elementary and taught the students how to draft a business plan, according to Susan Kraut, director of strategy and communications for the Chamber of Commerce.
The students also worked with Keep Newnan Beautiful to construct planters found around the square, according to Kraut.
"The Leadership Coweta Alliance fosters a sense of place for graduates who effectively leverage community resources and connections to the benefit of personal and professional growth," according to a press release.
Lynn Smith started the program in 1995 when she was president of the Chamber of Commerce. After attending Leadership Georgia, she realized that Coweta was not growing our own local leaders, according to Chamber of Commerce Vice-President, Cynthia Bennett.
The class provides participants with a better understanding of how the community works, an opportunity to build relationships with local leaders and demonstrates how to use talents to serve the community.
"I lived in Newnan for 25 years and had no clue what Newnan was about until I took that class," said participant Michelle Bright. "It was awesome."
Students take part in the program for 11 months, meeting one Tuesday a month to learn about business, industry and non-profit work in Coweta County, according to Kraut.
"Leadership Coweta was a unique experience allowing me to learn how our government, business and educational leaders work together for the greater good of our community," said participant Beth Headley.
The 2019-2020 Leadership Coweta Alliance Alumni are, JJ Thomason, 75 Jackson Properties; Jeff Treadwell, Buffalo Rock Company; Justin Austin, Cancer Treatment Centers of America; Hal Brodnax, Cancer Treatment Centers of America; Amanda Camp, Coweta CASA, Inc.; Trae Westmoreland, Coweta County Development Authority; Kristina Hajzak, Fidelity Bank; Jason Walton, Foundation Christian Church; Anissa Patton, Fulton County Office of the Child attorney; Matthew Markham, Georgia Dept. of Economic Development; Jay Rice, Georgia Pain and Spine Care; Jem Morris, Georgia Power Company; Harlan Hammack, IB4E Coaching; Betsy Burnette, Newnan Utilities; Jennifer Garcia, Newnan-Coweta Chamber; LeCorey Johnson, NuLink; Michelle Bright, Paramount Hospitality; Renee Horton, Renee Horton Agency, LLC; Andrew Copeland, Ritchie Bros.; Dub Pearman, Senoia City Councilman, Post 2; Jim Ivey, Streams Group; Latha Ravi, The Flying Locksmiths - South; Kim Melhouse, Tiernan and Patrylo; Scott Berta, Tree Protection Supply; Beth Headley, United Bank; Volita Biscoe-Almon, West Georgia Technical College; Monica Yeoman, West Georgia Technical College; Amanda Fields, Coweta County Development Authority; Joe Crain, III, Crain Oil Company.
The 2019-2020 co-chairs Amanda Fields and Joe Crain III passed the leadership of the Alliance on to Scott Berta and Kaela James.
Registration for the next Alliance session will begin in 2020, with classes beginning in the fall of 2020. The registration process to join the program includes an application and interviews with the co-chairs of the program, according to Kraut.