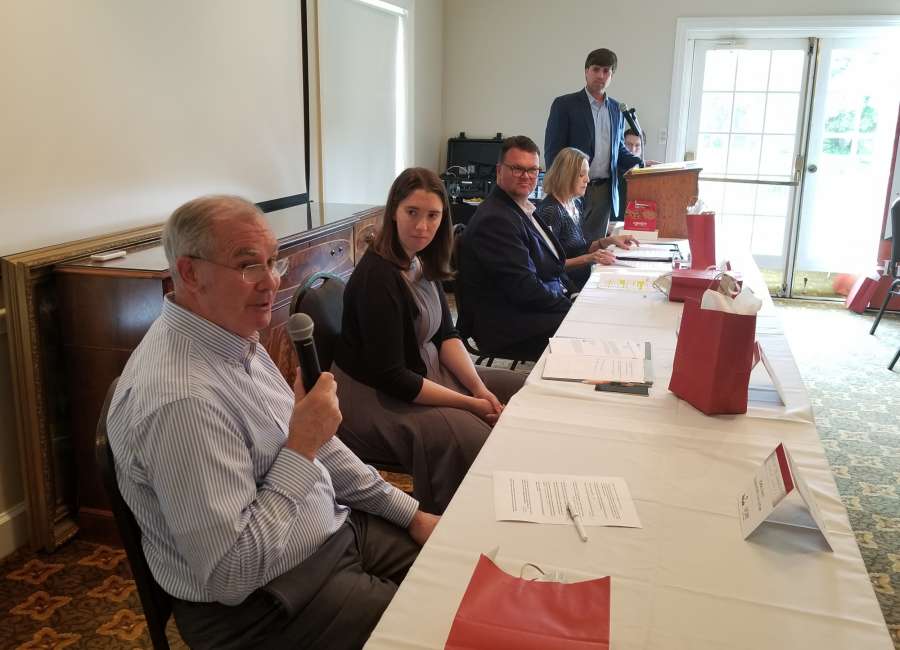 Editor's note: This story has been edited to correct an error in the name of the law authorizing the TSPLOST.
The proposed TSPLOST is the answer to Coweta's transportation woes.
That was the consensus from the Newnan-Coweta Chamber of Commerce's second State of Community program. The meeting – with transportation as its topic – was held Wednesday at Newnan Country Club.
The TSPLOST – Transportation Special Purpose Local Option Sales Tax – was first proposed in 2013 in Georgia as part of the Transportation Investment Act.
The TSPLOST proposal for the region including Coweta failed, but TSPLOST votes passed in four regions in south and central Georgia. Alicia Rainwater, a Coweta resident who retired from the Georgia Department of Transportation in 2016, said those four regions have been able to tackle major projects because of the funds from the transportation tax.
Rainwater ticked off what the regions have gotten since the passage of the tax:
•Southern Georgia Region had projected revenues of $400 million and has already allocated around $300 million. The region has 151 projects.
"One of their largest was a $43.2 million widening of State Route 17," Rainwater said. The widened road created better mobility for workers and helped create economic development.
•River Valley Region also had projected revenues of $400 million and has allocated about $300 million. "They've got 23 major projects," Rainwater said.
•Central Savannah River Region identified 84 projects worth $700 million. Some $400 million has been allocated so far.
•Heart of Georgia/Altamaha Region anticipated $366 million in projects and has allocated $185 million. That region had 764 projects – many of them smaller than in the other regions.
Still, they have also funded a major project, a connector between Interstate 75 and Interstate 16 in Macon.
Through the TIA, the four regions have completed 486 projects, Rainwater said, and another 38 are under construction now.
Rainwater said the projects in the first set identified for the four regions came in $21.1 million under the original estimate of $301.7 million. Also, the TSPLOST made it possible for $204 million to be returned to local communities for them to spend on discretionary transportation projects.
"They have done so well," Rainwater said. "We didn't pass it here, or we would be in that mix and would have that kind of money for our transportation projects." She said the regions are all poised to renew the TSPLOST when that time comes.
TSPLOST seen as vital
A TSPLOST can be particularly helpful for large transportation projects. Rainwater said a TSLPOST is also a good way for local governments to find matching dollars for state projects, which often require a local match.
Michael Fouts, Coweta County administrator since 2013, said the TSPLOST is vital for major road projects locally.
"We do not include any road maintenance money in the general budget," Fouts said.
The current SPLOST includes $89 million for transportation projects. "That's still not enough," Fouts said.
He said the SPLOST money earmarked for education must be spent for that purpose, regardless of the TSPLOST vote.
Fouts said the county has 947 miles of roads in the unincorporated area and 40 miles within cities, plus some gravel roads. That does not include state highway miles.
He also said 23 percent of the county's paved roads – 216 miles – currently need maintenance. To resurface one mile of road costs an average of $290,000, Fouts said.
Population growth is impacting roads. "We've seen a tremendous growth since the late 1980s, early 1990s," Fouts said, about 2 percent per year.
The county – which had about 40,000 residents in 1980, has 146,864 now – and is expected to grow to some 240,000 residents by 2040.
Regional requirement gone
The initial TIA allowed for TSPLOST votes only by region. In 2015, the legislature voted to allow counties to have individual TSPLOST votes. The proposed Coweta TSPLOST vote is set for Nov. 6.
If approved the TSPLOST, which would add one cent of tax on each dollar spent, is expected to raise $25 million per year over the five years of the tax. Incoming funds would be spent as agreed upon by the county and Coweta's municipalities, on the basis of population.
If the voters approve TSPLOST, collection of the tax would begin in April.
Scott Berta moderated a panel during the chamber's meeting at the country club. On the panel were Rainwater; Parks Avery, Friends of LINC, Avery and Pope; Pavielle Ludlow, Three Rivers Regional Commission; and Michael Robertson, Piedmont Newnan Hospital.
Ludlow who works with transportation planning for 16 counties, said "maintaining an open conversation" is a key to solving big transportation issues. "I want to give you tremendous kudos for what you are doing," she said.
"We have bottlenecks that need to be solved," Avery said. He said transportation projects are expensive and take a long time to accomplish. For those reasons, transportation projects must be planned thoroughly and executed well.
"We've got to have safe roads," Robertson said. He said traffic signals are needed at several locations.
Rainwater said road improvements, traffic signals and bridges over bottlenecks, such as on Herring Road, are needed. "If we're going to have this many people moving into Coweta County, we need to have the roads to carry them," Rainwater said.
Fouts and Rainwater talked about the significant part of TSPLOST that will be paid by people who are not Coweta residents.
Rainwater said the county is becoming a transportation center with people from a wide area coming to shop or do business – or simply to stop while traveling. "Those people are going to stop at Walmart and go into the convenience store at RaceTrak," she said.
Fouts cited a report from a major local retailer that showed 40 percent of sales came from outside the county. "I would argue that during peak times, like holidays, it's even higher," he said.
"That penny is going to give us help. Forty percent of our taxes are going to come from other people," Rainwater said.
Ludlow said even people who feel their own transportation needs are being met may have reasons to support the SPLOST vote. "You have to think about your overall community and what it means to other community members," she said.