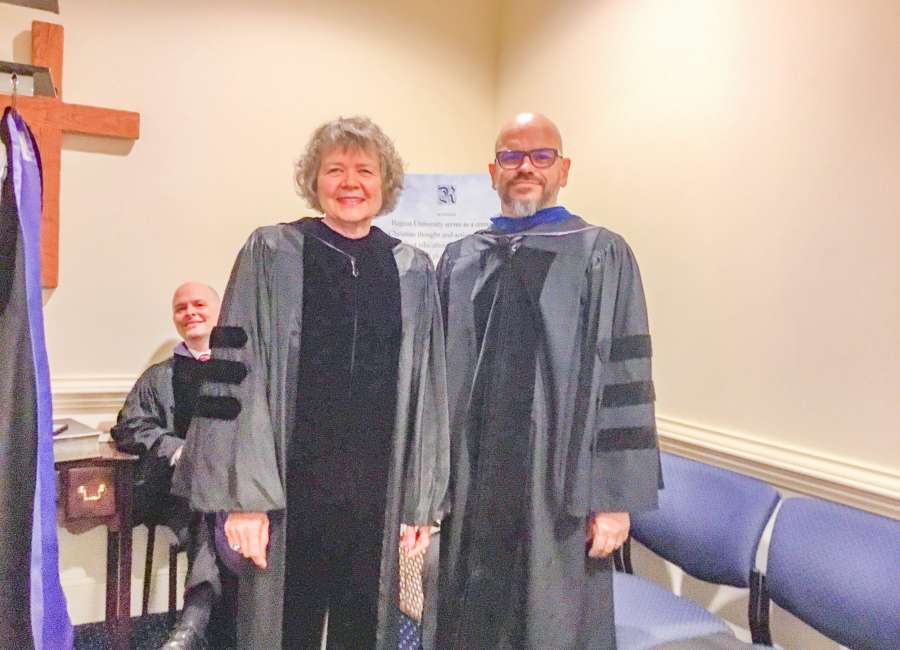 "You were birthed to change the world."
That was the essential message Coweta resident Linda Jennings gave to graduates of Regent University's School of Divinity in Virginia Beach, Va. Jennings addressed an auditorium of about 2,000 people including 191 graduates of the divinity program – from bachelors through PhD.
Jennings is a pastor and writer. She and her husband, Tom, have turned their attention to sharing the gospel through media. The Christian comedy-drama, "Nut'n But The Truth," is their latest project.
"Nut'n But The Truth" has been picked up by Life! Christian Broadcasting Network.
Jennings represented the school's alumni – going back to 1978 – at graduation. Dr. Corne Bekker, dean of the school, introduced her as having the most unique way of using television media to minister the gospel.
Jennings describes herself as "old school," but she said it is clear that technology must be harnessed to share the Christian message.
"We've got to stop graduating divinity students who don't understand media," she said.
In the fall of 2019, the Regent School of Divinity will introduce its cutting edge cyber theology curriculum. The program will begin with two classes.
Linda and Tom Jennings will be introducing Christ-centered scripted entertainment as a part of that curriculum.
"We've met with the dean four times and the assistant dean three times" in preparation for the launching of the cyber theology program, she said.
"We are beyond excited," Tom Jennings said. "It is our goal to be a part of raising up the
generations behind us to do what we do but to do it better."
"At the end of our days, we want to know that we've helped raise up an army of saints who will use media – in a storytelling format – to preach the gospel to the world through television and the internet," Linda Jennings added.
Linda Jennings graduated from Regent with a master of arts in biblical studies in 1991 and then went on to earn a master of divinity degree in 1993.
She said she was surprised and thrilled to be asked to speak to this year's graduates. "They just called and said, 'you've been chosen,'" she said.
Jennings said she told the graduates that their goal should be to change the world and to understand that – working within the will of God – nothing is impossible. She also said she shared that the graduates should "know that you know that you know that you have the favor of God."