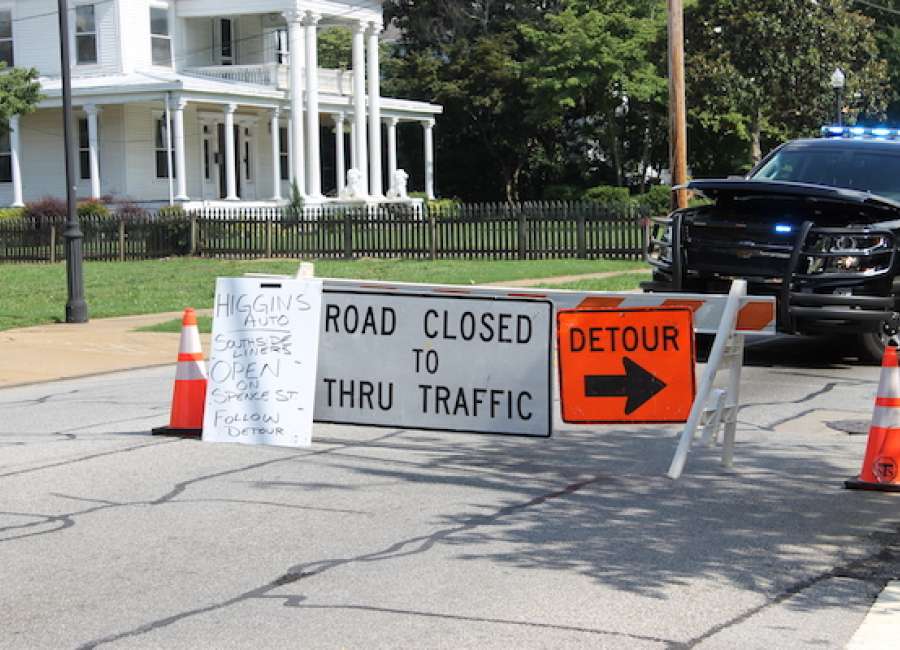 It's no secret that Newnan has become a bit of a "mini Hollywood," and while some business owners downtown have been happy with the filming, the latest production being shot on Greenville Street has other business owners upset.
Random Productions LLC has been filming an HBO series, "Lovecraft Country," on Greenville Street for the past week. They received approved road closure between Spence Avenue and Nimmons Street from June 10 to June 12 and June 17 to June 22, according to a notice from the company given to business owners.
Emory Bray owns the Greenville Street Discount Store and Newnan Plaza Pawn Shop that are directly inside the road closure. He said he doesn't feel like the production company is working well with the small businesses affected by the filming.
The production company came into Bray's store and told him it wouldn't affect his business, but he said it has. He estimates while the company has been filming, profit at his pawn shop is down two-thirds and the discount store has been suffering, as well.
Bray said the movie company does not think they should have to offer him financial compensation, because his business could remain open during filming. In other cases of filming downtown, businesses have been compensated for the disruption while remaining open.  
"Unless the movie companies take care of the local businesses, then they shouldn't be allowed to shut down the highway," he said.
When The Times-Herald contacted the location manager/scout for Random Productions LLC for a comment on the situation, they did not reply.
Other business owners, such as Max Kitchens from Kitchens Automotive and Kim Duncan from Binion Tire Pros, have expressed their concerns as well, although their businesses are not located inside the road closure.
"They don't care about killing the businesses at all," Kitchens said.
"In the past, it has been an inconvenience that we have lived with, but this time the closures have been a burden for customers," Duncan said.
Duncan also said a representative of a production company came in and told him that the filming wouldn't affect his business. Customers trying to reach stores inside the closure, however, have been taking up his parking spaces.  
He said he is glad that Newnan is a nice city that companies want to use for filming, but that this round of closures is hurting them.
Duncan and Kitchens attended the June 18 city council meeting and signed in to make a public comment at the end of the meeting, but Mayor Keith Brady closed the meeting before they could speak.
Brady said it was an accident that he closed the meeting early and said, "I missed that on the agenda. It's totally my fault."
Assistant City Manager Hasco Craver said the production company had all the necessary permits and met the city's guidelines for road closures and filming.
"It's a partnership like everything. In a community there are layers," Craver said. "It's a layering of all of those projects like filming, downtown development and economic development that makes Newnan a special place."
Craver said that each time filming comes to Newnan, city officials learn a little more about how to make it work better. He also said that the city is always open to comments and concerns about the filming.