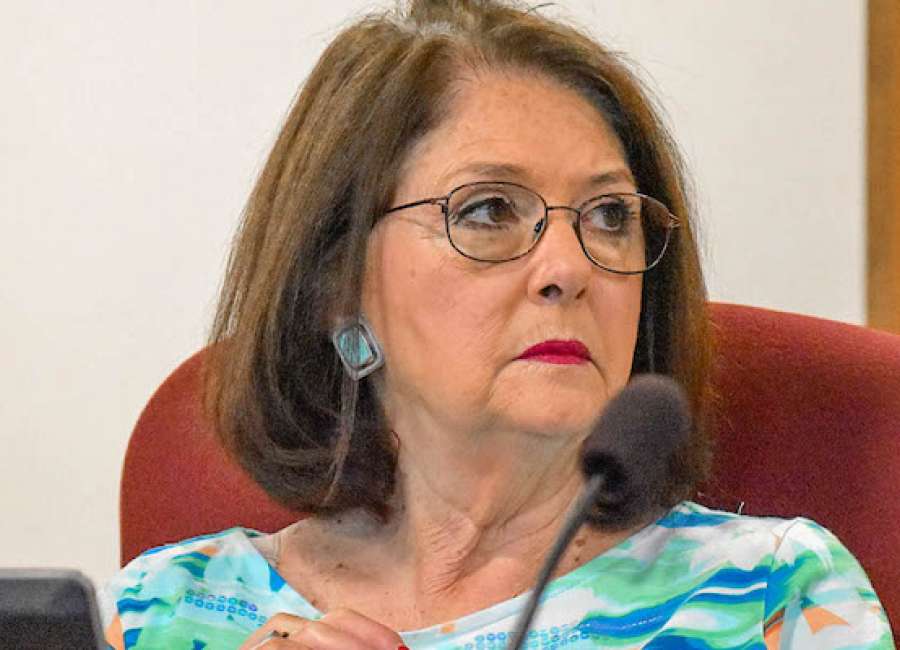 Linda Menk's emails reveal she secretly worked with a turf company representative and a TV news reporter to open an FBI investigation into her fellow Coweta County school board members.

"The public does not need to know that the FBI is involved with a preliminary investigation," District 4 representative Linda Menk wrote in a May 25, 2018, email to Scott Powers. "This needs to be a major surprise to all the culprits."
Powers, marketing director for Sports Turf, had provided Menk with unfavorable information about a rival company's products prior to the school board's April 2018 vote to select a contractor to install synthetic turf at the school system's three high school stadiums.
 
Menk's emails related to her position as an elected member of the Coweta County Board of Education – including those connected to the turf project – were subject to the Open Records Act.
In the May 25 email, Menk urged Powers not to mention the FBI to Hank Ashmore – whom she called "one of my dearest friends" – because Ashmore could not be trusted to keep the information quiet, according to documents obtained by The Times-Herald via the Open Records Act.
Ashmore later sent a letter in August 2018 threatening to sue board members and school system staff over alleged criminal acts he said they committed during the bid process for the stadium improvement project.
An independent investigation into Ashmore's allegations – which cleared school officials – revealed his claims were based partly on information provided to him by Menk, who as early as her May 25 exchange with Powers had expressed her reluctance to continue sharing information with Ashmore.
"There's FACTUAL information versus assumptions – what we 'think' versus what we can prove are two different matters," Menk wrote to Powers. "The conversations being shared with Hank are getting a little out of control relative to 'sharing.'"
Menk admitted to Powers she had Ashmore edited out of a video taken at a public gathering because he had shared inaccurate information.
"At an event last week, he started (sic) in front of a room full of people that Coweta paid $1.5M per field after we've already determined that we cannot prove the $1.5M," Menk wrote of Ashmore. "He put me on the spot in public with that statement. The videographer cut that piece out before it was released, thank heavens."
TV reporter gets involved 
Atlanta TV reporter Dale Russell – who featured Menk in a May 21, 2018, investigative report about the Coweta County School System's installation of synthetic turf on high school athletic fields – was her connection to the FBI, Menk told Powers.
"Dale Russell knows the agent – he's worked with her in the past," Menk wrote. "She's very smart and good at this game. And Dale's uncovered more info that's going to help all of us. He called me today and I'll share with you when you have a moment to chat."
The Times-Herald has confirmed that the FBI made contact with at least one board member. 
On Oct. 3, 2018, a board member was interviewed at home by two agents from the Atlanta field office, one of whom Menk had mentioned by name in a May 28 email to Russell and his producer, Mindy Larcom – with Powers CC'd.
In that email, Menk urged Russell and Larcom to "close ranks" and focus on supporting the FBI agent's investigation.
"(The agent) needs to (sic) blanks filled in from the 4 of us – and possibly any of the other vendors/school systems who might be able to help," Menk wrote. "We just point her supportive directions to assist her – and, fill in the blanks."
Kevin Rowson, public affairs specialist for the FBI's Atlanta field office, said the agency does not comment on active investigations.
'Do not return his calls'
Menk asked Russell and Larcom to cut off communication with Ashmore.
"Do not return his calls, please," she wrote. "The other side does not need to know who is involved with this...As dear as Hank has been as a friend for many years, he's out of control with his mouth. He means well but he's not helping because he's spilling all the beans for us. Close ranks."
The emails bear out statements made by investigators Bob Wilson and Keri Ware in their report, in which they write: "(Menk) feared that (Ashmore) might disclose to the public that the FBI was conducting a preliminary investigation, based in part on information she had provided to them."
Also in the May 28 email, Menk told Russell and Larcom she had thrown "the people involved with supporting the turf project" off-balance.
"They're making a LOT of mistakes," she wrote. "Give people enough rope and they'll usually (hang) themselves appears to applicable here."
••••••
How we got this story
For our ongoing investigative series focusing on the Coweta County Board of Education, The Newnan Times-Herald's sources have been almost exclusively in the public domain.
In addition to elected officials' social media posts, statements and public forums, our sources include documents available to members of the public under Georgia's Open Records Act. 
To avoid potential conflicts of interest, we sometimes seek input from experts outside Coweta County and the Atlanta area. Those sources are named, and their comments attributed to them, in our stories.
Several pieces in our series have originated from a report to the Coweta County Board of Education by Decatur law firm Wilson, Morton & Downs. The report, released to the public on May 23, 2019, documents findings from a 10-month independent investigation by attorneys Bob Wilson and Keri Ware into allegations of criminal acts by board members and school system staff.
The investigation found no evidence that a board of education member or any school system employee engaged in bid-rigging, conspiracy to defraud or racketeering – all allegations made by a local resident in an Aug. 7, 2018, letter of intent to sue, which prompted the board's 6-0 vote to pursue an outside investigation.
The Times-Herald recently obtained hundreds of documents – including emails and texts from the personal accounts of board members and others related to the investigation – via Open Records requests.
All correspondence of elected officials is subject to the Open Records Act if the content relates to their official duties.