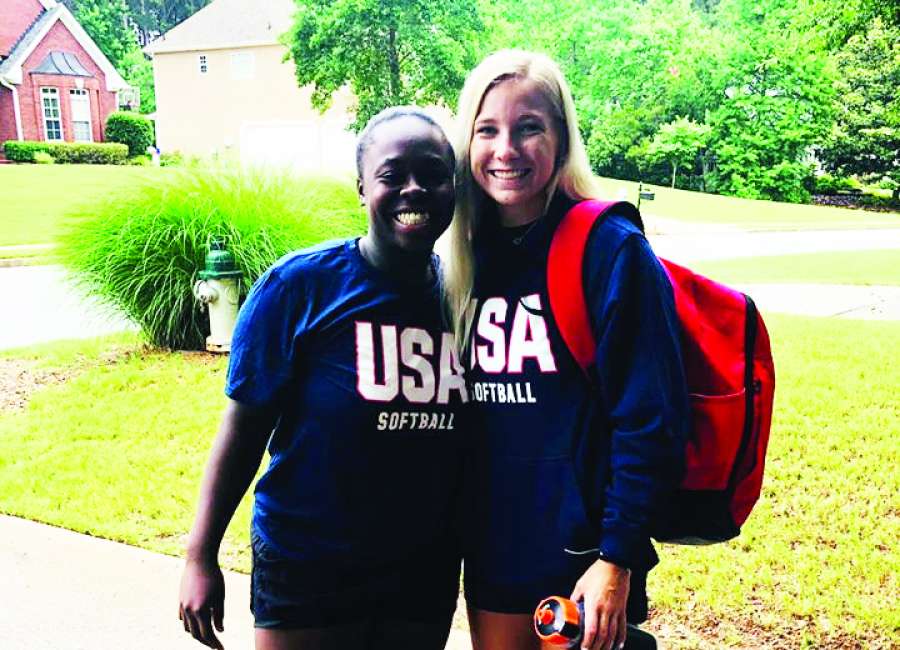 Local softball standouts Charla Echols and Kelley Lynch helped the USA 19-and-under softball team jump out to a 2-0 record during exhibition games in Conroe Texas.
The USA team outscored its first two opponents 25-3, getting a 17-2 win over the Scrap Yard Internationals and an 8-1 victory over Mizuno Impulse.
It's part of a training camp session as the team gears up for two tournaments in Europe next week. Later this year, the USA squad will attempt to win the World Cup of softball.
The USA squad out hit the Scrap Yard Internationals 14-4 en route to the first  victory on Friday night.
In Friday night's exhibition victory, Echols finished 4-for-5 with an RBI. She belted a double and a triple and also scored a run as part of her offensive output.
Against Mizuno, Lynch made her first appearance from the pitching circle, working the final two innings in relief.
She threw 36 pitches, of no-hit softball, striking out four and walking two.
Echols had her second straight solid offensive performance against Muzuno, finishing 2-for-2 with a walk and three runs scored.
The USA squad was set to play the Texas Bombers Saturday afternoon and has two games scheduled for Sunday including a 1 p.m. start against the East Cobb Bullets and a 3:30 start against the Impact Gold.
Both Echols and Lynch were standout softball players in high school.
Echols played for Lisa Skelton at Northgate, while Lynch played for Franklin DeLoach at East Coweta.
Echols has already played one year of college softball at Michigan State where she was the team's second leading hitter behind her sister Ebonee, who completed her college softball career last season.
Lynch recently signed a letter of intent to the University of Washington where she will play for head coach Heather Tarr.
Tarr is the coach of the 19-and-under squad this summer.
Lynch, who was a standout player from both the pitching circle and at the plate was named the National Gatorade Softball Player of the Year.