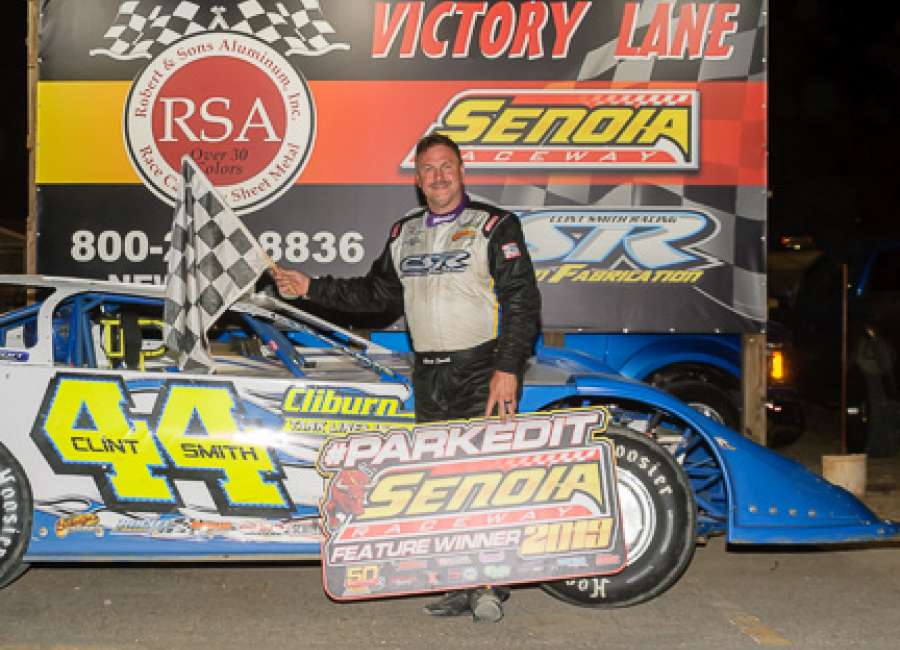 By Brittany Shivers
Clint Smith, also known as "Cat Daddy," won his 60th race at Senoia Raceway, since it reopened as a dirt track, on Saturday.
Smith competed in the Limited Late Model Division and started at the pole position. As soon as the race started, he was able to speed into the lead. This lead position is one he would not give up for the entire race, ensuring he would take home the first place, $750 prize.  
Smith credits his wins not to his driving skills but to his crew and the outstanding car technology that he builds his cars with.
"Having that many wins is a credit to what the team is doing here at the shop," said Smith. "I've got a great crew, shop and research and development that makes the car go fast enough."
Smith competes in many different classes, which is one of the reasons he is able to win so many races in a short period of time. His last two victories were both in the Limited Late Model Division, in which he drives his 600 horsepower limited late model car. This type of late model car is more limited in its power, hence its classification.
In his 38 years of experience, Smith has raced all over the U.S. and even in Australia. In 1993 and 1996, Smith and three other American Drivers formed a racing team for the U.S. The team competed in Australia against a four-member Australian team in seven-week racing tours. The U.S. won the competition both years Smith participated.
Smith was also chosen by Tony Stewart to provide a car and assistance to Jeff Gordon for the "Prelude to the Dream" race in 2007. This race was a dirt late model race that had racers from Nascar, IndyCar and even NHRA participate. The race was held annually from 2005-2012 to raise money for a variety of charities and was a big hit for racers and race fans.
However, Smith does not participate in the racing world to gain prestige. Instead, he races because he wants to help keep the sport going for the next generation.
"We like to help younger drivers or struggling drivers," said Smith. "I want everyone to run good and build good and keep the sport alive."
Bill Massey Jr., Senoia Raceway promoter and long-time friend of Clint Smith's said that Smith's knowledge and experience lead him to help other racers.
"He's a very experienced racer, and he's really good for the sport," said Massey. "He actually does a lot of set up for guys and repairs guys cars when they wreck."
This work gets done in Smith's shop, where his crew and his No. 44 racecars can be found.
This weekend, fans will find Smith competing in the Southern All-Stars Super Late Model Tour event at Senoia Raceway. He will be in his super late model car with 800 horsepower.
Smith already has 13 Career Southern All Stars (SAS) Series Wins, and hopefully, this Saturday will be his 14th.
The super late model event is the 22nd Annual Michael Head Jr. Memorial Race. Admission is $20 for adults and $5 for children ages 5-12, children 4 and under get in free.