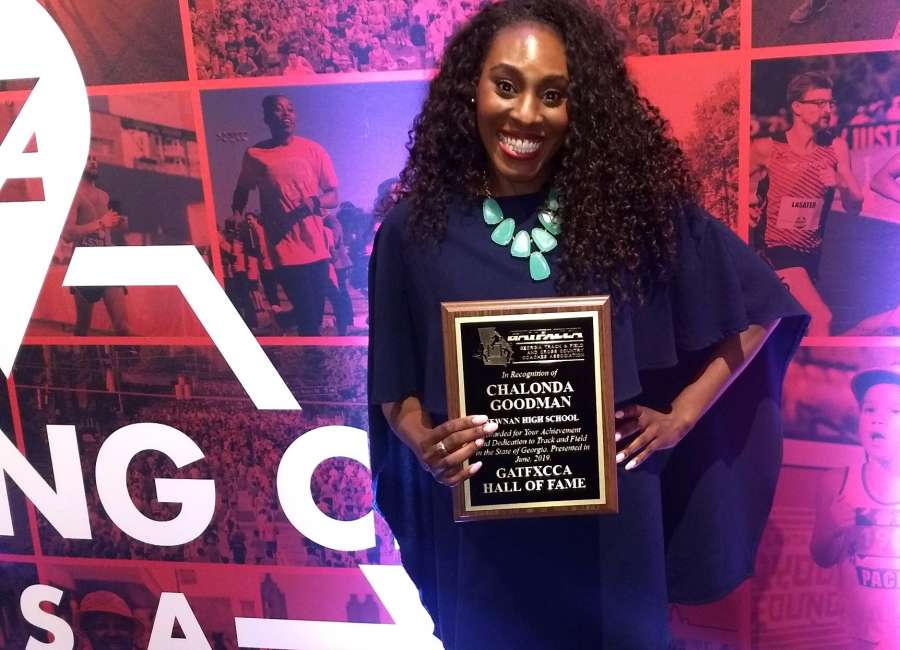 Former Newnan High School track and field standout Chalonda Goodman knows all about adversity.

She's also proof that with plenty of hard work and dedication you can overcome those obstacles.
After suffering two serious injuries early in her track career at the University of Texas, Goodman hasn't slowed down on or off the track.
Despite juggling her marketing career with Texas Instruments in Dallas after graduating from the University of Texas, she hasn't put her biggest goal of all, competing at the 2020 Summer Olympics, in the rearview mirror.
Goodman still hopes to compete in the Olympic Trials and earn a spot at the upcoming games in Tokyo.
The Olympic seed was planted years ago, when a 7-year-old Goodman cheered on sprinter Michael Johnson at the 1996 Games in Atlanta.
"From that moment, I have dreamed of being an Olympic Gold Medalist," she said.
She came close to landing a spot in the 2012 games in London, finishing as a semifinalist in the 200 meters at the Olympic Trials.
Earlier this week, Goodman was elected into the Georgia Track and Field Hall of Fame—a reward for a dominating high school career with the Lady Cougars.
"I was pleasantly surprised when I got the phone call a couple of months ago," she said. "I am just so honored and humbled to be part of an elite class of athletes. It's a moment I am going to look back on with purse joy."
Goodman burst on the high school track scene as a freshman in 2006, dominating the 100 and 200 meters for the Lady Cougars.
She would go on to win the state title in those events for the next four years.
Goodman is still the only athlete in Georgia to accomplish that feat.
All of her high school success came under the watchful eye of her father Harold, who coached track and boys basketball at Newnan.
Chalonda wouldn't trade her days running for her Dad for anything.
"I really enjoyed it. It's great to have your Dad as you coach. It's another layer of relationship and accountability He also coached my brother in track and basketball, so we were used to that father and coaching dynamic in my family. It definitely had its advantage for us," she said.
Her Dad can only smile with pride when he thinks about all the hard work his daughter has put in en route to taking her place this week in the Georgia Track and Field Hall of Fame
"To see her inducted into the Hall of Fame is so special," he said. "When you think that she won the 100 and 200 all four years at the highest classification, that is truly amazing," he said. "So many things can happen along the way."
Goodman's early success turned her into a world travel as she represented the United States at the 2007 Youth World Games and at the Pan American Games in 2009.
Her father could tell early on that Chalonda had a God given talent to succeed in the sport she loved.
"She just always worked so hard even when she was young," he said. "There were times she could have been doing something else, but she just wanted to keep getting better."
Balancing academics and athletics has always been important to Goodman and after graduating at the top of her class at Newnan, she signed a letter of intent to the University of Texas.
It wasn't just the track program at Texas that turned the former Lady Cougar into a Lady Longhorn, it was the reputation of the McCombs School of Business that also sent her to the campus in  Austin.
"I knew the reputation of the business school. Academics have always been important to me," she said.
She certainly took care of business in the classroom, earning a spot on the Athletic Director's honor roll among her many academic achievements on her way to a college degree in marketing from one of the country's most prestigious business schools.
Despite all the success that seemed to come easy for Goodman during her highly decorated high school days, her running career at Texas got off to a heartbreaking start when she suffered back-to-back major injuries starting her freshman year.
The first injury came at practice when she tore ligaments in her right ankle requiring surgery.
Then as she appeared ready to bounce back, the injury bug bit again, this time at a meet when she hurt a muscle located between her Achilles and her calf as she was just exploding out of the starting blocks.
"I was so upset that I got injured a second time after working so hard to get back," she said.
Giving up, however, was never in Goodman's vocabulary or part of her master plan.
She passed on surgery for the second injury, let it heal naturally and worked her way back into top form.
"I never thought about quitting or giving up," she said.
She relied on her rock solid faith and support from her family, teammates and friends to get back to competing at a high level.
"It was hard watching her go through her injury," Harold Goodman said. "I just tried to be supportive."
One way she got through the adversity was leaning on her faith.
"I would send her scriptures to help get through the tough times," her Dad said.
By 2012, Goodman was back at the top of her running game.
She was a semifinalist at the 2012 Olympic Trails in the 200 meters.
At Texas, she also helped the Lady Longhorns 4x100  relay team earn All-American honors.
Individually, she earned Second-Team All-America recognition in the 100 and 200 meters.
These days her budding career in marketing with Texas Instruments and trying to fulfill her goal as an Olympian  can be challenging, but with everything she has been through, she is up to all the hard work, often training after putting in a long and busy day at the office.
"I still have a dream to compete in the Olympics and I am going to work hard to fulfill it," she said.
One thing hasn't changed. Her Dad is still her biggest fan.
"She is such an inspiration whether it's on the track or in business," he said. "With everything she has gone through, she can be an inspiration and help  others."
"It's a testament to how hard work really does pay off," she said. "To have that legacy to live on from my high school career is amazing,"
Getting to Know Chalonda Goodman
4X Georgia State Champion (100 and 200 meters-2006-2009)
National High School Champion (100 and 200 meters-2007-2009)
Junior Pan Am Games 3X Gold Medalist (Summer 2009)
Junior Pan Am Record Holder (100 meters-2009)
2012 Olympic Trials (Semifinalist 200 meters)
All-American 4x100 University of Texas relay team
Second Team All-American (100 and 200 meters)
Division I student Advisory Committee.
Olympic Sports Liaison Committee
Provost Award—All As
Academic Leadership Award.
Arthur Ashe Sports Scholar Award
U.S. Track and Field and Cross Country Coaches Association All-Academic Team
USTFCCA Women's Division I Indoor Scholar Team of the Year.
Jamie Carey Comeback Award
Athletic Director Honor Roll