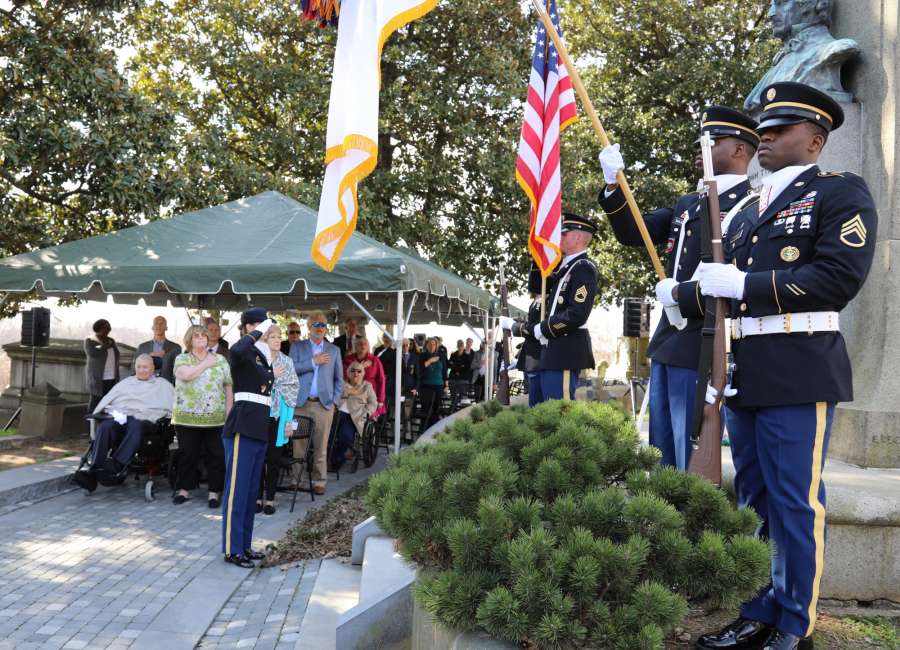 Ceremonies were held recently at the grave of President John Tyler in Virginia.

Tyler was the nation's 10th president, and the first to take office on the death of his predecessor. Near the end of his life, he became the only U.S. president to be elected to a position in the Confederate government.
In 1865, members of Tyler's family were refugees, traveling from their home in Alabama to Newnan to avoid military hostilities.
U.S. Army Combined Arms Support Command color guard presented the colors during a commemoration of Tyler's 229th birthday.
A wreath-laying ceremony was held at the president's gravesite in Hollywood Cemetery in Richmond. The U.S. Army was designated by the White House to conduct the wreath-laying on the birthday of Tyler, who was born in 1790 in Charles City County, Virginia.
Initially, the White House Military Office was responsible for coordinating the annual placement of presidential wreaths at the tombs of former presidents, other famous Americans and at certain memorials of historical significance.
Pres. Franklin D. Roosevelt, who visited Coweta County numerous times en route to his retreat at Warm Springs in Meriwether County, started the practice of having military representatives place wreaths on his behalf at areas outside the Washington, D.C. area. 
Ceremonies repeated year to year led to the development of the President's Approved Wreath List, approved by Pres. Lyndon Johnson on August 11, 1966, and further expanded with the passing of each former president.