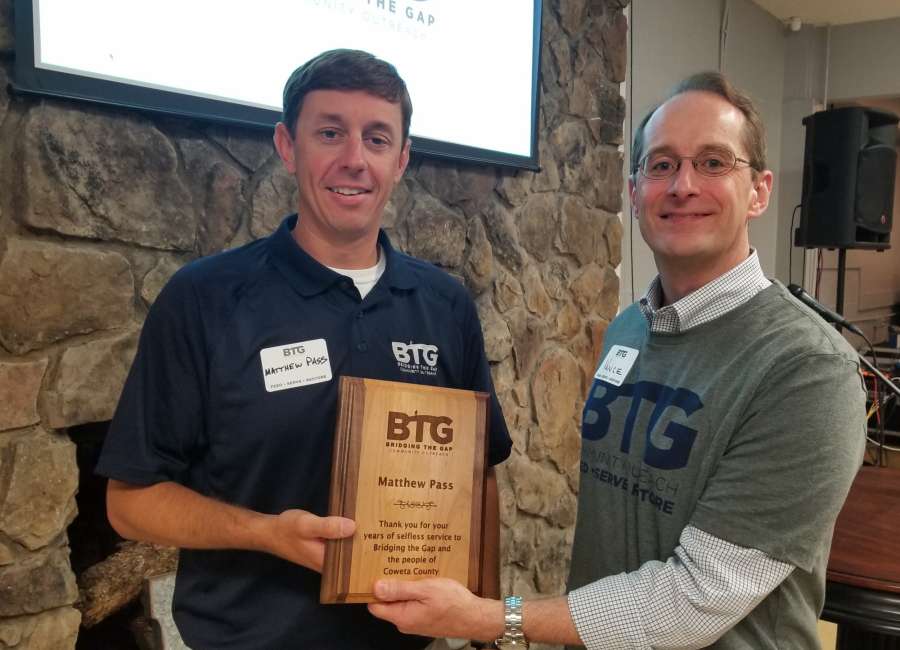 About 100 people gathered at Bridging the Gap's headquarters on First Avenue to enjoy sausage, pancakes and a variety of toppings, but their purpose was to hear about BTG's work to help those who need food and other necessities.

Natalie Butcher, who heads BTG's food program, oversaw preparation of a bounty of pancakes with syrup, whipped cream, strawberries, chopped walnuts and chocolate chips as toppings. The June 21 event brought together about 100 community leaders to hear about the work of the non-profit.
"This is an exciting day for us at Bridging the Gap," said Matthew Pass, who has been serving as chair of the BTG board. He was presented with a plaque for his service during the meal.
Kelli Yeager-Nelson, BTG's new executive director, talked about coming to Newnan from Ohio and "what I discovered when I got here about what Bridging the Gap means to the community."
Each person coming to Bridging the Gap has a unique story. 
The visitor may be someone laid off from a longtime job, a mother fleeing violence with her children or "the homeless who come here who need a safe place to have a meal, to wash their clothes, to take a shower so they can go out and actually look for a job," she said.
"The need is great in this community. It is not far from any of us," she said. 
Yeager-Nelson said BTG seeks to give people dignity, to help those who visit them become able to give to the community themselves. "Not only do we feed and we serve, but we help to restore," she said.
When needs are met, "we're all being successful," Yeager-Nelson said.
"Bridging the Gap has continued to grow and to meet the needs of many people in the community," Pass said. 
He also talked about the community aspect of BTG and of his own family's involvement in the outreach. 
"We have all had the opportunity to come down here and serve," he said. "It's been a blessing."
Pass spoke about the importance of the staff and volunteers.
"Bridging the Gap could not exist without all the people who help on a daily, weekly, monthly, yearly basis," Pass said.
Of the staff, Pass said, "I just can't say enough good things about these folks. Everyday they are down here serving and loving on people with an open, giving heart."
"They are tremendous," Yeager-Nelson said. "We are really a family, who are working together."
"It's not a bridge to nowhere," Clint Nolder, pastor of Foundation Christian Church, said about BTG. "It's a bridge to people."