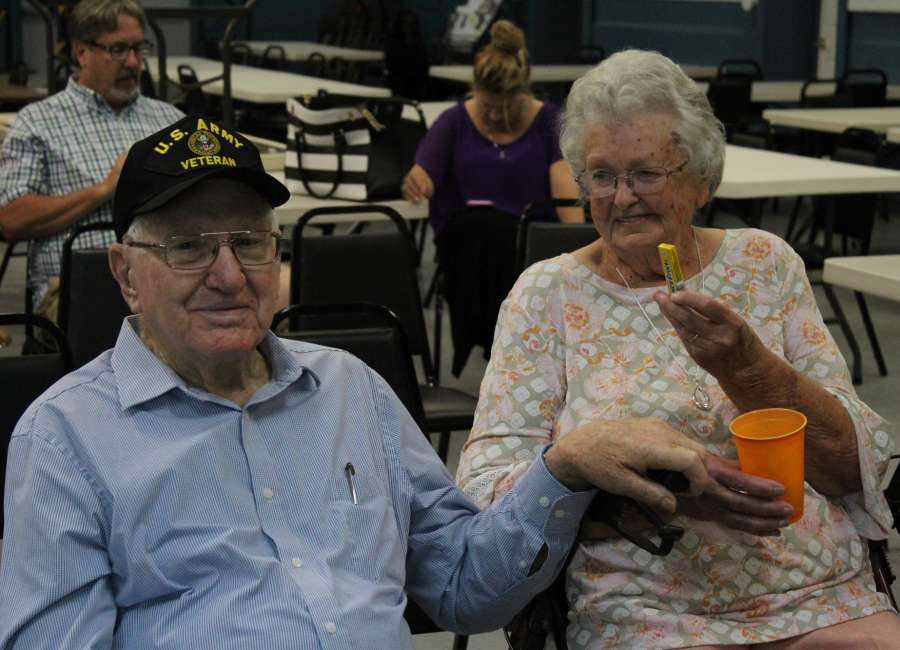 Bill Lowry was honored for his military service in World War II at the Coweta Veterans Club yesterday.
The 93-year old veteran received recognition from the Georgia Department of Veterans Services and from American Legion Post 57.
"I only represent a part of 15 million. I didn't do anything that any other soldier didn't do, and some of them did a lot more," Lowry said.
Lowry was stationed in Navacchio, Italy to dispose of ammunition and ordinance that was shipped into the country for the invasion of Germany.
Featured at the event was a presentation on Lowry's service that was meticulously researched by Tom Prost, a volunteer at the Coweta County Genealogical Society.
Lowry said the research project began after he showed Prost an album of photos taken while he was serving in Italy.
"I didn't ask him. He just got interested in all these pictures," Lowry said. "He just wanted to do it."
"This was needed to honor all he did," Prost said. "And I enjoy doing the research of anything."
While in Italy, Lowry's unit was stationed at a villa and he and his fellow soldiers camped in the garden.
"I heard Mr. Bill saying find out for me where that villa was in Navacchio where I was stationed in World War II," Prost said. "And then he said 'Oh by the way would you please found out who the countess was while my unit was stationed there?'"
According to Prost, his research began in August 2017 and he primarily used the internet to find the locations and people who were in Lowry's photos.
Two photos of the villa stuck out to Prost, and he said they were used as references in his search.
Prost searched the internet until he found an image that looked similar to the one taken by Lowry. He used images from Google Maps and compared them with Lowry's photos.
After contacting the owner of the villa, it was determined that Prost found the correct building.
When Prost's presentation on Lowry's photos was finished, Lowry was asked to stand by Nina Brooks, a representative of the GDVS.
Brooks gave Lowry three medals for his service — the Good Conduct Medal, the WWII Victory Medal, and the WWII Army of Occupation Medal.
Lowry lives with his wife, Frances, of 72 years near Grantville.