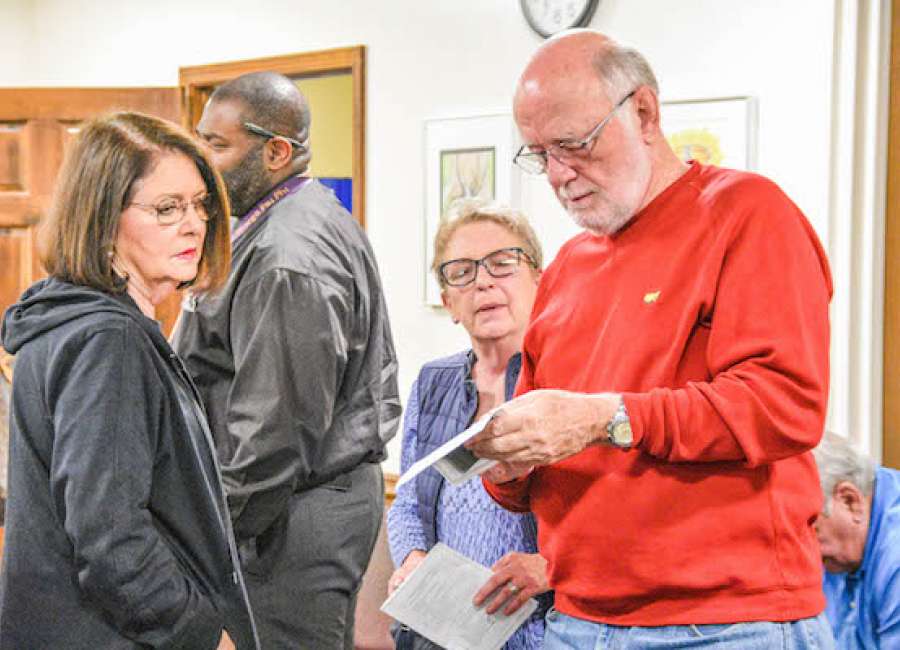 (Editor's Note: This story is part of an investigation into allegations of wrongdoing against the Coweta County Board of Education and Coweta County School System staff. The Newnan Times-Herald will continue to keep readers up to date as the story unfolds.)

Investigators say false allegations of corruption may have been part of a manufactured scandal intended to oust "liberals" from the nonpartisan Coweta County Board of Education.
According to investigative findings released last week, there is no merit to Hank Ashmore's accusations of bid-rigging and other criminal acts, and the information he used as a basis for his claims was supplied by board member Linda Menk to further a political agenda.
"The evidence strongly suggests … (Menk) began actively participating in building a case against her own board to undermine their vote and create a public scandal" in April, when she attempted to persuade fellow board members to put off a critically timed vote to award a contract for high school stadium improvements, according to the report by Wilson, Morton & Downs, LLC.
Information Menk used in her arguments was fed to her by a vendor hoping to profit from a delay, according to the report. Despite Menk's efforts, the board voted 6-1 to award a more than $5 million contract for the project, which was completed on schedule last year.
Public criticism of her fellow board members for what Menk termed "wasteful spending" fueled her successful re-election campaign in May 2018.
Menk, who also serves as first vice chair of the Coweta County Republican Party, reportedly continued her criticism while bemoaning failed bids for board seats by three other Republican Party officers during a June 2018 Coweta GOP meeting. 
Witnesses told investigators a crowd member asked what could be done to get the "liberal" board members out of office, according to the report.
Republican Party Chair Brant Frost V responded to the question, according to witnesses.
"What we need is a scandal," Frost reportedly said, framing "scandal" in air quotes. "What we need is a good scandal."
Frost told those attending the meeting he had been in touch with attorney Josh McKoon – who represents Ashmore – and "he informed the audience they would be hearing more about it soon," according to the report.
Investigators say Frost's comments are significant in light of subsequent events.
"Both Ms. Menk and Mr. Ashmore, who were in attendance, appear to have helped to provide that scandal through the August 7, 2018 letter and its allegations," the report states.
Report is 'very disturbing'
Nathan Lee, the school board's attorney, called the report "very disturbing."
"The Coweta County Board of Education is nonpartisan and serves without compensation," he said. "They are public servants in the truest sense. To have these few individuals conspire to create a false scandal, knowing one does not exist, is a true disservice to public education and the public trust."
Amy Dees, who chairs the Coweta County Board of Education, said she also is troubled by the investigators' findings.
"I am somewhat disturbed to learn in this report of the dishonesty and petty politics – largely from outside of our school system – which appear to have been the cause of this unprecedented situation," Dees said.
Key witnesses refuse to testify
The 10-month probe into allegations of malfeasance by school board members and school system staff, which is expected to cost taxpayers more than $100,000, was complicated by key witnesses who either refused to be interviewed or obstructed the investigation, according to the report.
"The people who refused to cooperate are the same ones who have alleged wrongdoing, yet they would not provide us with any information or evidence to support their allegations," investigators say in the report.
Investigators say Ashmore, whose threatened lawsuit never materialized, refused to speak with them despite several requests. 
McKoon provided no evidence to support Ashmore's allegations, and he responded to questions about his communications with Menk by accusing investigators of "persecuting" a Coweta County Board of Education member by engaging in a "witch hunt," according to the report.
"I am under no obligation to respond to your emails or participate in this inquiry and have no intention of doing so," McKoon reportedly told investigators.
In January, McKoon – a former state senator who launched a failed campaign bid for secretary of state in 2018 – was appointed chief of staff by newly elected Insurance Commissioner Jim Beck. 
Beck was suspended earlier this month after a federal grand jury indicted him on 38 charges, including fraud, money laundering and the alleged theft of $2 million from the Georgia Underwriting Association.
Missing and altered videos
According to the report, when investigators contacted Frost to request video from the Coweta County Republican Party's June 2018 meeting, Frost claimed he could not locate it despite acknowledging he had video from monthly meetings leading up to and following the June meeting. 
The report states he later emailed investigators saying he had the video, but when investigators asked how to get a copy, Frost replied that he had meant he did not have the video.
Investigators say they then contacted video editor Jan Horne, the Coweta GOP's vice chair for communications, to request the video. 
The report states Horne – who unsuccessfully ran for school board in 2014 and 2018 – acknowledged she videos the meetings, but said she sometimes only records the speaker portion and not the entire meeting.
According to the report, Horne said Frost told her he could not locate a video for the June meeting, and she told investigators she was not sure if she had recorded one. However, "the witnesses we spoke with who were in attendance at the meeting were certain the meeting had been recorded," investigators say.
One of Menk's emails appears to support witness claims, according to the report. In the email, Menk reportedly states Ashmore made inaccurate statements about the athletic field project, so she had the video of the meeting edited to delete his comments.
"This certainly suggests that entire meetings were being recorded and that subsequent editing does occur," investigators wrote.
After learning Frost might have other information relevant to their inquiry, investigators say they attempted to interview him. According to the report, Frost protested, saying the investigation "was really about Ms. Menk's disagreement with the superintendent" and requested written assurances that nothing he said would be used against Menk.
Investigators say they assured Frost their questions had nothing to do with Menk but stemmed from Frost's own conversations and public statements, and that the investigators were not authorized to speak on behalf of the school board or superintendent.
"Despite numerous email requests asking him to speak to us, Mr. Frost refused," the report states.
Menk claims to be target of investigation
Despite their clear directive to investigate the allegations of bid rigging, conspiracy to defraud and racketeering outlined in Ashmore's Aug. 7 letter, investigators say Menk seemed convinced the catalyst for their probe was her opposition vote in April.
"Before we asked her a single question, she claimed that the investigation was targeted at her and that we were seeking to gather information about her vote against the turf projects," the report stated.
Menk initially refused to meet with investigators, reportedly insisting the purpose of the investigation was to support the actions of the board.
"Linda Menk is the only board member who did not fully cooperate with this investigation," the report states.
Through her attorney, Fife Whiteside of Columbus, Menk demanded to know the scope of the investigation and the topics that would be discussed, the report states, and put other limits on the interviews. 
She "would not identify a single person with whom she spoke" and reportedly refused to answer questions about her communication with the vendor who fed her the information she used to try and delay the board's April 10 vote.
Investigators say Menk withheld at least 60 emails between her, Ashmore and McKoon, telling them through Whiteside she would produce the emails only to a Superior Court for review, and then only if the investigators filed suit. 
The investigators declined, according to the report, citing the additional cost to the school system of such a suit.
Whiteside asked for written assurances that nothing Menk said would be used against her in an ethics challenge by the superintendent, according to the report, but investigators again explained they did not represent the superintendent and had no authority to act on his behalf.
Whiteside reportedly responded, "that you cannot confirm her testimony will not be used to support an attack on her for differing with the superintendent confirms our conclusion that the investigation is focused on her."
Investigators say it is outside the scope of their investigation to determine whether Menk's actions as a sitting school board member were inappropriate or unethical. However, their investigation findings indicate Menk passed along information to Ashmore after the April vote that Ashmore used to falsely accuse school officials of malfeasance, according to the report.
"She was supplying information to Mr. Ashmore… that resulted in the serious allegations in his letter against the board and staff of the Coweta School System," the report states.
To view the full investigation report, visit http://cowetaschools.net/images/boe/Wilson_Morton_Downs_Findings_2019_05_20_1913_58_50.pdf