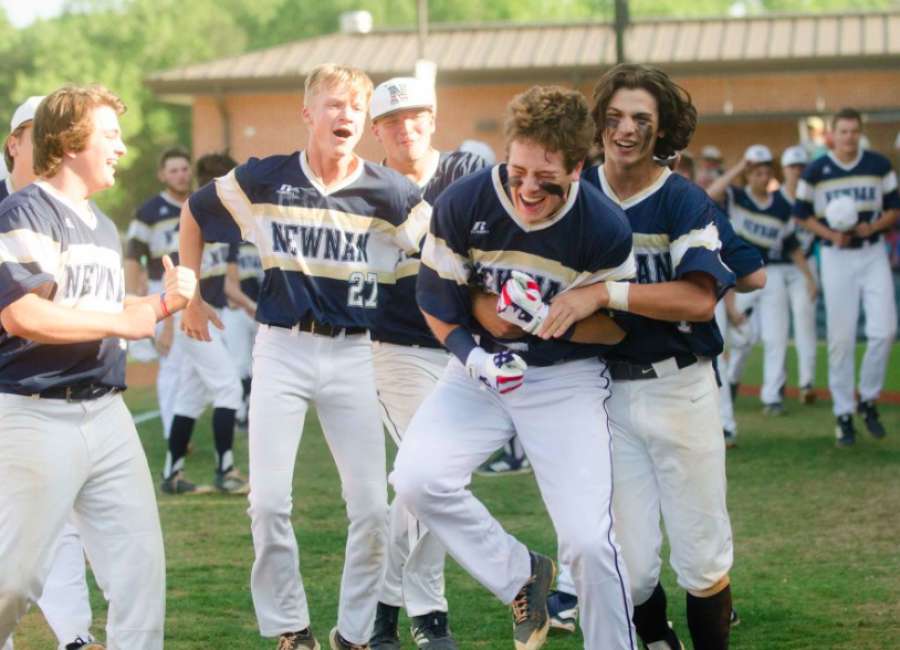 By Chris Goltermann / Coweta Score
A three-run walk-off homer to cap off the opening game of a GHSA Class 7A Second round state playoff series against Lassiter at Joe Pope Field by Newnan sophomore Michael Maginnis sent an electric vibe that might have been felt all the way down LaGrange Street on the Square downtown.
But the Cougars sweep over a quality opponent from battle-tested Region 4-7A may travel a lot further in the state's high school baseball community.
Newnan High's program made a statement for being among the Elite 8 of the GHSA's highest classification.
After rallying past the Trojans in Game 1 in its final at-bat for a 4-3 win by way of Maginnis' first-ever varsity homer,  the Cougars clawed their way through an equally hard-fought 4-0 shutout win by scoring all four runs over the final two innings for a sweep in the best of three series.
Newnan awaits the winner between Region 8 champion Grayson and Region 7 runner-up Brookwood. The teams split a doubleheader, with host Grayson rallying back in Game 2 for a 7-5 win that forced a deciding game on Friday at 6 p.m.  
After acting as a stopping point during last year's Region 2-7A championship season, a return trip to the Sweet 16 was even sweeter the second time around for a lineup that maintained the majority of its pitching staff while honing some of last year's preparation and poise.
It wasn't easy against a traditionally sound Lassiter program out of baseball-rich Cobb County. The Trojans' 14-21 record was deceiving on paper, but not in the GHSA state bracket where all four Region 4 representatives advanced through the first round.
As the only remaining survivor of Region 2, Newnan (23-9) also became the only high school south of Atlanta's Hartsfield Jackson airport left in the Class 7A playoffs, with the Cougars using the term "Southside" several times as a rallying cry.
"We wanted people know who we are. I still don't know if people know who we are. But they may know us after tonight," said Newnan head coach Marc Gilmore, who knew the challenge his team was up against in Lassiter. "It is a top-10 program in the state every year. They're battle tested. They go through the gauntlet. You don't look at their record. Those guys compete. We did a good job of competing tonight too."
If there was some solace coming out of last year's disappointing finish by the Cougars in the Sweet 16, it was that experience may have rubbed off for a returning nucleus that included senior starting pitchers Jaxon O'Neal and Jake Martin.
Each went the distance over consecutive games to match efforts from Lassiter, which led Region 4 in fewest runs allowed in region play. O'Neal's only earned runs came on solo homers by Trojans Sam Marques and Adam Love over consecutive innings. 
"I said I was ok when he makes one mistake. I'm [also] ok when he makes two mistakes and a win," Gilmore said of O'Neal, who after being named Region 2 Co-Pitcher of the Year struck out seven while allowing two earned runs on six hits and two walks in a complete-game victory.
Lassiter's second solo homer along with an unearned run in the sixth gave the Trojans a lead that carried into Newnan's final at-bat of Game 1.
But the Cougars quickly put runners on first and second following consecutive hits from Max Wilson and Jett Lovett to open the bottom of the seventh. One batter later, with runners at the corners and one out, Maginnis seemed to have a potential game-tying hit denied when his first swing sent a ball that hugged the right field line before dropping foul.
A missed opportunity, however, was just an appetizer to the main course of drama awaiting.
Maginnis' next swing got all of the ensuing final pitch from Lassiter's Ryan Getz on an otherwise solid effort that included nine strikeouts and six hits allowed in six innings. A rocket continued to carry toward the fence in left-center and beyond while ricocheting near the bottom of a light stanchion to send the Cougars and a home crowd into a wild frenzy.
"I was just trying to put the ball through the middle of the field," Maginnis said prior to the start of Game 2, with a smile that seemed pasted permanently. "I thought I had it before when I hit it to  right. The place went silent after that."
Instead, Maginnis' homer, less than 24 hours after the varsity quarterback earned his first Division I football offer from Troy, was the fuel in an endless tank that the Cougars fed off of the rest of the way. It came a year after not quite having the same gas in round two after pushing hard for an undefeated Region 2 record and an elusive title after wrestling it away from county rival East Coweta.
"One person can ignite you and when he hit that walk off home run, our fans, our community. Bam," Gilmore said, while tipping his cap to Getz's effort in Game 1. "That guy's good. We thought he was going to throw harder. But his breaking ball was devastating. The guy made a mistake and Mike made him pay for it. I think that just ignited us."

Game 2 could have easily slipped from Newnan's fingertips, however. With teams combining for just one extra-base hit, execution was under the microscope in a scoreless game that carried through five innings.
On the mound, Martin held Lassiter to just four hits, but was forced to work out of several jams. The senior right-hander kept the shutout intact early despite allowing leadoff runners in the second and third.

Lassiter, however,  put together its best chance to score in the fifth with two runners in scoring position with no outs. Martin induced a high pop to short before striking out pinch-hitter Max Beckerman before Marques lined his first pitch to Newnan left-fielder Johnny Cash to end the inning with the bases loaded.  
It gave the Cougars a chance for redemption at the plate after squandering their own chance to score in the fifth with runners on first and second with no outs.
In the sixth, however, Newnan came through with a go-ahead three-run rally against Lassiter Game 2 starter Andrew Corbin. Maginnis and senior Everett Davis connected for back-to-back hits, with Davis lining a rope down the third-base line for a 1-0 lead.
One batter later, Cash added a clutch two-run single to cap off a pair of 2-for-3 performances that signaled a rebound offensively from the senior outfielder.  The senior outfielder also finished with 3 RBIs, driving in Newnan's opening run in Game 1.
"You have to be forgiving in baseball. I know he didn't have a good first series, but that's an amazing job of him bouncing back. It's having short term memory loss because the game keeps going," Gilmore said. "The other team has its backs against the wall. They're playing for their jersey and their seniors so you have to get on top of them. And then boom, it's zero, zero, zero. We have a miscue and then we don't execute. But then we bounce back and the next inning it's boom, three runs. We were fortunate that the little things didn't hurt us because they pick each other up."
Having done the job offensively and on the mound, Newnan clinched the sweep defensively. It continued a trend that began, senior center-fielder Woody Waters making two running catches to close the first and third innings.
In the seventh, Lassiter was still trying to gut out a last-ditch rally with runners on first and second.
At third-base, Newnan's Davis, however, made a diving stop to his left to prevent a base hit, but it equally led to confusion on the basepaths from both Trojans runners, who hesitated long enough for Davis to get to his feet for a force out at third before firing back to second for a double play.
"Keep the ball in the infield. Trade outs for runs," Gilmore said of the mentality heading into the final inning. "Everett has been outstanding for us at third base this year. He swings the bat. I don't know if there's anybody out there, but if they're looking for a college baseball player, he can play at the next level. They just have to give him a chance."

Newnan, meanwhile, now has an opportunity to sit back and await an opponent in the Class 7A Elite 8. A year ago, the Cougars were in a much different situation with their tanks at empty in the second round as the victims of a two-game sweep by North Paulding.

It's Newnan's first trip past the Sweet 16 since the program made a run to the GHSA Final Four in 2011 when Gilmore was an assistant for predecessor and 472-game winner Kenny Morris.
That season — which included some heroics from senior pitcher Marc Frasier — the Cougars defeated Brookwood at home, with a chance to again host the Broncos this year should they defeat Grayson Friday in Game 3.  
"They were drained last year. We knew the second round would be tough," Gilmore said of the current Cougars lineup. "We are a year older, a year tougher. We know what to expect."

Game 1

Cougars 4, Trojans 3

Lassiter     001    110    0    —    3    6    0

Newnan    010    000    3    —    4    9    1

(0 outs when winning run scored)

WP — Jaxon O'Neal

LP — Ryan Getz

2B — Newnan: Woody Waters

HR — Lassiter: Sam Marques (3rd, 0 on), Adam Love (4th, 0 on); Newnan: Michael Maginnis (7th, 2 on)
Game 2

Cougars 4, Trojans 0
Newnan     000    003    1    —    4    8    2
Lassiter    000    000    0    —    0    4    0
WP — Jake Martin
LP —  Andrew Corbin
2B — Newnan: Everett Davis