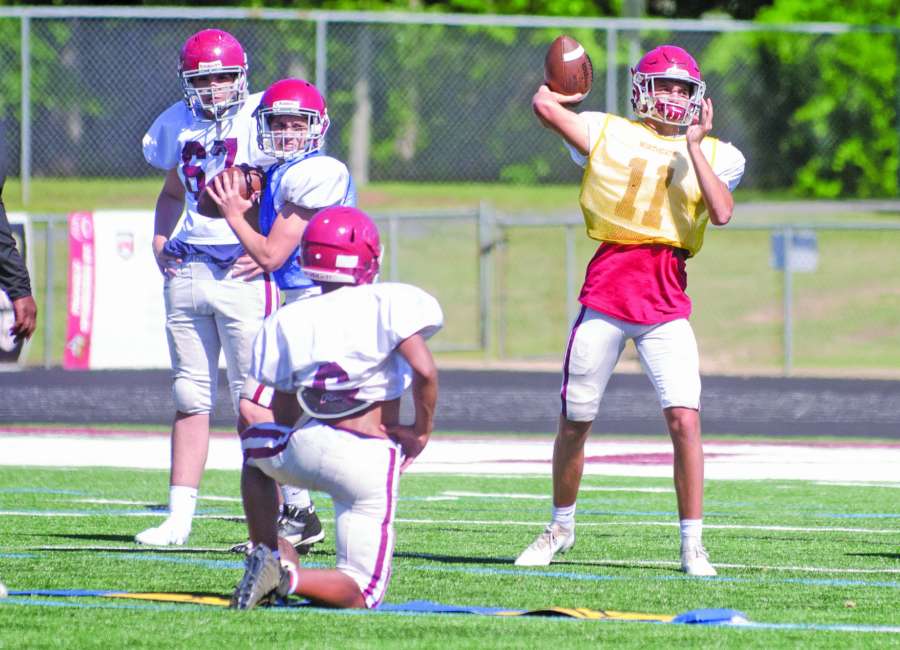 BY CHRIS GOLTERMANN
Cowetascore
Spring football practice at Northgate High last year carried a central theme of change, not just in the coaching staff and the roster — both of which were in a state of flux — but the preparation of a much-needed makeover for Henry Seldon Field. 
Turn the page to today and Valhalla has provided a heavenly feel for the Vikings. 
Stability has quickly returned for a Northgate program that remains the most successful of Coweta County's six high schools over the past five years. On the heels of a 6-5 campaign, while led for head coach Mike McDonald for the first time, the Vikings haven't finished below .500 since a 4-6 mark in 2013.
And with many of the same faces in uniform that went through a more erratic spring less than two months after a late coaching transition, it's been much smoother sailing for the current 10-day period in 2019. 
"It's a lot smoother," McDonald said after day eight while getting ready to wrap up spring on Friday. "Everyone's a lot more familiar with each other."
Northgate's staff hasn't gone through nearly as many changes as a year ago, even with a large number of former head coach Tommy Walburn's assistants staying aboard following his retirement after leading the program to a 52-27 record and two trips to the state quarterfinals or beyond over seven years. 
The Vikings' lone new face on staff is as much a familiar one in longtime East Coweta assistant Roc Coleman, who worked with McDonald on the Indians' defensive staff in 2017.
Otherwise, outside of impending losses to next week's graduation ceremony at Henry Seldon Field, it's been all steam ahead for a lineup that despite losing key contributors, should again be among the mix for a state playoff berth in what was a highly competitive region a year ago. 
The Vikings survived a shakeup in Region 5-6A last year that included Creekside returning to prominence following a winless 2017 campaign. They held on for a No. 4 seed in the state playoffs with help from victories over yearly playoff contenders in Hughes and Alexander, both of whom finished behind Northgate's 5-3 record.
"We've had a good offseason with the weight room and the running," McDonald said. "We just got off to a late start last year. I thought we had a good year."
Two of Northgate's three region losses following a season-opening trip to Newnan came by single digits. The team rebounded from a disappointing finish against South Paulding that had the Spartans rallying back in the fourth quarter with four consecutive victories. 
The Vikings nearly knocked off Mays in a 30-29 defeat while battling for third to close the regular season.
In the state playoffs, Northgate ran smack into Region 8 champion Dacula on its way to the Class 6A semifinals. 
Northgate will have to replace several key starters to graduation including leading rusher Cameron Cruver, whose 1,443 yards and 17 touchdowns were near the top producers among players from Class 6A schools. Top receiver, Gerald Harris (14 rec., 234 yds) also graduates along with Jay McKenzie among key skill position players. 
span class="Apple-converted-space"> 
Where Northgate may benefit most on offense is the return of starting quarterback Isaac Corbitt, who finished with 1,040 yards and seven touchdowns in his first year behind center. The rising senior will also have a key weapon returning in Tanner Hughes, who finished with over 600 yards of total offense and averaged seven yards per carry and 23 per catch in 2018. 
Underclassmen Connor Marshall (90 tackles) and Emanuel Nolan (73 tackles) led the Vikings in hits last fall. Nolan and fellow rising senior Dillon Wade (4 INT, 2 FR) each earned All-County First Team honors defensively. 
Special teams remain an asset for the Vikings with help from kicker/punter Kade Loggins. Loggins hit six field goals last fall with range beyond 40 yards. 
Northgate won't have a spring game in 2019 with most schools in the final year of a home-and-home contract prior to the upcoming GHSA reclassification period.
The Vikings, however, will get the chance to benefit from a home-friendly schedule this fall that begins with three straight games at Seldon Field.
Northgate, which opens on Aug. 30 against Newnan, only has one road trip before the start of October in a short ride to Creekside on Sep. 20.