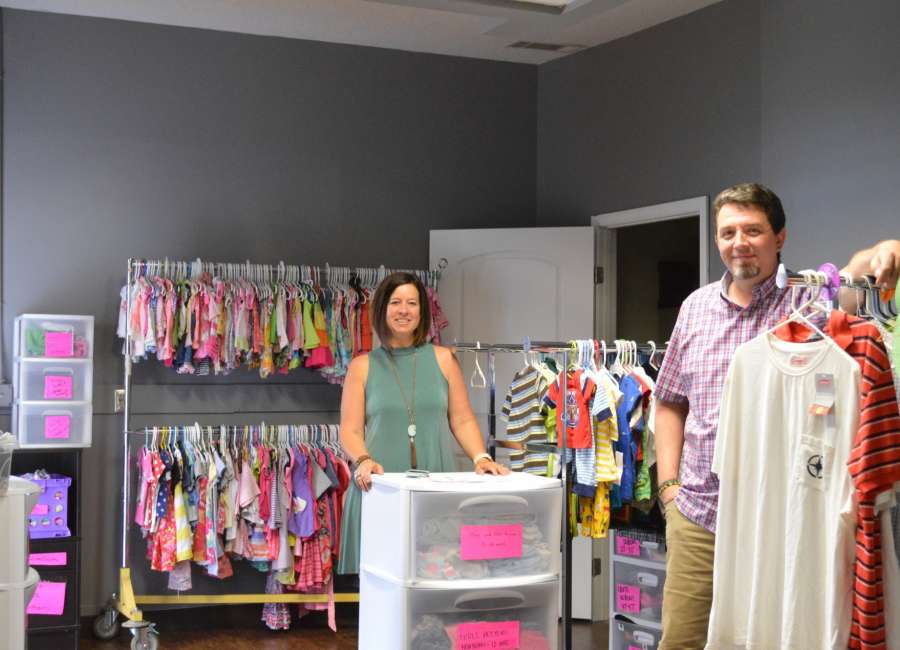 Bridging the Gap is launching its new clothes closet program and gearing up for its summer lunch program.
The clothes closet gives individuals and families the opportunity "shop" for clothing one-on-one with a volunteer. The clothing, some of which is new and the rest is gently used, is arranged meticulously by size for children and adults, and there is an array of children's shoes, some in nearly new condition.
Shopping at the clothes closet is done by appointment.
"We almost want to make it more like a little boutique experience," said Jennifer Leebern, human services coordinator for BTG.
Usually, when someone comes in asking for help with clothing, staff ask what size they need and go back to the warehouse and get something.
Having people pick out just what they need is one way that BTG wants people who come there for help to feel value and dignity.
"It's something so small, but it makes them feel like people and not somebody just getting a handout," Leebern said.
That's also the way BTG handles its weekly food distribution, which takes place every Saturday morning. Food boxes are customized for each family and there are four different menus each month.
Sometimes people don't really understand what BTG does. Craig Buchanan, director of operations and human services, said he hears that a lot.
But "one of the really cool things to me is people send people to me and say they don't know what we do – but people trust that we will take care of people," he said.
BTG's mission is to "feed, serve and restore."
"Most people know about the feed part," Buchanan said, and the organization tries to serve people in any way they can.
But restoration "looks different for different people and it's a lot of different things," he said. Sometimes that just starts with listening and treating people like things are OK.
When people have to come in for help, for food, they can be embarrassed. "You can see it in their eyes," Leebern said. "The first thing I always say is – look, there is no judgement here. We love you, we're glad you're here."
Buchanan lets people know that they aren't that different. "If my car tears up next week and I can't get to work, if I get sick or my wife gets sick… we're all just one life event away," he said. But while most people have family and friends to help in a crisis, many of the people who come to BTG for help don't have that safety net.
Saturday's morning food distribution also includes a hot breakfast and a short worship service. On Tuesdays and Thursdays, there is a hot lunch, showers, and the chance to wash a load of clothes. BTG's other hours are by appointment – which gives staff the opportunity to spend more time with clients.
There are no income requirements or limits needed to receive food through BTG, and that's by design.
Buchanan said he'll sometimes get asked, "What about people who are taking advantage of the system?"
"First of all, I don't know too many people who want to sit in line for two hours to take advantage of the system," he said. "If somebody takes advantage of the system and we're able to help one family come out of whatever situation they're in, then we've done a good thing, whether it is 50 that took advantage of us or not," he said. "I don't want to miss somebody who is in need because I've got so many rules."
BTG also helps with other things their clients need. There is food delivery for folks who can't make it on Saturday. Leeburn has helped people make doctors appointments or figure out what their doctors are telling them.
Once staff begin to build a relationship with people who come to BTG, they can work on getting to the root of their problems so they can help them find solutions.
"We're not here to put Band-aids on the problem," Leebern said. "We really want to get to know you, get to the root of the problem and help you restore your life."
Sometimes, that takes some tough love.
"I've said to people – you know, I see more in you," Leebern said. "If people hear that enough, they think – well, maybe I am more than this. Maybe I can do this."
She recalled a woman who came up to her one day to tell her how much of an impact Leebern had had on her life by telling her, "You're better than this, you don't have to live this way."
The woman had gotten off drugs and restored her relationship with her daughter.
But Leebern didn't even remember telling the woman that.
"That is a lesson we all need to learn – you never know, with something so small, what kind of impact you're leaving on people," she said.