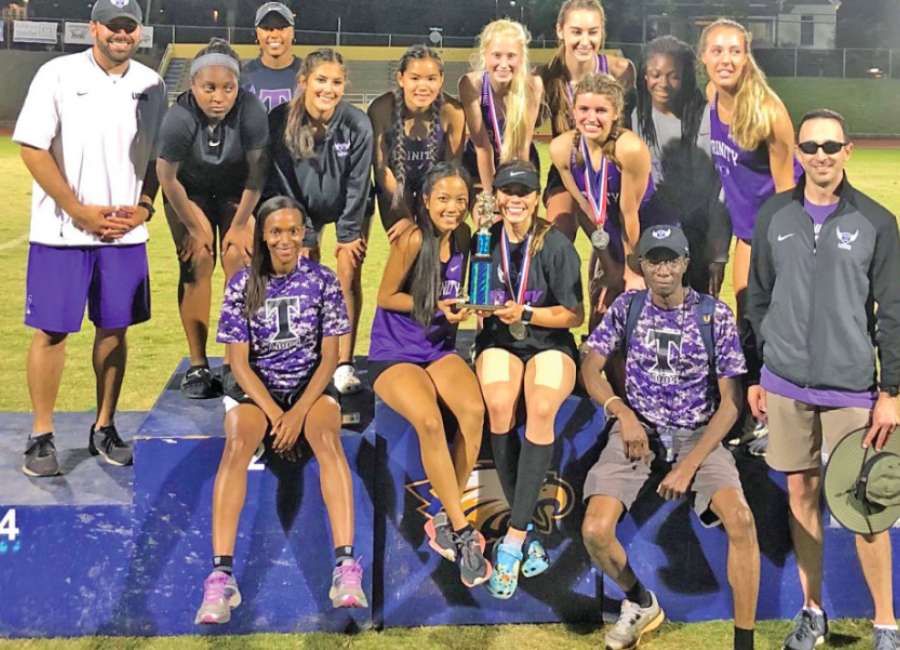 By Chris Goltermann / Coweta Score
In its first attempts in school history to advance to upcoming GHSA state meets, Trinity Christian's varsity track teams held their own while each earning top-three team finishes at this year's Area 3-A meet held at Landmark Christian
The Lady Lions used its runner-up finish in both a state-qualifying and school-record setting 1,600-relay to stay ahead of Atlanta Girls School in a tight battle for second place among team standings.
Trinity finished with 103 points behind only region champion Holy Innocents, which held on in a three-team race for first with 115. Atlanta Girls settled for third with 100 points.
In boys competition, the Lions were equally strong despite being pitted in a region lineup with powerhouse Landmark Christian and Eagle's Landing Christian Academy.
Trinity's boys scored 84 points to place third behind only Landmark (201) and ELCA (110).
In all, athletes established seven new school records including the girls 1,600-relay mark. A team of Bryce Hackworth, Sarah Nelson, Claire Geerlings and Reagan Rogers crossed in 4:09.33, breaking the former Lady Lions' mark by a whopping eight seconds.

Hackworth, meanwhile, added two new individual school records during state qualifying efforts in the hurdles. Hackworth won the 100 intermediate hurdles in 16.44, and placed second in the 300 low hurdles in 47.24 to also advance.
The GHSA Class A State Meet will be held at Vahalla Stadium in Rome starting Thursday, May 9.
Trinity Christian's girls also advanced to state in the 400 relay while finishing second to Our Lady of Mercy at the region championships in 52.52. The team was made up of Sarah Lemiyu, Hackworth, Claire Carson and Geerlings.
The Lady Lions' state qualifiers also included Nelson in the 400, while placing fourth in 1:02.44. Scorers on day two in running finals for Trinity's girls included Pria Pullen (7th, 200), Rogers (8th, 400; 8th, 800) and Sami Bourque (6th, 3,200).
In the field, the Lady Lions had multiple qualifiers in both the high jump and pole vault.
Geerlings and Kinsey Stierwalt cleared 4-6 and 4-4, respectively, in the high jump to placed third and fourth for Trinity. Carson won the pole vault at 8-0, ahead of teammate Breanna Peavy, who also advanced at 7-6.
In the triple jump, Leyimu advanced with a runner-up effort in the triple jump of 31-4.
Despite missing a trip to state by six inches, Trinity's Yakira Corbett set a new school record in the shot put of 31-3.
Scorers in the field for the Lady Lions also included Geerlings, who placed sixth in the long jump (14-9 ½).
Trinity's boys broke school records in both relay events while advancing to state in both the 400 and 1,600.
The Lions won the 400 relay in 42.34 with a team including Jalen Neal, Kyle McGuire, Damani Paddy and Shamari Reed.
Bryan McGuire and Dami Onakoya joined Kyle McGuire and Neal for a new 1,600 relay school record of 3:29.78, while also barely holding on for a state berth by three-hundredths of a second.
Individually, both Kyle McGuire and Reed advanced on the track. Reed advanced with fourth-place efforts in both the 100 (11.17) and 200 (22.58).
McGuire, meanwhile, set a new school record in the 400, placing as the region runner-up with a time of 49.46. He just was also fifth in the 200 behind Reed in 22.70.
Scorers on the track for Trinity's boys included Matthew Sherrod (6th, 110 hurdles; 6th, 300 hurdles), Adam Granade (6th, 800), Michael Freeman (7th, 3,200), Brian Schermerhorn (8th, 3,200) and Brian McGuire (8th, 300 hurdles).
Sherrod, Reed and Bryan McGuire joined Bart Truskolaski in qualifying for state in field events.
McGuire placed third in the triple jump at 40-10 1/4. Earning fourth-place effort were Sherrod (pole vault, 9-6), Reed (long jump, 19-8 ½) and Truskolaski (shot put, 41-11 ½).
The Lions had additional scorers in the field from Adam Granade (5th, pole vault), Reed Benefield (5th, high jump), Eric Wilkinson (7th, discus) and Neal (7th, long jump).