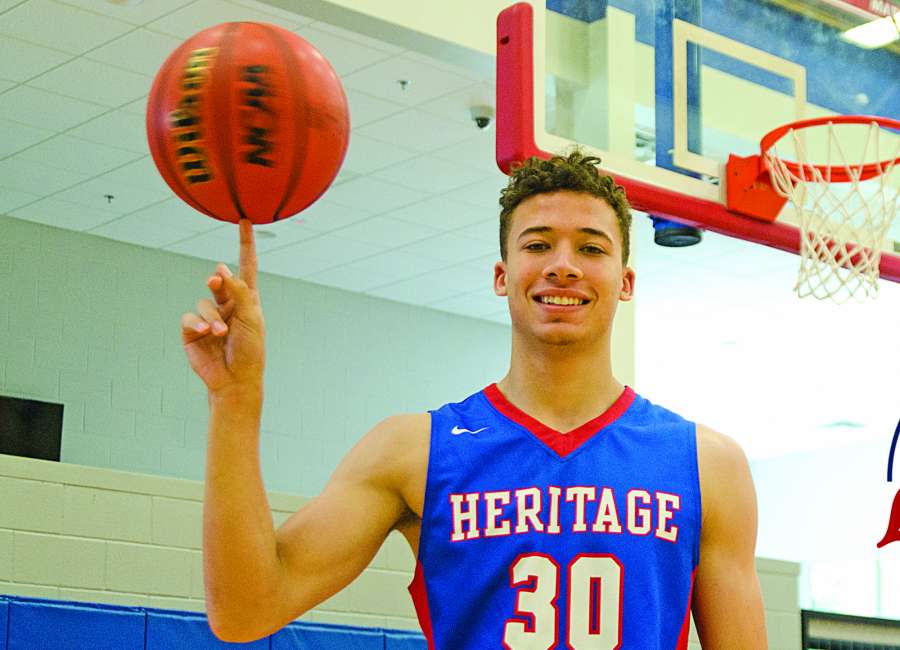 By Chris Goltermann
Cowetascore
Lance Terry couldn't have dreamed up a better ending to his high school basketball career at The Heritage School, one that could fit the script of the most successful of sports movies.
Had they filmed one about the Hawks' 2018-19 season, it would center around an underrated guard who helped his teammates overcome struggles against their rivals in a near-perfect finish.
This story, however, may have a sequel in store.
As he heads to Gardner Webb on a basketball scholarship in the fall, Terry   finds himself in familiar territory following next week's graduation ceremonies.
Once again as a college freshman, he hopes to make a reputation for himself as a standout player much as he was forced to against Holy Spirit, where the spotlight was firmly on University of Georgia signee Anthony Edwards, arguably the nation's No. 1 high school recruit.
"Mainly playing on a big stage, trying to impress everybody. It's the same mindset," said Terry, who finished with 2,222 points during his varsity career. "I have go out there and really show I can play so I can get out on the floor."
Terry, however, spent much of his high school career proving his worth. His averages as a senior included 22 points per game against GISA opponents and 26 when stepping outside league play in both national events and when facing GHSA schools.
"I definitely worked harder," Terry said. "We had to come together as a team. In the beginning it was kind of separated, but as the season went on we got better as a team."
In all four varsity seasons, Terry was named All-Region to go with All-State accolades in the GISA over the last three. He made every All-Tournament team over a two year span while also a yearly participant in the GISA All-Star Game.
Remarkably, though, he began this winter with only one good foot and some doubts whether a slight fracture in his foot suffered late in the AAU season would heal without surgery.
"Me and my dad had a lot of talks on whether or not I should play or whether we should get a procedure done. But it felt better and I said I wanted to play because I didn't want to miss any games," Terry said. "I felt like I put more pressure on myself because of my foot and how it was messed up and how much I wanted to go back and play."
Heritage was also coming off two consecutive losses in the GISA state finals to Holy Spirit on its way to winning nine straight meetings including the first of the 2018-19 season.
A trip to Atlanta in the first meeting of 2018-19 against the Cougars produced a good start, but ultimately a familiar result in a 63-50 loss.
Less than two weeks later, however, Heritage upped intensity on its home floor, falling 69-68 after running out of time.
Head coach Joab "Joey" Jerome hinted to his team that there was more to give.
"We always knew we could," Terry said. "But after the [loss] here Coach Joey said we should be proud but also be disappointed because we knew we could beat them."
Jerome was right. In a thrilling finish to the Region 1-AAA tournament, Heritage standout junior point-guard Kasen Jennings banked home a championship-winning shot in a 80-79 victory that gave Heritage a No. 1 seed in the state playoffs.
The rivals remained on a collision course to the finals at Georgia Southwestern on Feb. 23. A third consecutive trip to a state championship game proved the charm as the Hawks had the upper-hand throughout regulation and held on at the finish for a 67-64 victory to win an elusive Class AAA title.
Usually the tough games aren't fun, but this last one was fun because it was real competitive," Terry said, having scored a team-high 28 points.
Over his four years, Terry admitted that he continued to work on being more well rounded. Shooting became a natural fit growing up while also playing football and baseball. His father Lance is also the athletic coordinator of the High Conley Recreation Center in College Park and a former high school basketball standout at North Clayton.
It's where little Lance routinely found himself during his off time from school.
"Every day. I was at the weight room at the basketball gym all the time," he said. "My dad could shoot real good. So we always could see who could shoot the furthest."
He played in youth leagues there before finally basketball won him over for good.
"I was at basketball one time and we had to leave and go to baseball and I didn't feel like leaving because I was having fun. From that day, it's been just basketball," he said. "My defense has gotten better. In rec league growing up, they labeled me as a shooter. When I got here [to Heritage], that's when we started working on it."
Terry also had to overcome other labels, especially while being handed consecutive losses in the state finals.
Yet he remained a believer, especially if one had told Terry his future at the start of the school year. He graduates next week as a state champion with nothing more to prove at The Heritage School.
"I probably would have believed it," he said. "It's really like a love and hate thing. I hate being said that I'm less than somebody. But I love when I do it because I can prove myself."