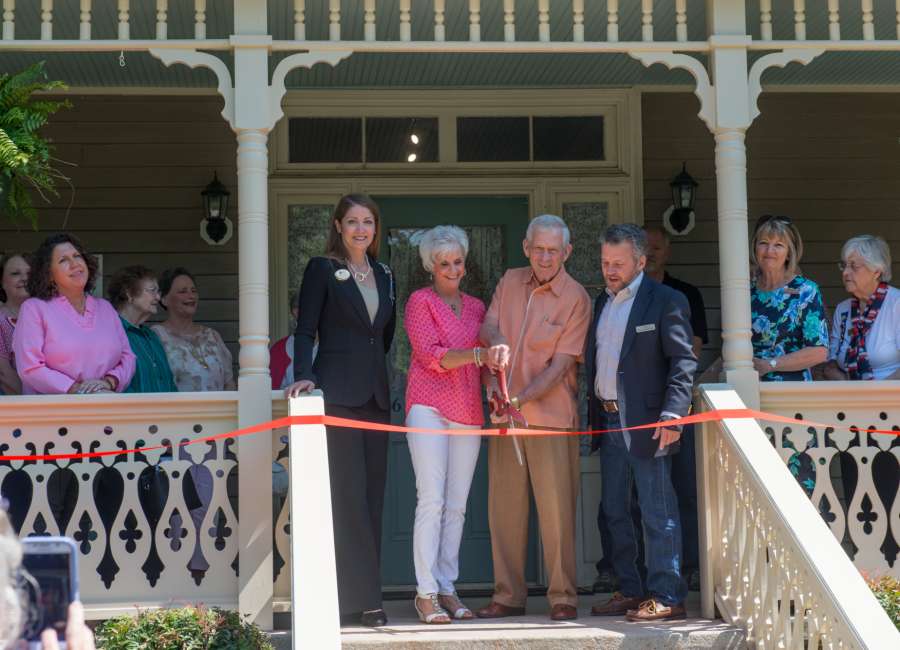 If Abram and Beulah Carmichael could see the porch at their old home in Senoia, they would recognize it.

The old Carmichael home – at 6 Couch St. – is now the Senoia Area Historical Society Museum. The museum recently restored the porch to its original appearance using a grant from the National Society Daughters of the American Revolution (DAR).
Funding for the project was through the sponsorship of General Daniel Newnan Chapter, DAR, of Newnan.
"We were thrilled to receive such a generous donation from DAR. We realize that our grant is just one of many that they made throughout the years to preserve our nation's history," said Doug Kolbenschlag, SAHS president.
"We feel fortunate that they chose Senoia and the Senoia Area Historical Society in helping to return the Carmichael House's porch to its original splendor," Kolbenschlag said. He expressed thanks to the General Daniel Newnan Chapter and to William "Dub" Pearman III who oversaw the project for the historical society.
On Saturday, May 18, the historical society held a ribbon cutting ceremony at the museum.
Scarlett Gibson, DAR vice regent, and Doug Kolbenschlag, SAHS president, stood alongside Kathy Samples and Donald Patterson, descendants of the Carmichael family, as they performed the honor of cutting the ribbon on their grandmother's childhood home. The restoration was based on photos of the original porch as it looked at the turn of the last century when it was the Carmichael family home, according to Maureen Schuyler, director of the museum.
About 65 people attended the event, which included a reception following the ribbon cutting.
The DAR grants program was started in 2010. Funding is awarded to support projects in local communities which promote the organization's mission areas of historic preservation, education and patriotism. The DAR receives hundreds of grants applications each year, making competition high for the funding through the non-profit organization. 
The National Society Daughters of the American Revolution was founded in 1890 to promote patriotism, preserve American history, and support better education. Its members are descended from patriots who won American independence during the Revolutionary War.
The DAR has 178,000 members in approximately 3,000 chapters worldwide.