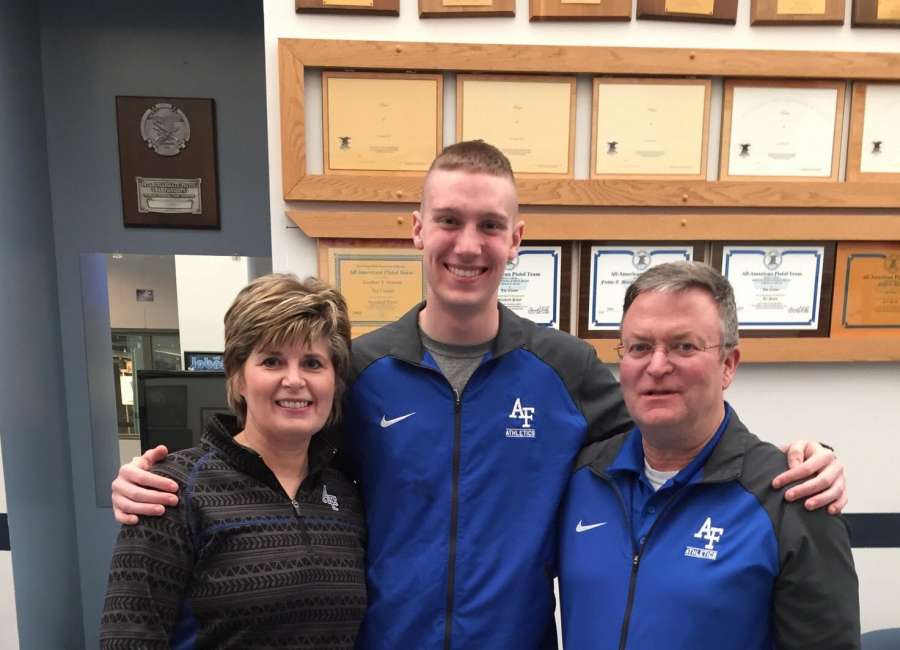 Nate Peterson thought he'd quit competitive shooting before he went to college.
"I got really lucky, met the Air Force Academy head coach and she ended up recruiting me," Peterson said.
This year, Peterson placed third in the National Jr. Olympics and will compete as a part of the USA shooting team in the International Shooting Sport Federation Junior World Cup in Germany in the summer.
Peterson, an East Coweta alum, shoots competitively on the AFA's rifle team.
"I've worked really hard with them to get to a new level shooting," Peterson said.
Peterson said he was originally a part of ECHS's marching band, but after joining the school's JROTC program, he was asked if he wanted to try out for the rifle team.
"That's when I started my shooting career," he said. "I didn't have any other experience. I shot with my dad a few times at a shooting range, but that was about it."
Peterson didn't really get involved in shooting until his sophomore year in high school, according to Major Peter Merrill, coach of ECHS's rifle team.
"He and his teammates were really committed," Merrill said. "He came out as a competitive shooter in high school."
At 6 feet 5 inches tall, Peterson said competitive shooters are usually a lot shorter than he is.
"It's translated to me working longer to get to the same point as other people. There's a higher center of gravity and what you see in the sights is often exaggerated for someone who is taller," he said. "The way we shoot, you're not super stable in the sense of balance so I think it takes longer to get used to that."
Despite his height, Peterson persevered.
"I just kind of kept shooting and coming back and kept shooting," Peterson said. "I was very fortunate that Major Merrill was working very hard to learn about shooting. He worked hard to become knowledgeable to coach me as best as he could."
"He kind of came from nowhere, to be honest," Merill said. "He was a great shooter in Georgia but he has had a huge success at the Air Force Academy. He's kind of a dark horse."
In competitions, the shooter is positioned 10 meters away from their target with an air rifle. The shooters then take 60 shots which are scored on a scale of zero to 10.9.
According to Peterson, final scores in competitions can often be decided by decimal points.
"I was between second and sixth place, and sixth place was only 1.6 points behind second place," he said of the Junior Olympics.
Peterson said he enjoys high-impact activities like football and motocross, but finds relaxation in the methodical nature of shooting.
"I think its an 'attention to detail' sport – you have to have a lot of discipline," he said. "You're trying to do the same thing over and over again and trying to perfect it, which is basically impossible but it's what everybody in the sport strives for."
A goal Peterson held for a while was breaking a score of 620 in a competition.
During his first day at the Junior Olympics, "I went into the match and day one I came out of the gate," he said. "I looked down and I'm actually shooting very well. On my second to last shot I broke the 620 mark."
Although the competition will be tough, Peterson said he's excited to compete in Germany.
"This is where you're getting the guys in between the olympic years," he said. "If you're not scoring 625s or 627s you're not competitive in the World Cup."
"As a previous coach, I'm happy," Merrill said. "Who would have thought his sophomore year this kid would be shooting at the world level?"