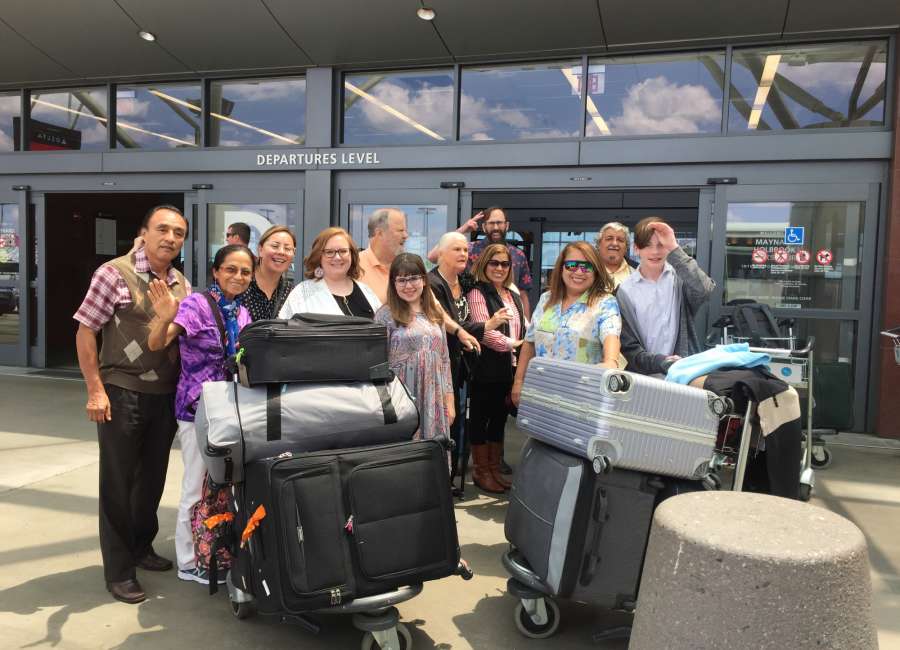 East Newnan Baptist Church has sent its members to Peru on mission trips, and now the church has welcomed Peruvian missionaries for a respite in Coweta County.

Six missionaries came from Peru. ENBC member June Harris said the church members made every effort to "make them feel at home here in Newnan."
David Jonassen, East Newnan's youth and missions minister, made the arrangements for the visit.
Three families opened their homes, and all of those families included someone who has been to Peru on a mission trip.
"They were with us 10 days, and those days were filled with things to do while here and near Atlanta," Harris said. There were visits to the World of Coke, the Varsity "and then a visit to the original Krispy Kreme right down the street," Harris said.
"The missionaries acquired  caps from each place," she added. "I even went into a Waffle House and asked for some hats, which they kindly gave to me."
East Newnan's Women on Mission prepared and served breakfast every morning at nine at the church.
There were also several shopping trips to local retailers. Shopping  was "something the missionaries apparently never tired of," Harris said. She said church members sometimes "had a difficult time keeping up" with the missionaries, who she described as being "like kids in a candy shop."
The missionaries also enjoyed meals at local buffet restaurants and a bus trip to Buckner's Family Restaurant near Jackson. "Chick-fil-A was generous  enough to give each missionary and host a free chicken sandwich," Harris said.
The East Newnan hosts and Peruvian visitors also enjoyed grilling and swimming. Some of the group went fishing for the first time.
"During their stay, their vacation, we got them involved in labeling bottles for Relay for Life and being a part of Serve Coweta. One of the last events was the rodeo here in town, for them, only seen in movies," Harris said.
The 10-day visit created many friendships, and Facetime and texting are keeping the Cowetans and the Peruvians connected.
"There was recently an earthquake in Peru," Harris said. "Our missionaries are safe." There has, however, been much damage to the countryside.