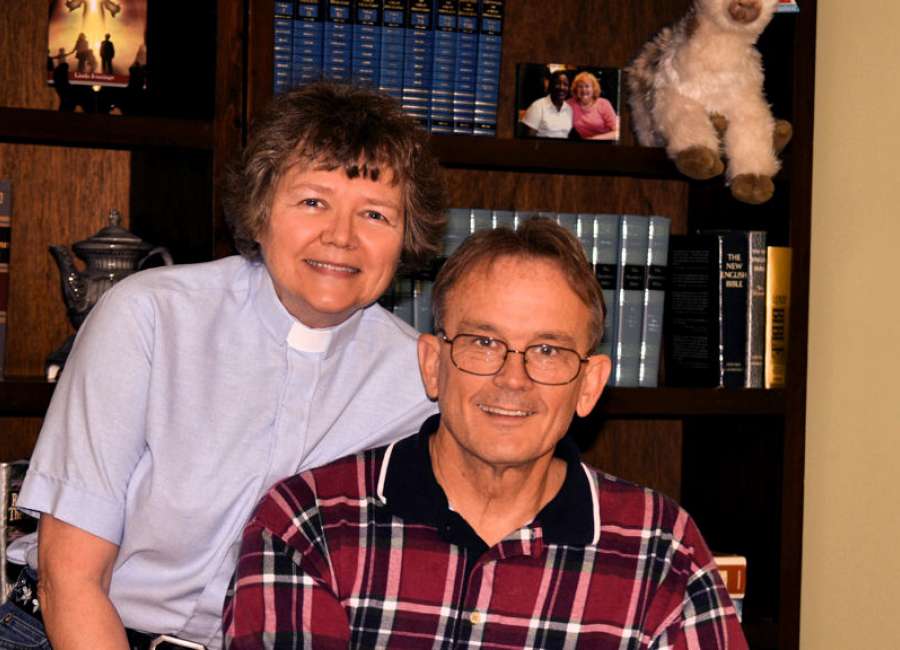 "Nut'n But The Truth," a faith-based drama/comedy, has been picked up by Life!

Christian Broadcasting Network.
Tom and Linda Jennings, who live near Senoia, launched the venture in 2017, and episodes have been going up on YouTube for more than a year. In order to meet the network's request for an episode per week, Heaven Road Studio will need to acquire an additional complement of actors and crew.
Grace Rendall, vice-president of CBN, said she almost cried when she received Heaven
Road's proposal.
"I'd been praying for something scripted, especially a series, but nobody is doing it," Rendall said.
Linda Jennings said there is lots of Christian broadcasting available, but much of it is preaching and teaching. CBN and Rendall have been looking for scripted shows that tell a story through drama and humor.
"She wanted specifically short, 30-minute scripted" programming, Linda Jennings said.
Heaven Road had completed the current season of "Nut'n" filming one Saturday each month. The volunteers who put the series together are going to have to step up their pace.
"Nut'n" is a missions based project using volunteers to produce what Linda Jennings said is a "unique way of ministering the gospel."
At this point, "Nut'n" is an all-volunteer project. People who are interested in participating do not need experience as training is available – both in front of and behind the camera. This includes editing.
"There is no charge for the training as long as the training is never used to produce anything which would hurt the heart of God," said Tom Jennings, who – with his wife – serves as a co-executive producer of the show.
"Heaven Road is looking for people of all ages and backgrounds: children, youth, adults
and seniors," Linda Jennings said. They are especially interested in people who can film during the week as well as Saturdays.
Interviews and auditions will be held Saturday, May 25, at New Vision Church, in
Fayetteville, from noon to 2 p.m., and Sunday, May 26, at Senoia United Methodist Church in Senoia, from 2–5 p.m. For information, contact Linda Jennings at authorlindaj@gmail.com .
The Jenningses talked about how the show has come together and how they see God's hand in its genesis. They started out using equipment from a previous show Linda Jennings did, "Tea With Maggie and Linda."
Churches have let the crew use their buildings to film, and folks have volunteered their homes. 
Some of the filming also has taken place on the Jennings' wooded acreage. "We film out there. We built a studio out there," she said.
Those who have worked on the program so far range from young children to senior citizens. "We are a family on that set," Linda Jennings said.
Tom Jennings is mentoring young people who want to learn how to film scenes and edit them. 
"One of the most critical needs is for editors. We're ready to train in anything," Linda said. "We're doing this for the kingdom. Nobody gets paid for anything, including us."
Even where "Nut'n" has gone has a missionary element to it. 
"We're in two jails, a prison, just got accepted into a transitional facility for women. Those places don't have any money for entertainment," Linda said.
"This is a powerful tool for the gospel," she added. "This is missions right here."
To make the expanded series a possibility, Tom Jennings has had to learn how to put closed captioning into the programs. That had not been done for the episodes created and posted on YouTube, but is required by the Federal Communications Commission for broadcasting.
"None of the shows were closed captioned. I thought that was going to be easy to do," Tom said. "It has to be embedded in the coding."
The process has been more complicated. He has been in regular communication with the chief editor at Christian Broadcasting Network and with Michael Britt, who teaches broadcasting at Central Educational Center.
Tom said Britt teaches the software that he uses. He also said he has "been working back and forth with the station in El Paso."
"One of the exciting things about working for the Lord is that He always turns obstacles into a highway for you," Tom Jennings said.
The closed captioning process includes the option of adding subtitles not only in
English, but in other languages – Spanish, French, Russian and Arabic, among them.
"That opens up so many more doors for us," he said. "To God be the glory."