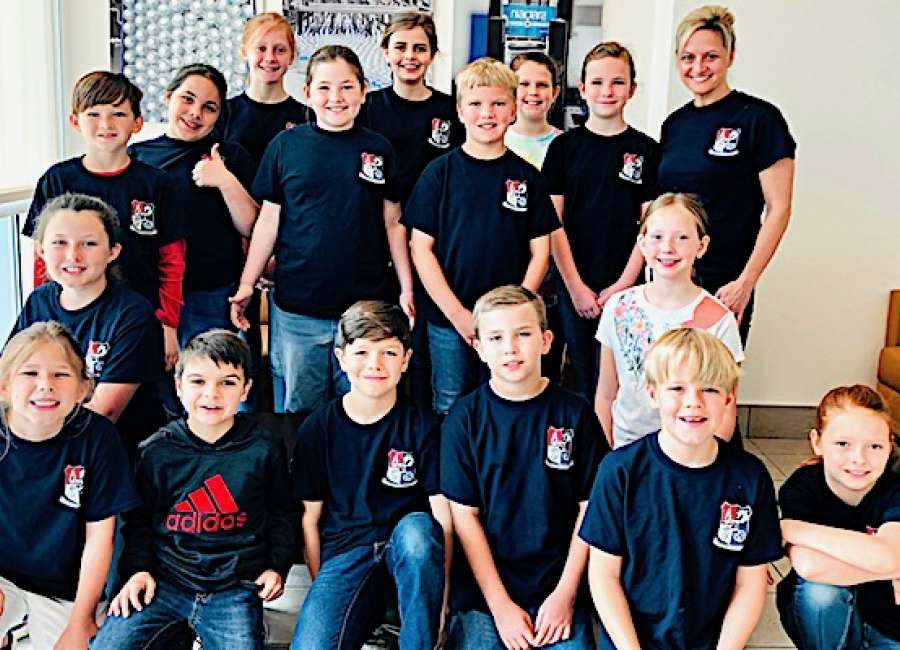 One local company recently gave students an inside look into how recycled plastic is turned into brand-new water bottles.

Members of Northside's STEM (Science, Technology, Engineering, Math) Academy became the first elementary students to tour Niagara Bottling in Newnan, where the STEM Academy Challengers went behind the scenes to learn how the company creates bottles for its drinking water from plastic pellets.
Hudson Nestlehutt, a third-grader, said he was excited from the moment he stepped off the bus at the facility – especially about the machines.
"It was so big!" he said of the company. "Once you got into the building behind the scenes, you could hear the machines. My favorite machine was the one that drove itself."
Before the tour, students learned more about Niagara from Jeremy Derk, plant director; Darshica Collins, quality assurance manager; and Brad Thompson, plant engineer.
The trio shared that 50 percent of the company's bottles are made from recycled plastic. Polyethylene terephthalate – the chemical name for polyester, abbreviated PET – is a clear, strong, lightweight plastic widely used for packaging food and beverages, especially soft drinks, juices and water.
Students examined plastic PET pellets, which Niagara Bottling melts down and molds into small plastic tubes called preforms that are used to make regular-sized water bottles.
"I learned that the bottles started as tubes and then they get heated really fast," third-grader Caleb Walton said. "Then they have a really fast wind put into them and blow up like a bottle."
Hollins explained to the students that her job is to test and make sure the water is safe, before and after bottling, and to make sure the caps and bottles are durable. Thompson told students he keeps the equipment maintained and operating at full capacity, as well as looking after the water filtration equipment.
He helped the students understand the difference between tap water and bottled water, explaining the filtration process. To demonstrate reverse osmosis, Thompson performed an experiment with eggs in vinegar, pure water and corn syrup.
"I feel more safe about drinking water because after they showed me how they clean it, it just makes me feel more safe about drinking their water," said third-grader Lynley Dalrymple.
After learning about the plant and processes, the Challengers geared up with personal safety equipment – hair nets, protective glasses and earplugs – and headed out to the manufacturing floor. There, they examined equipment used by Hollins to perform quality checks. Thompson showed them the pipes and drums used in water filtration farm.
The final stop was the area where bottles are made, filled and wrapped. That area was nicknamed "Niagara Falls" by third-grader Jo Emeott, who said she liked the way the water falls into the bottles while they are being filled.
Walton said the experience was "amazing."
"It's cool how (the bottles) get on the conveyor belt and they fill up really fast," he said. "They have science behind everything. I know they work very hard."
Sponsor Mary Thompson, parent volunteer Samantha Nestlehutt and Coweta Schools Math Curriculum Specialist Michelle Clarke supervised the group of 16 students, which in addition to Hudson Nestlehutt, Walton, Dalrymple and Emeott included Harper Agee, Parks Agee, Kaylee Ceballos, Luke Chambless, Grayson Gaddy, Ann Marie Harlan, Betsy Hoffman, Carleigh Holcombe, Cooper Mansfield, Baelynn Ray, Brinley Rhodes and Piper Smith.
Organizers said the field trip was the highlight of the year for the STEM Academy Challengers, who now have a working understanding of recycling, filtration, manufacturing, safety, teamwork and community outreach.