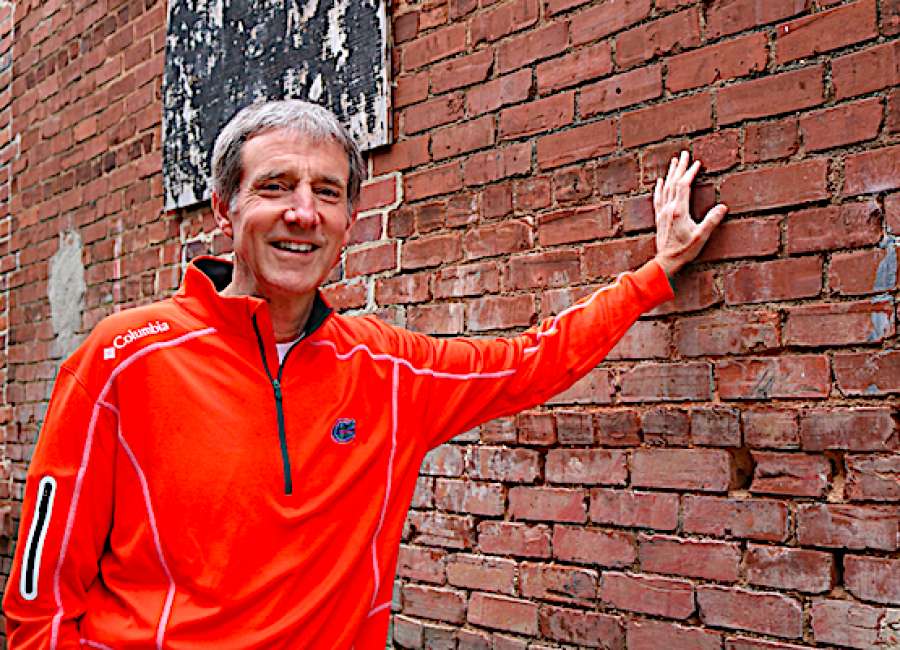 When Cindy and I first moved to Senoia, my grandson Krischan and I made it a point to introduce ourselves to all of the horses we saw along the country roads.

We always made sure we had apples with us so they knew we meant business. In fact, my very first purchase at Crook's Marketplace was a bag of apples.
Our first two friends were Curious George and General, two rather large horses residing in a large field on Elder's Mill Road. We leaned on the fence with our peace offerings as the owner came out and invited us onto his land.
General, the smaller of the two horses, took a particular interest in Krischan, who returned the favor. The owner explained that General had been abandoned years ago and had an infection in his eyes that went untreated by the previous owner. Sadly, the neglect resulted in General being blind for most of his life.
But General didn't seem to have any problem getting around. He followed Krischan around like a puppy and, when we left, resumed being led around the pasture by Curious George. Although it was sad to hear of General's plight, it was comforting to see that he had adapted and was living a comfortable life.
I've known and run with Valerie for more than a quarter of a century. During that time, she's owned many dogs. I lost count, but I know the number is in double digits.
She has always taken her dogs along with her on her runs. Two of them ran an official marathon by her side years ago. Currently she has six dogs to go along with five cats and a fluctuating number of turtles and chickens.
I've run many miles with Valerie – and naturally with all of her dogs over the years. Emma, a German shorthaired pointer, proved to be the fastest of them all. Antonio, another of our running partners, always liked to take Emma's leash because Emma would always run fast and "pull" Antonio ahead of Valerie and me as we ran.
Emma always took a particular interest in me because she knew I was a sucker for any four-legged animal that needed petting. Whenever we saw each other, she would run to me, prop her front legs on my waist and stand patiently for as long as I was willing to comply with her wishes.
Then suddenly and without warning, Emma contracted SARDS – Sudden Acquired Retinal Degeneration Syndrome – and, virtually overnight, lost her sight. The confident, energetic dog Valerie knew was no more. Emma, not knowing what had happened to her – she's a dog, remember – couldn't understand why her world had suddenly gone dark. A vet wasn't able to explain to her why her world had suddenly turned pitch black.
Besides, there isn't a vet alive that even knows the cause of SARDS. All they know is that it happens and dogs, being the resilient creatures they are, can adapt. If you saw Emma frolicking in Valerie's backyard, you would never know she was blind, unless you happened to notice the "Be Kind I'm Blind" bandana around her neck.
I still see Emma occasionally. When I do I pet her on the head for as long as she'll allow, looking into those big brown eyes of hers.
It breaks my heart she doesn't look back.
Scott Ludwig lives, runs and writes in Senoia. His latest book, "Southern Charm" is a collection of his first 101 columns for The Newnan Times-Herald. He can be reached at magicludwig1@gmail.com