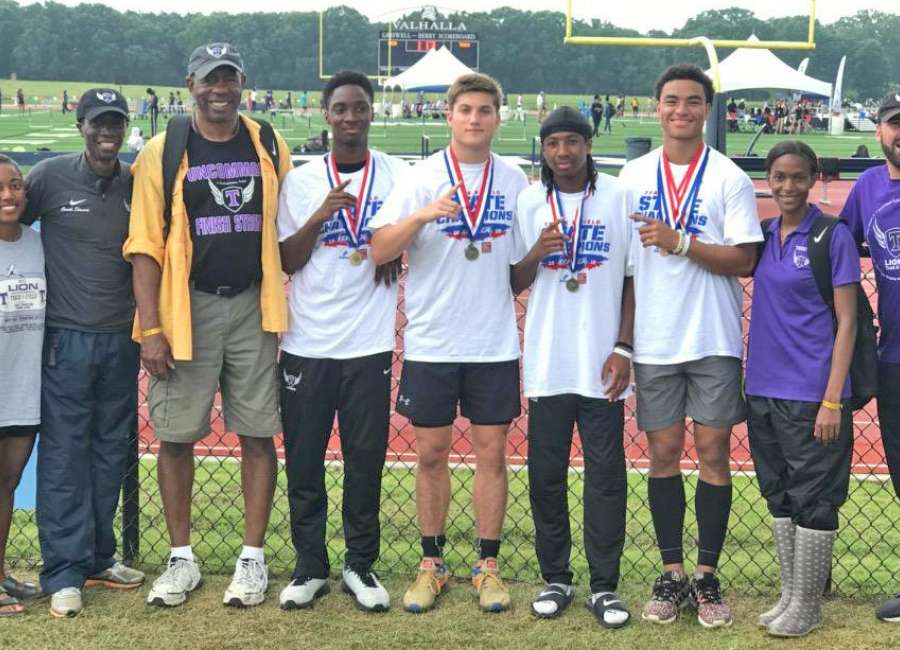 BY CHRIS GOLTERMANN
COWETASCORE
The 2019 high school track season drew to a close, but not without one more state championship effort from Coweta County — and a bit of history.
Trinity Christian wrapped up its first year in the GHSA with its boys 400-relay team winning a title on the final day of the Class A-Private Meet at Berry College.
The Lions team of Jalen Neal, Kyle McGuire, Damani Paddy and Shamari Reed finished first in 42.61, ahead of Athens Academy's time of 42.78.
It added to a seventh-place finish for Trinity's boys, which competed in a region led by eventual Class A-Private state champion Landmark Christian.
The Lions closed the meet with a sixth-place effort in the 1,600 relay. A team of Kyle and Bryan McGuire, Dami Onakoya and Neal crossed in 3:32.10.
Individually, Trinity also received scoring efforts from Kyle McGuire and Shamari Reed.
McGuire took third in the 400 at 50.07 and Reed scored in both the 100 and 200 while placing fifth (11.12) and seventh (22.87), respectively.
All four county schools that had qualifiers for this year's GHSA Championships had athletes reach the podium on the final day of competition.
They included runner-up efforts for East Coweta junior Kyle Harkabus in the Class 7A finals of the 800 and Northgate freshman Malik Mixon also in the Class 6A 110-high hurdles.
Harkabus, who was coming off a third consecutive state championship in the 1,600 the previous day, improved on his preliminary time to finish in 1:57.63.
It came while going head-to-head with Shiloh senior Elijah Berry, who closed out his varsity career with a victory in 1:56.41, while also helping lead the Raiders to the Class 7A boys team title at Berry.
The Indians earned their second consecutive fourth-place finish while coming off this year's Region 2-7A championship. East Coweta's 39 points trailed only Shiloh (66), Peachtree Ridge (42.75) and Hillgrove (41).
In addition to Harkabus' 18 points, the Indians were paced by scoring efforts in both hurdles events. Senior Ahumad "Q" Williams, who broke the school record in the 110 high hurdles this spring, closed the 2019 season, improved on his previous mark.
Williams' final effort of 14.07 placed third behind Lassiter's Myles Marshall (13.75) and Peachtree Ridge's Wilson McClain (13.80).
In the 300 intermediate hurdles, senior Ramal Holston also finished strong, placing sixth in his final varsity effort of 39.79.
Northgate's Mixon had a successful debut during his first trip to the Class 6A state meet. The Viking freshman earned a state runner-up finish in the 110 hurdles with a season-best time of 14.34. A battle to the finish line had Lovejoy senior Allan Mbah barely holding on for a victory in 14.32.
Mixon was among a pair of Northgate athletes that advanced to the state meet, joining sophomore long-distance runner William Stephens, who competed in the 1,600 and 3,200 meter runs.
Newnan seniors Malik Hussie, Tyriq Hussie, Elijah Williams, Trey Bridges and Vyshawn Wright competed for the final time to close the 2019 Class 7A state meet.
The Cougars finished seventh in the 400 relay in 43.10. Individually, Tyriq Hussie was sixth in the 100 in 11.12, while Malik Hussie placed eighth in the 400 (49.77).
Newnan junior Bo Palmer advanced with East Coweta's Harkabus to the finals of the 800. Palmer placed seventh in 2:01.26.
In girls efforts to close the season, Trinity Christian's girls finished with 11 points including five from Bryce Hackworth's fourth-place effort in the 100 hurdles (17.31).
Hackworth was also part of a fourth-place finish by the Lady Lions in the 1,600 relay. A team of Sarah Nelson, Claire Geerlings, Reagan Rogers and Hackworth crossed in 4:10.60.