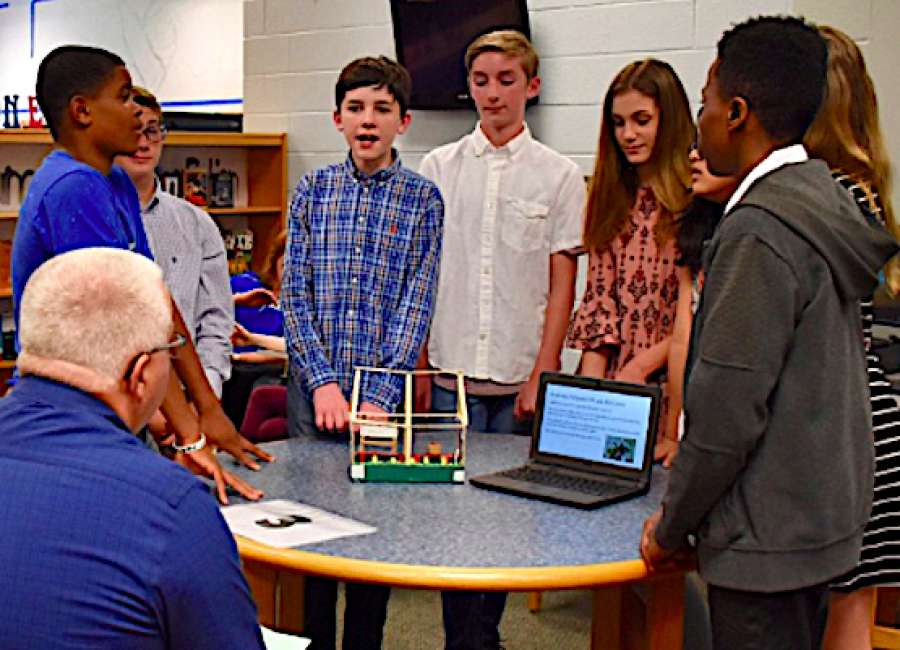 Students who spent their school year researching and designing 3-D models of a greenhouse may see their work brought to life next year.

Lee Middle School's Science, Technology, Engineering, Art and Mathematics (STEAM) Team – comprised of 13 groups of students – recently presented its year-end project proposals for a school greenhouse to community stakeholders. Their presentation included student-created 3-D models based on scale drawings of original greenhouse designs.
Team members researched the costs associated with building a greenhouse and the academic standards that support its incorporation into Lee's educational program, and they shared that information with their guests as well.
Inviting community members to interact with STEAM Team members is crucial in helping students learn to effectively communicate their ideas – a goal of the program, according to Lee Principal Cindy Bennett.
"Communication and public speaking skills are critical areas that students need as they prepare themselves for the working world," she said. "The community members attending the event were invited to actively engage in conversation with the students and provide constructive feedback on the students' proposals."
The STEAM Team is led by four seventh-grade academic teachers who teach English/language arts, math, science, and social studies; one art teacher and two special education teachers. Approximately 108 students currently are members of the STEAM Team.
To participate, students go through an application process during their sixth-grade year and are selected based on end-of-year grades, attendance and an essay about STEAM.
The STEAM Team is open to all Lee students, including those who receive special education services, gifted services and regular education services. All collaborated while researching and designing the student-selected greenhouse this year.
"Project-based learning has been the core of the STEAM Team, and all students have benefitted from this process both academically and socially," Bennett said.
Bennett said the STEAM Team's goal is to construct a greenhouse on the LMS campus during the 2019-2020 academic year.
"This goal is to bring authentic, real-life educational opportunities to students, and the STEAM students will have the opportunity to make their greenhouse model a reality next year," she said.
Area businesses interested in making donations to help defray the cost of building supplies and materials for the project may contact Bennett at 770-251-1547.