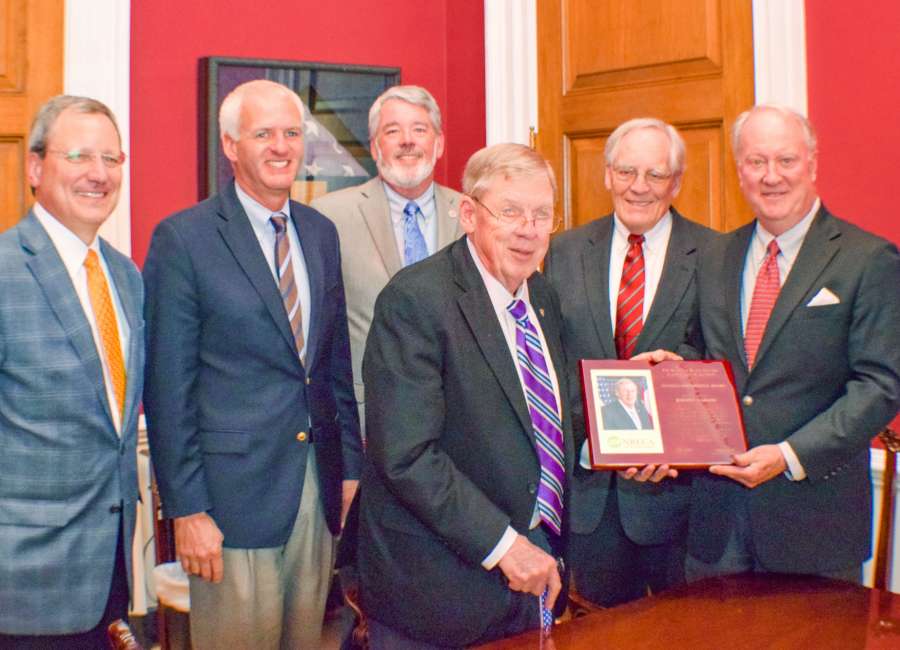 Sen. Johnny Isakson, R-Ga., was recently presented with the Distinguished Service Award from the National Rural Electric Cooperative Association (NRECA) during its annual Legislative Conference in Washington, D.C.
Coweta-Fayette EMC management and board joined with EMCs from across the country in presenting the award to Isakson.
According to the NRECA,  Distinguished Service Awards are presented to public officials who have gone above and beyond in furthering the principles and progress of electric cooperatives and helping the association advance its goals.
"The Legislative Conference provides a rare opportunity for co-op leaders to gather in one place, at one time, with one voice, to personally engage with lawmakers at the national level and discuss important issues and concerns facing our communities back home," said Coweta-Fayette CEO Chris Stephens.
"It's important we build relationships with our elected officials and their staff so that when an issue arises that is important to our members and employees, we have a contact to express our concerns and let them know how they could affect our ability to provide safe, reliable and affordable electricity and related services to our members," Stephens added. "There is no better public servant who will respond to our call than Senator Johnny Isakson."
CFEMC Board Chairman Jim Fulton said there is no senator with a stronger commitment to the industry than Isakson.
"With the myriad of legislative initiatives which cross a senator's desk and need a champion, you have to have a respected public servant with the stature of Sen. Isakson to get the attention not only of his Senate peers, but of his House colleagues as well," Fulton said. "He has, for his entire career both in the Georgia legislature, in the U.S. House and now in the U.S. Senate, been that marshal for our causes."
CFEMC board of directors secretary-treasurer and four-term Georgia legislator J. Neal Shepard, Jr. echoed those sentiments, saying there's none more deserving of the award. 
"Johnny has been supportive of EMCs and our issues as long as I can remember," Shepard said. "He's worked with us in the early days on issues like satellite, accountability, and always had a great relationship with Georgia EMC. In the last few years, he's worked on broadband and nuclear production tax credits. He's a great friend to us personally and to us as an industry."
CFEMC is a member-owned cooperative providing electricity and related services to more than 70,000 members in Coweta, Fayette, Clayton, Heard, Fulton, Meriwether, Spalding and Troup counties.