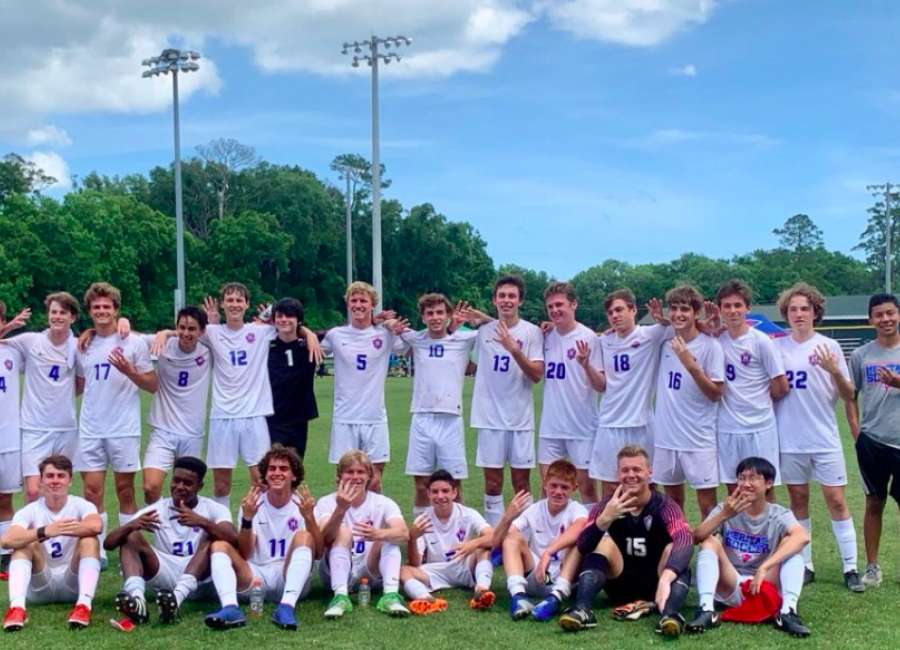 By Chris Goltermann / Coweta Score
Eat your heart out, Avengers.
The Heritage School boys soccer team went into hostile territory for the GISA State Boys Soccer Semifinals and slayed one its playoff nemesis' with a 1-0 upset of Frederica.
Now they have another opportunity to go back in time and defeat the biggest giant of the entire league, one that produced an 'End Game' in the 2018 Final Four.
Daniel Wellons' goal with 15 minutes remaining stood to help defeat a powerhouse Knights program that had stymied the Hawks' hopes of reaching the 2017 state finals during a heartbreaking loss in PKs at Mercer.
Heritage heads back to Five Star Stadium in Macon for a third consecutive season with hopes of knocking off defending five-time state champion Westminster Schools of Augusta. The teams met in the 2018 semifinals in a game won by the Wildcats 4-0.

The Hawks proved against Frederica that it had the potential to overcome their former playoff demons while earning their first boys victory over the St. Simons school — which has been a yearly state title contender in both boys and girls soccer — since 2003.
That year, Heritage defeated Frederica in the semifinals on its way to its only GISA state title in boys soccer.
As a No. 3 seed from a tough group of Region 1 schools that also included Fugees, Cristo Rey and an equally upset-minded Holy Spirit team.
Holy Spirit joined the state semifinals with a 4-2 upset of Augusta Prep while Fugees played Bulloch Academy for the right to advance to the Final Four.
Heritage, meanwhile, made the cross-state five-hour drive to the Georgia coast worth the trip. The Hawks fed off a stellar defensive effort capped off in the second half that denied Frederica a single shot on goal.
Senior keeper Jack Hunt made a key save in the first half on a Frederica breakaway that kept the game scoreless, with seniors Parker Uglum and Gridley Pendergrast helping anchor the back line with sophomore Brandon Hurlock.

Heritage out-shot the Knights by a 20-4 margin to keep the pressure in Frederica's zone, with eighth grader Micah Alba firing three of the Hawks' attempts on goal.
They finally broke the scoreless deadlock when another eighth grader, Mack Mikko, set up Wellons for his team-leading 15th goal of the season.
Getting through Westminster expects to be an even stiffer challenge. The Wildcats, who haven't missed a GISA Final Four this decade, rolled past Cristo Rey 5-0 in the state quarterfinals. Cristo Rey held off Heritage for the No. 2 seed in Region 1 after defeating the Hawks in a hard-fought 3-2 decision.
Game time is set for 6:30 p.m., on Friday, May 10 at Mercer in the second of two semifinal games. Holy Spirit will play the Fugees/Bulloch Academy winner at 4 p.m.