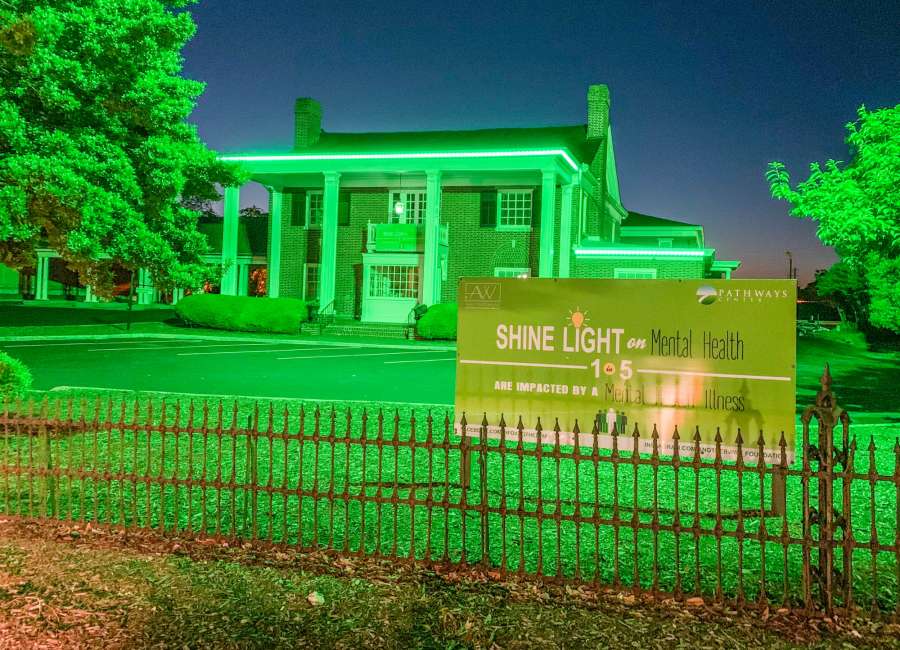 A local mental health service provider hopes to "shine a light" on mental health during May, which is Mental Health Awareness Month.

Pathways Center provides mental health services in Coweta County and runs a nonprofit called AnotherWay Foundation. Their facilities in Coweta, Spalding and Carroll counties will shine green for the entire month of May.
The group will partner with Coweta County Fire Rescue, shining green lights on all 15 fire stations.
Hess said one in five individuals are impacted by mental illness, but according to www.mentalhealthfirstaid.org, only 41 percent of the people in the U.S. who had a mental disorder in the past year received professional health care or other services.
"Not only do we want to raise awareness, but we also want to raise resources," Hess said. "We have found that both adults and children who receive crisis services through our crisis units, outpatient facilities, partnerships through the school system and Coweta Cares do not have clothing, food, etc.
Hess has identified four fire stations that will be a donation site for individuals to donate gently used clothing – for children and adults – as well as monetary donations.
All received donations will go towards serving individuals here in Coweta County.
The four fire stations to drop off donations are:
-Fire Station No. 1, Turkey Creek Road
-Fire Station No. 6, Madras Parkway
-Fire Station No. 7, Fischer Road
-Fire Station No. 12, Ebenezer Church Road
Last fall, Coweta County Fire Rescue introduced the launch of the Coweta Cares mobile integrated health care unit and changes to dispatch procedures for behavioral health calls. 
Pathways is part of the Coweta Cares emergency response program, and their Pathways Cares Campus on Hospital Road will be opening soon.
The Coweta Cares unit will be staffed by a paramedic from Coweta County Fire Rescue and a licensed professional counselor from Pathways.
The unit will not provide emergency response, but instead seeks to provide "communication before crisis," said Assistant Chief Jeff Denney of Coweta County Fire Rescue in a previous Newnan Times-Herald interview. 
Initially, the unit will be staffed Monday through Friday from 8 a.m. to 5 p.m. and will visit Cowetans who have been regular callers to Coweta 911 for behavioral health issues, as well as other patients with behavioral health issues who are referred to the service – and some stroke patients.
The unit is an SUV, not an ambulance, and the staff won't wear typical paramedic uniforms.
Hess said the new crisis facilities are expected to open later next month.
Pathways Center and AnotherWay Foundation hosted a Spring Fling at the Coweta County Fairgrounds on May 2 for approximately 180 individuals with mental health and intellectual and developmental disabilities. These individuals were able to participate in dancing, games, lunch and face painting.
Hess said Pathways Center also has a Wellness Wednesday program for clients receiving day program services, and they will be participating in an outing to Fire Station No. 1 where they will complete a station tour to learn more about fire safety and wellness in an emergency situation.