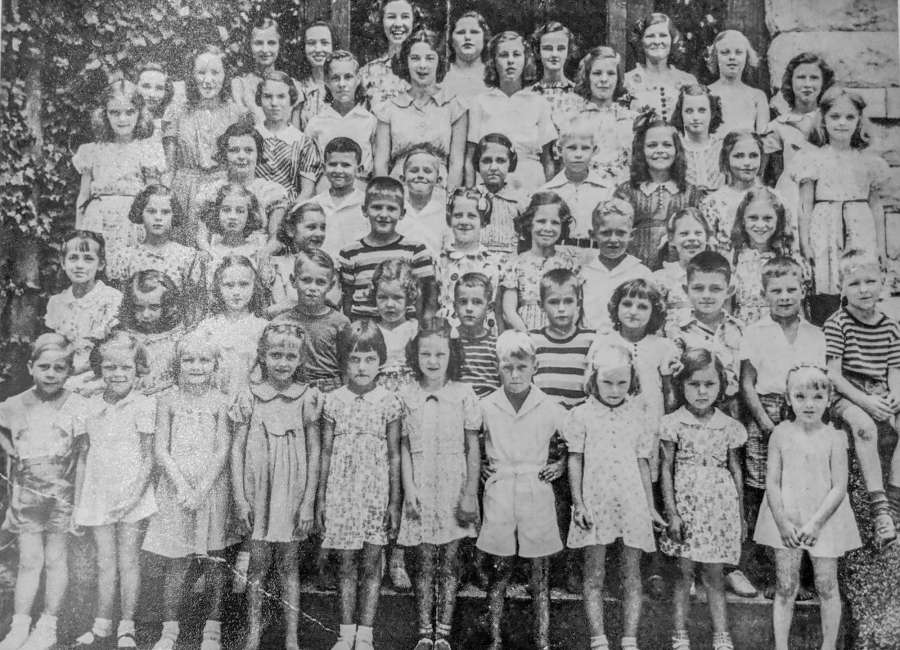 Members from the Central Baptist Church's Vacation Bible School pose for a photograph in July, 1939.

Front row, left to right are, Jimmy Thomasson, Sarah Wilson, Jody Barron, Susan Higgins, Josephine Kidd, Harriet Stripling, Scott Wilson, Norma Chapman, Betty Jean Jones, Marie Higgins; second row, Sally Higgins, Louise Wortham, Emma Jean Moore, Tommy Davis, Thryza Whitem Cecil Davis, Tom Farmer, Katherine Brown, Tom Graham, George Carter, J.T. Haynes; third row, Julianna Hastings, Fannie Jones Glover, Emily Thomasson, Hugh Farmer Jr., Joan Robison, Barbara Ann Gentry, Russell Phillips, Jane Dickson, Elizabeth Shefelton; fourth row, Catherine Coleman, Mary Alexander, Billy Jones, Winfield Jacobs, ___ Kidd, Rosalyn Atkinson, Earnestine Kidd, Irene Coleman; fifth row, Dorothy Harris, Helen Broadwater, Inez Bunn, Nell Smith, Jane Ford, Dell Smith, Ruth Barron, Jane Copeland, Vivian Byrd; back row, ___, Jean Alexander, Annie Bears ___, Elizabeth Vaughn, Carolyn Wilson, and Jean Millians.
This photo was presented by Dr. James Thomasson, as seen on the bottom front row on the left, during a recent event hosted by the Newnan-Coweta Historical Society. You can watch his full presentation at www.times-herald.com
Want to share a local picture from the past? We'd love to see it! You can email a copy to clay@newnan.com or stop by our office on 16 Jefferson Street, Newnan, any time between 8 a.m. and 5 p.m.