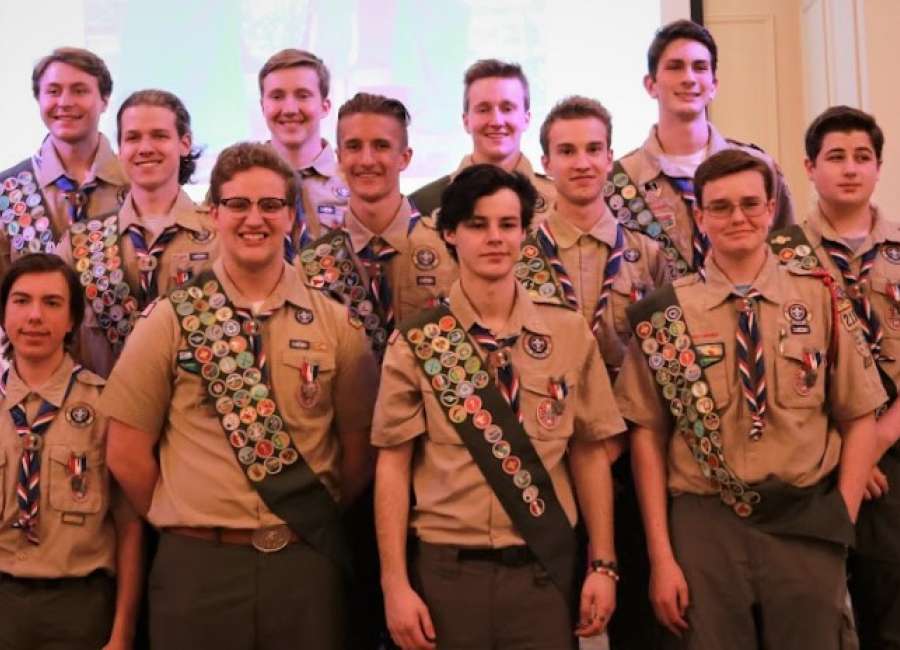 The Scouting Movement and the Boy Scouts of America nurture the great principles of citizenship and character.

Many of America's greatest leaders had some of their earliest leadership experiences and
challenges in Scouting, thus preparing them for their future responsibilities and life. The Eagle Scout award is the highest honor in Scouting, and 12 Scouts were elevated to Eagle recently at Cokes Chapel United Methodist Church near Sharpsburg.
Receiving their Eagle medals were Troop 2193 members Ethan Betta, Will Craycraft, Hays Dixon, Alan Fehn, Will Harper, Rylen Hersey, Walter McReady, Chase Mason, Spencer Paul, Ben Sandstrom, Kaeleb Sandstrom and Rad Wyrick.
The Scouts "achieved something great, something special," said Eagle Scout
Cormac McCarthy, who served as master of ceremonies at the March 31 event. "They were presented their Eagle Scout rank medals. These twelve Eagle Scouts are the best that Scouting can accomplish and achieve in the life of a Scout."
"Awarding the Eagle Scout rank is an important and serious matter. It is the pinnacle and goal toward which these Scouts have worked on for several years. It is the culmination of the efforts of their parents and leaders, and of these Scouts," said Frank Harper, Area 9 vice president for membership with the Flint River Council, BSA.
The Eagle Court of Honor "is an occasion for pride and joy, but it is also a time for serious contemplation," Harper said.
"We salute these young adults, as many will now take their next step in life, as they prepare to go off to college, learn a trade or serve in our country's military," said Assistant Council Commissioner Jim McCarthy. "God bless them as our next generation of American leaders."
Scouting in the United States "is ever changing and adapting, but one thing remains constant: the total development from childhood to adulthood, which depends on the physical, mental and moral growth expressed in the Scout Oath and Law," Jim McCarthy said.
"The skills and obligations of an Eagle Scout are so demanding and challenging, that it is not surprising to learn that only 6.49 percent of Scouts in 2018 earned the pinnacle of Scouting, the Eagle Scout Rank," he added.