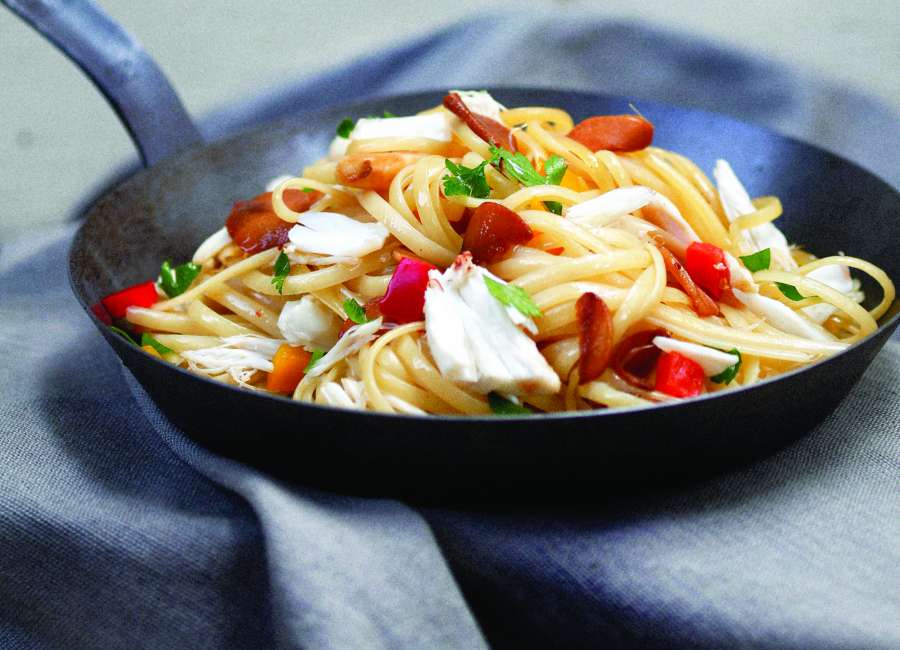 Here are some quick recipes that can help you make a meal in 30-minutes or less.
Grilled Chicken and Rice Foil Packs
Ingredients:
4 boneless, skinless chicken thighs, cut into 1/2-inch chunks
One 15-ounce can black beans, drained and rinsed
1 cup converted rice
1 cup salsa
2 tablespoons pickled jalapeno slices, finely chopped
1 tablespoon tomato paste
1 teaspoon chili powder
1/4 teaspoon turmeric
Kosher salt
2 cups low-sodium chicken broth
2 scallions, thinly sliced
Recipe:
Prepare a grill for medium heat.
Put the chicken, beans, rice, salsa, pickled jalapenos, tomato paste, chili powder, turmeric and 3/4 teaspoon salt in a large bowl and toss to combine. Divide the chicken-rice mixture evenly among the pie pans, spreading it out in an even layer. Pour 1/2 cup of chicken broth into each pie pan
Cover each pan tightly with foil. Put the pans on the grill, close the grill lid and cook for 20 minutes. Remove from the grill and let rest for a few minutes.
Carefully remove the foil from each pan (hot steam will escape). The liquid should be absorbed, the rice tender and the chicken cooked through. Sprinkle each with some scallions.
(Recipe courtesy: foodnetwork.com)
Pasta with Spicy Crab
Ingredients:
Kosher salt
1 pound spaghetti
2 tablespoons canola oil
2 Fresno chile peppers, finely chopped
2 cloves garlic, minced
1 cup dry white wine
1 pound jumbo lump crabmeat, picked over
2 tablespoons finely chopped fresh flat-leaf parsley
1 tablespoon finely chopped fresh dill
1 tablespoon finely chopped fresh mint
2 teaspoons finely grated lemon zest
Extra-virgin olive oil, for drizzling
Freshly ground pepper
Recipe:
Bring a large pot of salted water to a boil. Add the spaghetti and cook as the label directs until al dente. Reserve 1 cup cooking water, then drain the pasta.
Meanwhile, heat the canola oil in a large high-sided saute pan over medium heat. Add the chiles and garlic and cook until soft and the garlic is pale golden brown, about 3 minutes. Add the wine and cook until reduced by half, about 5 minutes. Add the crab and cook until just heated through, about 1 minute.
Add the pasta and some of the cooking water to the pan and cook for another minute. Stir in the parsley, dill, mint and lemon zest. Drizzle with olive oil and season with salt and pepper.
(Recipe courtesy: foodnetwork.com)
Spinach Salad with Pomegranate-Glazed Walnuts
Ingredients:
1/4 cup plus 2 tablespoons pomegranate juice
1 teaspoon sugar
Kosher salt
1/2 cup coarsely chopped walnuts
1/4 cup thinly sliced red onion
One 5-ounce container baby spinach
4 ounces white button mushrooms, trimmed and thinly sliced, about 1 cup
3/4 cup grape tomatoes, halved
1 tablespoon red wine vinegar
1 tablespoon good quality extra virgin olive oil
Recipe:
Combine 1/4 cup juice with the sugar and 1/4 teaspoon salt in a small nonstick skillet. Bring to a simmer over medium-high heat and cook, stirring occasionally, until the mixture reduces slightly, about 5 minutes. Add the walnuts and continue to cook, stirring, until the nuts are coated and dark and the liquid evaporates in the skillet, about another 5 minutes. Transfer to a baking sheet to cool. When cool, break apart with your hands.
Meanwhile, soak the red onion in ice water for about 10 minutes; drain and pat dry. Place the baby spinach in a serving bowl and top with the onions, mushrooms, tomatoes and walnuts. In a bowl whisk the remaining 2 tablespoons juice with the vinegar, 1/4 teaspoon each salt and pepper and then whisk in the oil. Drizzle over the salad and toss just before serving.
(Recipe courtesy: foodnetwork.com)
Hummus and Grilled Vegetable Wrap
Ingredients:
2 medium zucchini, cut lengthwise into 1/4-inch slices
2 teaspoons olive oil
1/8 teaspoon salt
Pinch freshly ground black pepper
1 cup store-bought hummus
4 pieces whole-wheat wrap bread (about 9 inches in diameter)
1/4 cup pine nuts, toasted
1 medium red bell pepper, thinly sliced
2 ounces baby spinach leaves (2 cups lightly packed)
1/2 cup red onion thinly sliced into half moons
1/4 cup fresh mint leaves
Recipe:
Preheat the grill or grill pan over medium heat. Brush both sides of the zucchini slices with the oil and sprinkle with the salt and pepper. Grill until tender and slightly browned, about 4 minutes per side.
Spread 1/4 cup of the hummus over each piece of bread. Sprinkle 1 tablespoon of pine nuts on top. Top with 3 slices of zucchini, 2 pieces of red pepper, 1/2 cup of the spinach, a few sliced onions and 1 tablespoon of the mint. Roll each of them up and cut in half on a diagonal.
(Recipe courtesy: foodnetwork.com)
Chicken with Lemon Herb Sauce
Ingredients:
Chicken:
2 tablespoons extra-virgin olive oil
4 boneless skinless chicken breast halves
Kosher salt and freshly ground black pepper
Lemon Herb Sauce:
1 clove garlic, peeled
1/4 teaspoon salt
1/2 cup chopped fresh parsley leaves
1/3 cup chopped fresh mint leaves
1 1/2 teaspoons freshly ground black pepper
1 lemon, zested and juiced
1/3 cup extra-virgin olive oil
Recipe:
For the chicken: Preheat an oven to 450 degrees F.
Heat a large ovenproof skillet over medium-high heat. Add the olive oil and swirl to coat the skillet. Season the chicken breast with salt and pepper on the smooth side of each breast. Place in the skillet seasoned side down and cook without disturbing until brown and crisp, about 3 to 4 minutes. Season the top side of the chicken and flip. Cook 1 minute over the burner; then transfer the skillet to the oven until chicken registers 165 degrees F on an instant-read thermometer, about 6 to 8 minutes more. Place on a cutting board and let rest for 5 minutes before slicing.
For the sauce: smash the garlic clove, sprinkle with the salt, and with the side of a large knife, mash and smear the mixture to a coarse paste. Transfer to a blender with the parsley, mint, pepper, lemon zest, and juice. Pulse until coarsely chopped and then slowly drizzle in the olive oil. Pour into a small bowl and adjust seasoning. Deglaze pan with the sauce, if desired, and serve with the chicken.
(Recipe courtesy: foodnetwork.com)