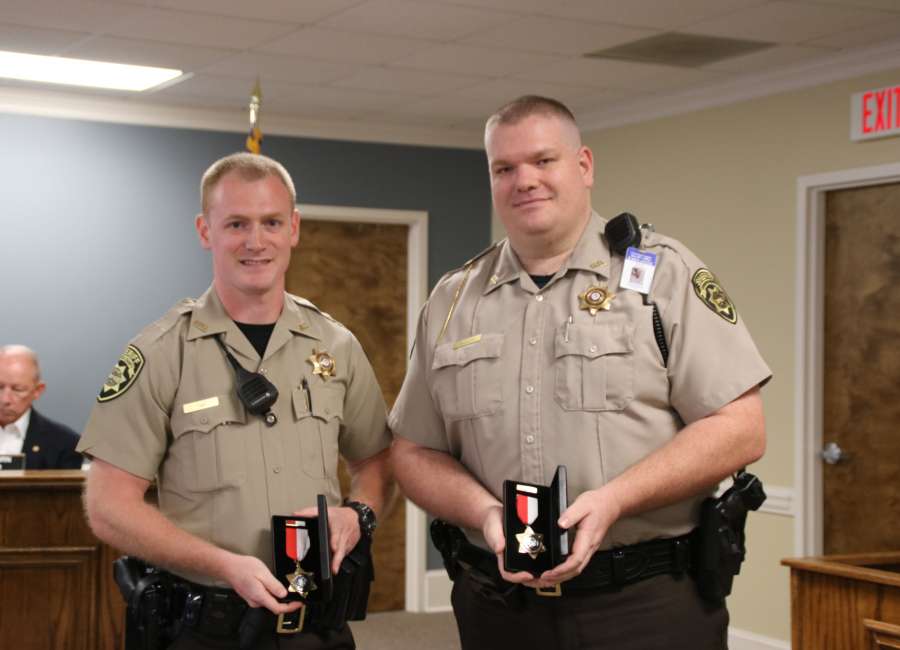 Just after 1 a.m. on April 11, Ned and Jane Chambless were awoken by a phone call from the Coweta County Sheriff's Office, telling them some of their cows were out and wandering around Hwy. 54.
It would turn out to be a fateful phone call.
Ned Chambless quickly dressed and headed out to round up the cattle. He met Deputy Charlie Hall and they were able to round up the cows.
That's when Chambless fell out in full cardiac arrest.
"Charlie realized he was in a medical emergency. He radioed for help," said Lt. Keith Addis of the Coweta County Sheriff's Office.
Hall checked Chambless' vital signs and found he had no pulse. He began CPR. When Deputy Stacy Beckom arrived, he took over CPR and the two continued until Coweta County Fire Rescue arrived.
"They really saved his life," said Jane Chambless.
Her husband was first taken to Piedmont Newnan Hospital, then flown to Piedmont Atlanta, where he stayed for 16 days.
"The doctor in Atlanta said, 'I don't know who did CPR, but I am going to tell you one thing – they did a terrific job and they saved his life,'" Jane Chambless said.
Hall and Beckom were recently recognized with the Coweta County Sheriff's Office's Life Saver Award.
Major Mark Fenninger presented Hall and Beckom with the award during a Coweta County Commissioners meeting.
"Thirty years ago when I started policing, this was something we didn't do," Fenninger said. "More than 30 years ago, we would have been waiting on the ambulance. We wouldn't have known what to do.
"This is how much law enforcement has evolved, and we do it for the community," Fenninger added. "These guys work for years and they take that extra step… this is not something we force them to do. They choose to do this, and we're very proud of them."
"We just feel that it was God's hand in all of this," said Jane Chambless, who said doctors told her at the hospital her husband's heart was in bad shape.
"It was going to happen at some point in time anyway," she said. "It was just by the grace of God that it happened that night that the deputy was there (who) knew how to do CPR," she said.
Then the fire engine and ambulance arrived, and their crews unknowingly continued work on one of their own. Ned Chambless was involved in the formation of the Coweta County Volunteer Fire Department in the 1970s.
"Now look what it has turned into," Jane Chambless said. "It's just amazing. Really, all of them are to be commended for doing such a fantastic job."
Ned Chambless doesn't remember any of that night, she said, and the couple can't figure out how their cows got out. 
But if they hadn't he might not be here today.

Jane Chambless said doctors told her that if the cardiac arrest had occurred while Ned was asleep, he likely never would have awakened.
"He would have just passed out and you never would have known it, or he could have been out in the pasture by himself when it happened," she said.
Now, he's healing up and waiting for heart surgery, she said, but when he was still in the hospital, Beckom came by for a visit.
"He said 'I need to apologize to you. I'm sorry, but I broke some of your husband's ribs,'" Jane Chambless said. "I said, 'That's the least of my worries. Ribs will heal. You saved his life.' We're just forever grateful to them and to the good Lord for providing the right people at the right time."