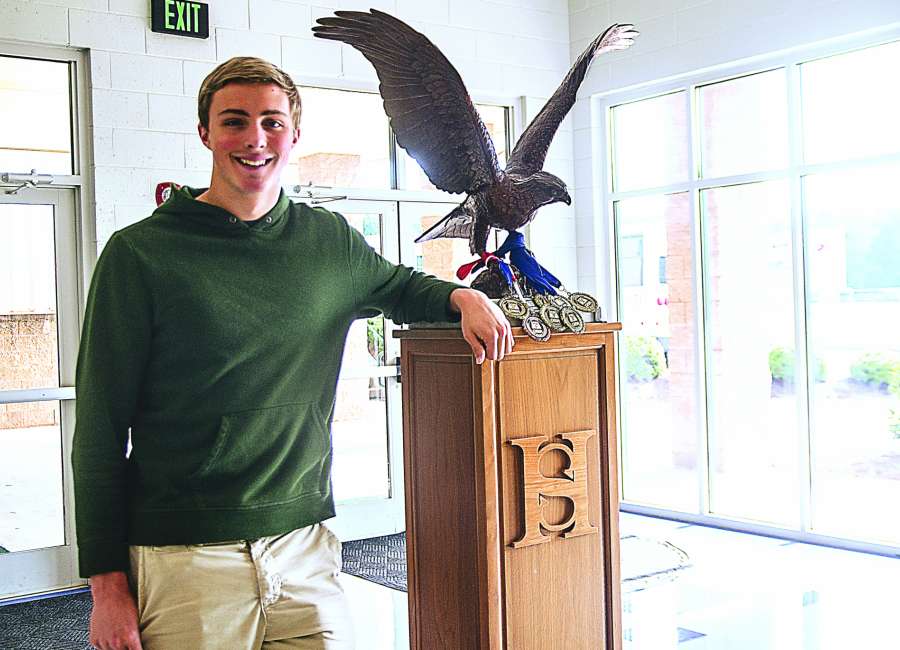 The football field and the baseball diamond weren't quite the match for Riley Scruggs growing up, as much as he tried to find success in both sports.
But in the pool, The Heritage School Class of 2019 graduate took like a duck to water en route to signing this spring with the University of Georgia.
The future Bulldog, who has also excelled as a member of the prestigious Swim Atlanta program, finished his varsity career with 10 GISA state championship medals capped off with an individual sweep of the 50, 100 and 200-yard freestyle in 2019.
Just as impressive, Scruggs has done it while juggling a maximum of four AP courses during his senior year at Heritage.
"At Heritage, they cap you out at four APs your senior year, so I decided to do four APs," he said. "It's tough. But it's good preparation for college, because that's how it is, and it's a pretty good predictor of what it's like in the classroom. If I'm going to be swimming in college, I've got to figure out how to do it anyway."
There hasn't been much that Scruggs has given up on, outside of trying a few other sports that weren't as much of a fit. His physical growth over the past two years had recruiters catching on late but still while in desperate need.
Both Kentucky and Missouri had shown interest among SEC schools with Georgia, led by longtime head coach Jack Bauerle.
"He really is a coaching legend. He's got many NCAA titles, mostly on the women's side during his career," he said.
Georgia, however, has geared up in recruiting after recently struggled both in the 200 freestyle relay and the breaststroke, two areas where he will have a chance to give the program an immediate boost. Scruggs joins an incoming class that includes Swim Atlanta teammate Dillon Downing, a state champion at Blessed Trinity in the 50 and 100 freestyle.
"I do perform better in a team perspective. In relays I tend to swim a little bit harder" Scruggs said.
His final swims in GISA competition included Scruggs breaking the state record in the 50-yard freestyle. An impressive time of 20.97 seconds broke a previous mark that has stood since 1996 when set by future Tennessee standout Jeff Elder.
"In GISA there's smaller meets where you don't have as much competition so the clock is what you're racing," he said. "At the end of the day, that's what you're trying to beat. It doesn't matter who you beat if you're not faster than you were."
In comparison, Scruggs' time in the 50-yard state final ranked better than all but two GHSA swimmers this season — Class A-3A winner Nicholas Goudie of Atlanta International (20.80) and Class 7A champion Jack Aikins of West Forsyth (20.67).
The success in the sprint freestyle has come quickly over the last three years after excelling first in the breaststroke.
"That's more of a primary stroke now [for me] than breaststroke is," Scruggs said. "I'm a pretty long person, so breaststroke's good for that, so I took to it pretty quickly."
Between varsity and club meets, which stretch year round, Scruggs' schedule can run from early morning until late evening, leaving school directly to go to practice in Atlanta before returning for a late dinner and homework.
"It's really constant," he said. "Typically I get a rest day on Sunday."
On top of the schedule, Scruggs has overcome adversity with his own health. During a trip to Colorado he suffered lung damage after having a previous incident at home that already had affected his breathing.
"Just from the altitude, I suffered some pretty severe lung damage," he said. "I came back and recovered from that and that's where I started to find some momentum."
Scruggs' coaching staff at Swim Atlanta, led by Chris Davis, helped create a push in recruiting through its contacts with Georgia, filling them in on his previous situation.
"He was a big part of getting me on my team," he said, adding of the recovery process, "It was tough. But things happen. Life isn't perfect. It's a good learning experience."
Balancing athletics and studies fit much the latter description for Scruggs, who learned the value of time management, using the occasional free blocks at school to get ahead.
"Definitely time management was something I learned from the tough schedule," said Scruggs, who took AP Statistics, AP Physics, AP Psychology and AP Computer Science as a senior. "It's a big workload."
Nevertheless, Scruggs hasn't been anywhere close to drowning while juggling success in both the classroom and in the pool, which has been as much a place to unwind and equally perform at a high level.
"When I'm at the pool, it's a stress relief for me," he said. "It's therapeutic."