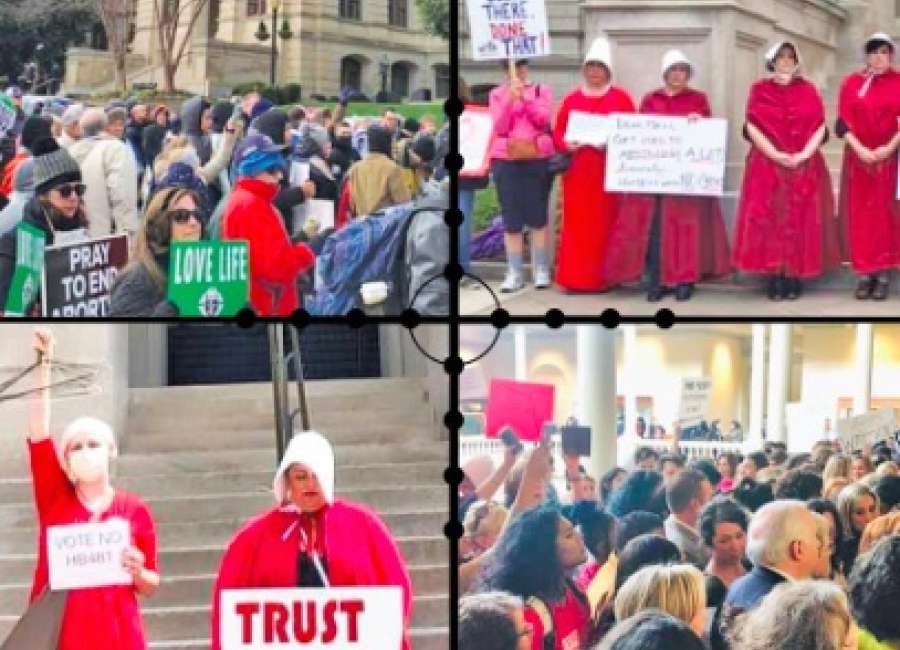 Georgia's controversial new abortion bill makes changes to many parts of state law.
Some of its potential effects are unknown.
But claims made by several online media outlets about its implications have a questionable basis in fact – particularly the widespread claims that the law would cause women who have miscarriages to be interrogated and possibly prosecuted for murder, and claims that women who go to another state to get an abortion could be charged for conspiracy to commit murder.
"There is a tremendous amount of false information being put out there," said Rep. Josh Bonner, R-Fayetteville.
Bonner, who represents the southeastern portion of Coweta, was a co-sponsor of House Bill 481, officially known as the Living Infants Fairness and Equality Act and commonly referred to as the "heartbeat bill."
The bill prohibits abortion after a fetal heartbeat can be detected – typcially at around six to eight weeks gestation, except to protect the life or health of the mother, in cases of rape or incest, or in the case of a "medically futile" pregnancy. 
The law is set to go into effect Jan. 1, 2020, barring a preemptive court ruling. Such a court ruling is seems certain, as many organizations have promised to file suit.
The law is geared toward a third party, such as a doctor, who could perform an abortion.
"There is nothing that prevents a woman from, for lack of a better term, self-aborting," Bonner said. "But it does restrict someone else from performing an abortion."
Georgia law on feticide already states that a woman cannot be charged in the death of her unborn child, and Bonner said nothing in HB 481 changes that provision.
OCGA 16-5-80 defines feticide or voluntary manslaughter of an unborn child as "the willful injury of a mother or the injury of a mother during commission of a felony that causes the death of a fetus." A Georgia Court of Appeals ruling in 1998, Hillman v. State determined a woman who had shot herself in the stomach to kill her unborn child could not be held liable in the child's death.
"What is happening is folks are simply reading HB 481 but not following the fact that there are other provisions in the code that do apply," Bonner said. "Quite frankly the idea that anybody would want to go after a mother for something she did is really… frankly it's just ridiculous. It is so beyond what the intent and the letter of this law is."
Claims that women who travel out of state for abortions could be charged with conspiracy to commit murder are "just flat-out untrue," according to Bonner.
"Somebody point to me where that is possible under current law," he said, adding he thinks those rumors are deliberate attempts by opponents to mislead the public and cause dissension in Georgia.
However, the bill includes a section that states, "All laws and parts of laws in conflict with this Act are repealed," a statement that is included in many bills in the Georgia legislature but carries little legal weight.
"That is boilerplate language," Bonner said. "The Georgia Supreme Court has ruled you actually have to address that law. You can't just say things that conflict with this are no longer valid."
The Georgia Constitution states that no law or section of the state code may be amended or repealed by mere reference, but that legislation shall distinctly describe the law to be repealed and the alteration to be made.
Impacts of 'personhood' wide-ranging
Claims that miscarriage could be criminalized derive from the "personhood" provisions in the law.
HB 481 states that an unborn child with a heartbeat is considered a "natural person" who is to be counted in the census. A parent also can claim an unborn child as a dependent on state income taxes, and a woman can seek child support for costs related to the pregnancy.
However, "No one really knows how the personhood language functions," said Andrea Young, an attorney and executive director of the ACLU of Georgia.
While the intent of the bill is to outlaw abortion, Young said she's not sure if the personhood language seeks to go beyond that intent.
"I think it was just a rush to sort of put a lot of different ideas into one bill," she said.
Georgia's personhood language grants an unborn child the same rights as other people.
Historically, the U.S. Supreme Court has upheld abortion rights because a fetus was not considered a person.
"If an unborn child is a rights-holding person, that's not going to be true just in the context of abortion – that's going to be true across a lot of legal contexts," Florida State University professor Mary Ziegler told Time Magazine. "And that's going to create a whole body of law – not just undoing Roe. It's going to start the court down a new legal path."
A "Frankenstein" bill
The ACLU has indicated it plans to challenge the law in court, but first its staff is working through the law and what it does.
"One of the issues with this bill is that it is kind of a Frankenstein bill. It cobbles together a lot of different ideological ideas," Young said. "It wasn't as if the legislature took every provision and held a hearing on it. A lot of these things were not vetted much during the discussion of the bill. There was a lot of focus on the six-week abortion ban and, I think, not as much of a focus on some of the other provisions that are in the bill."
Young said debate on the bill didn't include nearly enough discussion.
"We saw there was not an interest in having an extensive opportunity for people to be heard on this topic," Young said. "And a lot of the evidence that was presented from physicians, especially, was just dismissed."
The organization plans more extensive research before moving forward with a lawsuit, Young said.
"We want to make sure we understand all of the different provisions and how they intersect with existing Georgia law and existing precedent," she said.
Penalties for criminal abortion?
The bill itself doesn't specify penalties, but Georgia's "criminal abortion" statute states a woman can be sentenced to a prison term of one to 10 years for terminating a pregnancy in violation of state law.
It will be up to law enforcement and prosecutors to decide whether to arrest or prosecute women under the new law. And Young said she is not as certain as Bonner that women would be immune to prosecution and interrogation.
"There is definitely the threat of criminal prosecution… it would depend on the DA, it would just depend on so many different things," Young said.
Young said there have been cases in Georgia where women were prosecuted because they miscarried and didn't go to the hospital.
Possible consequences for leaving Georgia to have an abortion are not addressed in the bill, Young said, and that is one of many questions people have about how the bill's different provisions could apply.
The bill states that a doctor who performs an abortion must provide documents to the DA in the county where the abortion was performed or the county where the woman lives. However, Georgia law doesn't apply to other states.
Coweta Circuit DA Herb Cranford said answering questions related to prosecution would require him to speculate on how courts will interpret the law.
"I will say that for any arguable violation of a criminal statue, prosecutors have a great deal of discretion on how and whether to proceed with a case in order to best achieve justice for that specific case," Cranford said.
Bonner said he's never seen an issue bring up this much interest among people who are not otherwise interested in politics.
"It doesn't matter if I'm at church, the grocery store, my kid's soccer practice... it comes up," he said.
When he talks to some people who are opposed to the bill, especially those who are concerned about the impact it could have on women who miscarry, Bonner said he reassures them that his family understands the pain of miscarriage – his wife has suffered two.
"I have let them know that we, as a family, know exactly how they feel," Bonner said.
He said that has changed the tone of the conversation.
"A lot of the animosity… is actually coming from a place of hurt and pain. And you've got to recognize that," Bonner said.