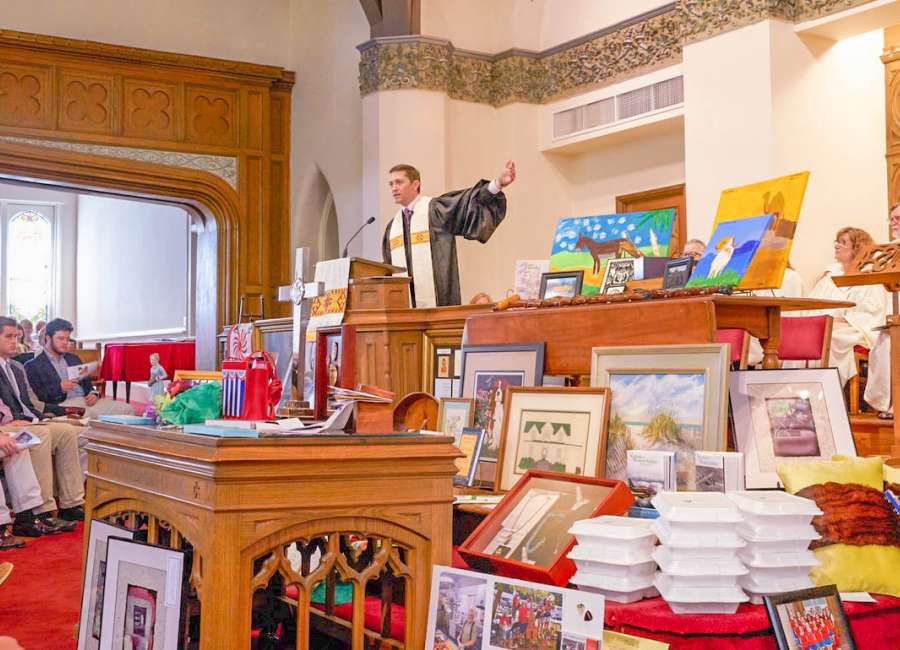 Central Baptist Church recently celebrated a different kind of thanksgiving.

Instead of the annual celebration held in November, members of the church put a twist on the word – filling their sanctuary with a variety of items demonstrating the numerous gifts and talents of the congregation.
Pastor Matt Sapp said the idea originated among members of the choir initially thought of it as a fundraising idea, but ultimately morphed into a worship series idea.
"The idea was to celebrate the talents God has blessed us with and commit to using them to be the presence of Christ in our community," Sapp said.
For the next several weeks, items began appearing inside the sanctuary but it wasn't until the third and final week of the program that saw a multitude of items on display.
Members, both old and young, displayed tangible examples of their artistic talents with items like paintings, books, crafts, and music. One person who spent their entire life filling their journals with poetry shared their work with the public for the very first time.
Others had to think outside of the box to display their God-given talents.
Members with a passion for cooking included members from Central's Feeding Our Friends' program. Each week, the group cooks and delivers meals to over 150 members of the community.
On display inside the church were 153 boxes signifying their gift of benevolence.
Another retired member brought in medical instruments – making a special effort to get to church early to put the item on the altar and avoid the crowd.
"Their organizational leadership or professional expertise was just as much a gift as someones artistic talent," Sapp said. "Someone who might not normally participate in something like this made a special effort to do so. That was really special."
The act also brought strangers together. Sapp recalled two lifelong cattle farmers who brought in pictures and tags from their herds.
"Neither one of them had any idea they shared a profession and passion for cattle farming," Sapp said.
"It was very inspiring," Sapp said. "It was nice to encourage and remind each of us that we have a gift. Some people may say they don't have a specific talent, but we all have gifts that cover the gamut and they can all be used to offer our community and God."