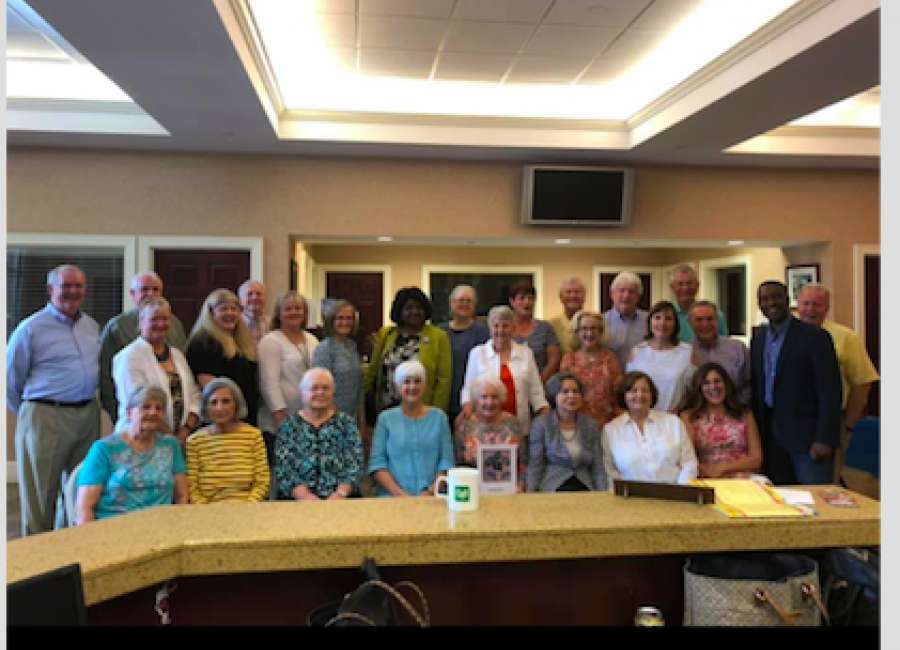 Former bank employees host reunion
Twenty-eight former C&S bank employees and family members recently held a reunion gathering at United Bank in Newnan. The former employees enjoyed fellowship and refreshments. C&S Bank became NationsBank, then Bank of America. It was located in the big brick building at the corner of Jefferson and Springs Streets. The building was one of several C&S branches – which was a big Southern regional bank at one time – designed by Philip Trammell Shutze, a noted Atlanta architect.
* * *
Koontz named YMCA Metro Atlanta CEO

Lauren A. Koontz has been named YMCA Metro Atlanta's next president and CEO, to succeed Edward G. Munster, who will be retiring, after more than 42 years of service to the YMCA. Koontz will be the first female president/CEO ever for the company. "The Search Committee along with our search partners at Heidrick and Struggles were committed to running a comprehensive, inclusive and deliberate process to locate the best possible talent to be the next president and CEO of the Metropolitan Atlanta YMCA," said Scott Taylor, immediate past Board Chair. "The committee was unanimous in selecting Lauren. She is a servant leader who embodies the Y's values in every way."
Koontz joined the Metro Atlanta YMCA in 2012 as its chief development officer. In this role, she oversaw all fundraising efforts including annual and capital campaigns, endowed and planned gifts and community and fundraising events. During her tenure as the chief development officer, the association's Why It Matters Annual Giving Campaign – funding scholarships to ensure that no one is turned away from YMCA membership or programs –  has grown by 136 percent. She also led the Outdoor Vision Capital Campaign that raised more than $8 million to support capital investments at Camp High Harbour at Lake Burton and Lake Allatoona.
"One of the reasons I love the Y is our authentic commitment to deepening community impact and providing access and opportunities for all individuals. Our staff and volunteers live our mission every day and model the Y's core values of caring, honesty, respect and responsibility," said Koontz, who will assume the president and CEO role in mid-July.
* * *
Local business connections and  opportunities
May 13
2019 Breakfast and Benefits, 8:30-9:30 a.m. Newnan-Coweta Chamber of Commerce, 23 Bullsboro Drive.
May 14
Small Business Consulting Services, 9:00 a.m.- 4:00 p.m. Newnan-Coweta Chamber of Commerce, 23 Bullsboro Drive.
May 15
Let's Go Live at Lunch - Facebook Live!, 12-1 p.m. Newnan-Coweta Chamber Facebook page.
May 16
Ribbon Cutting - MAU "Spring into a New Job," 12:30-1:00 p.m. 186 Jefferson Pkwy.,
Newnan.
For more information on these activities, visit www.newnancowetachamber.org .
Items for consideration as business briefs should be emailed to business@newnan.com, faxed to 770-253-2538, or mailed to Business Briefs, The Newnan Times-Herald, P.O. Box 1052, Newnan, GA 30264. Email submissions are preferred.