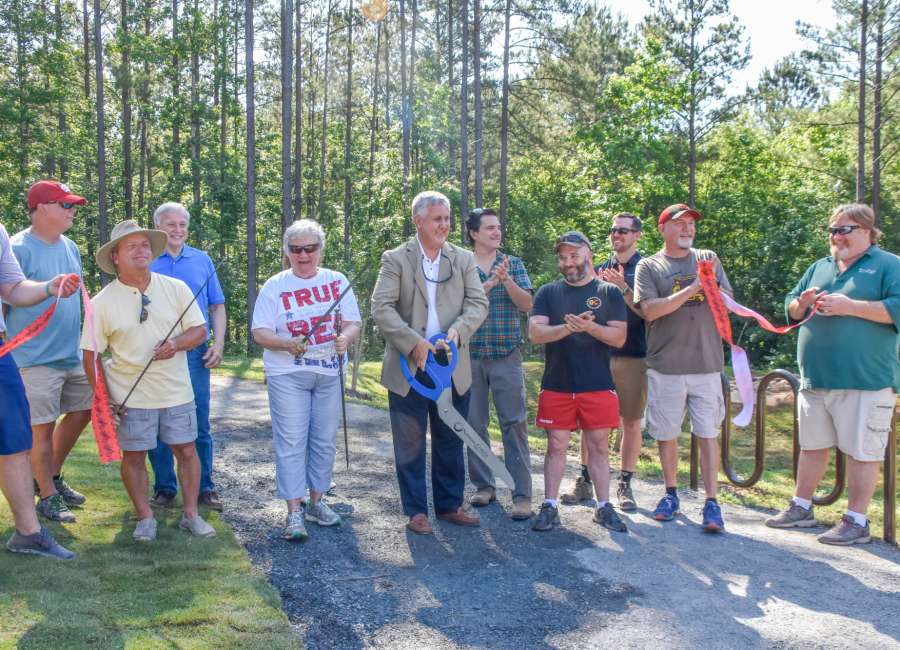 The first locally developed bike trail system has officially opened in Coweta County.
Saturday morning, a ribbon cutting signified the first in a series of shared-use trails for mountain biking, hiking, and running within the Brown's Mill Battlefield.
It marks the first construction for mountain biking trails in five years following the trails built at the Chattahoochee Bend State Park.
Brown's Mill Battlefield is a 200-acre, county-owned property on Millard Farmer Road that was the site of a cavalry battle during the Civil War.
The property has largely been developed by the Brown's Mill Battlefield Association and Coweta County, and has a system of trails already in place for hiking and running.
The first section – spanning approximately 1 mile – was completed less than six weeks after being approved by the Coweta County Commission in March.
Commissioners approved the plan for 5-6 miles of shared-use trails for mountain biking at Brown's Mill, with the support of the Brown's Mill Battlefield Association. The idea was a grassroots effort between Brown's Mill Battlefield Association, MTB Atlanta and Bike Coweta.
Commissioner Tim Lassetter spoke during Saturday's ribbon cutting, thanking those who helped make the trail a reality. Last fall, Lassetter made a trip to Chattahoochee Hills with other local officials to see the amenities of Cochran Mill Park.
"Some things are easy to support and this is a great example,"Lassetter said. "We appreciate SORBA, our fellow commissioners, and Brown's Mill for their perseverance, hard work and love for history."
Carolyn Turner, president of Brown's Mill Battlefield Association, said she's optimistic the new trails will keep bringing in new faces to explore the history of the battlefield.
"But we're really excited about this bathroom," Turner said, referring to the new bathroom installed at the battlefield.
"From the battlefield and historical standpoint, so many surrounding counties don't have that support or pride in their area," she continued. "We don't have to fight that battle here and we're lucky we can cooperate and get more use out of it."
The opening of the mountain bike trail signified a major shift in attitude towards the future of the historic battlefield. Fifteen years ago, many didn't want any form of recreation at the site, Turner said.
"They considered this a very reverent place, which it is, but we realized there has to be some kind of activity," Turner said. "We're very thankful for the bike folks."
While the association's mission remains intact, families are encouraged to come to walk the property, listen to nature and explore history. A recent land swap also boosted the battlefield's acreage from 68 to more than 200.
MTB Atlanta's vice president, Chris Doane, has spearheaded local advocacy efforts and also serves as chairman of the newly formed Bike Coweta, a local advocacy group working as an arm of the Coweta Community Foundation to promote all forms of cycling in Coweta County.
Doane said the new trails are a progression towards keeping Cowetans who enjoy hiking and biking inside the county instead of traveling to Cochran Mill Park in Chattahoochee Hills.
"It's about steps and progression and we're starting small," Doane said. "It's a gateway for getting people down here not only for the trails but for the history as well. People may not realize it's down here and that's what we want to help with."