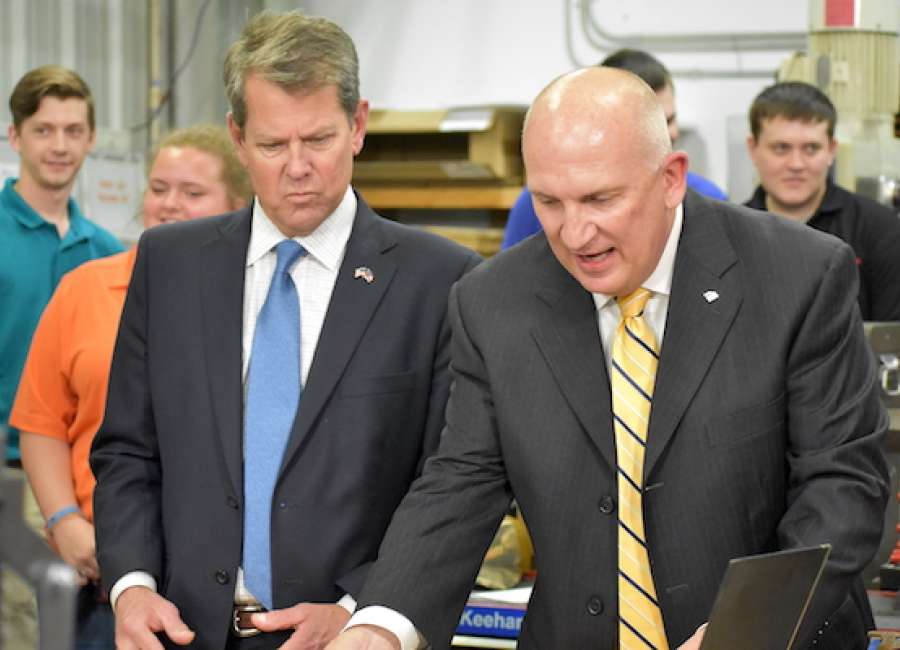 Georgia Gov. Brian Kemp and Lt. Gov. Geoff Duncan made a stop at E.G.O. North America Inc. in Newnan last week for a live look at the state's German-style apprenticeship program.

Prior to a visit to the production floor, David Keller – the company's president – spoke about the lack of skilled machinists, mechanics and electricians that frequently cripples manufacturers in the United States.
"There is a true shortage in our country of these critical skills," Keller told Kemp, Duncan and a crowd of officials representing local government, education, business and industry. "It drives up the cost of that labor, making it difficult for us to compete on a global scale in manufacturing."
That critical workforce need birthed the Georgia Consortium for Advanced Technical Training (GA CATT), an alliance that includes manufacturers, school systems, technical colleges, college and career academies, economic development agencies and the German-American Chamber of Commerce (GACC).
But it started at a more basic level, with a diverse group of Coweta County manufacturers.
"German, Japanese, American and Canadian companies all came together," Keller said. "We don't compete in our product – we compete in our labor force. So we said 'Let's stop competing. Let's work together and build the workforce we need.'"
In 2016, GA CATT launched its German-style apprenticeship program in Coweta County, giving students as young as 15 the opportunity to learn industrial maintenance while earning their high school diplomas and debt-free college credit, along with a salary from the companies that would train them.
"Companies don't have to lose productivity while you're training an employee," Keller said. "(Apprentices) will have spent three years training in skills that you actually need. When they walk in the door at the end of their apprenticeship, they are impactful on day one. They are a proven commodity and resource."
Now in its third year, the Coweta program involves seven companies and 14 apprentices. Two of the apprentices from the pilot class will graduate with associate degrees from West Georgia Technical College on May 22 – two days before they graduate from high school.
Two other apprenticeship clusters, one in Rockdale-Newton counties and one in Griffin, started in 2017 and now include 10 companies and 19 students who are in their first and second years of the program. LaGrange is expected to implement the program next year, and talks are taking place in other areas of the state as well.
"It's a reproducible model anywhere in the state of Georgia," Keller said.
Oversight from the GACC ensures authentic replication of the German apprenticeship program, Keller said, including translating curriculum and exams for certification that is recognized worldwide. The German system is more than 100 years old and attracts 400,000 new trainees a year in 350 fields.
"GACC's support means, at the end of the day, what we do is a worldwide, recognized training program," Keller said. "It's mirrored after a program that has been in existence for 100 years and our intent was to follow it as closely as possible because it works. And I think we've done a reasonably good job.
For more information on Georgia's German-style apprenticeship program, visit www.gacatt.com .