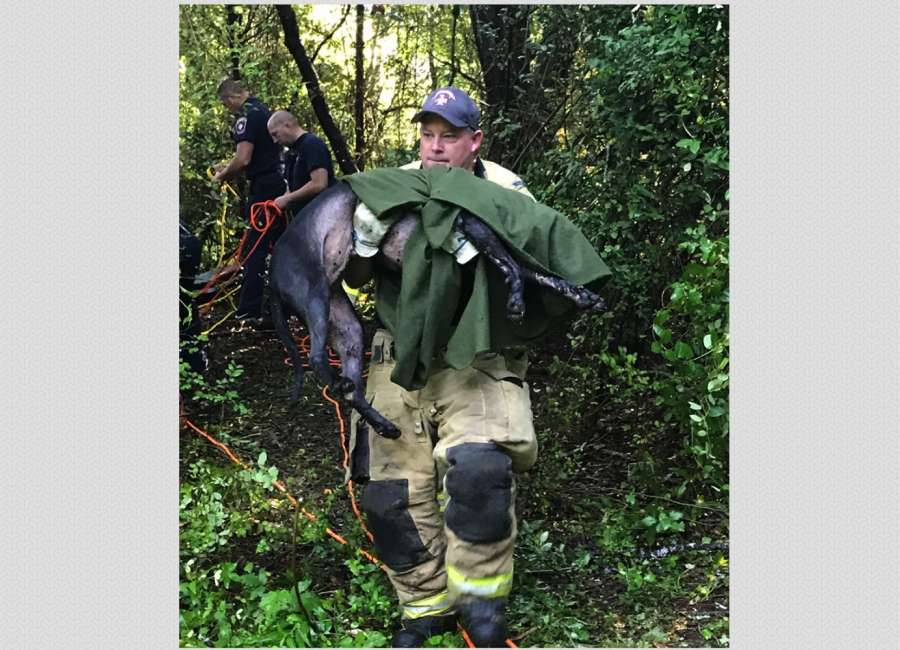 A Coweta dog is getting a second chance at life following a dramatic rescue from an abandoned well.
Sunday night, John and Hannah Daniel were walking with their dogs – Buford and Fonzie – near their property on Old Corinth Road. As they prepared to go home, John called them, but suddenly a huge rumble from the earth filled the air.
The couple stared at each other, puzzled. Suddenly, Fonzie ran back and began barking, but in a very unusual cadence, according to Hannah. When John attempted to pick him up, the usually affable Jack Russell ran away and barked some more.
"We knew something was wrong," Hannah recalled.
Fonzie barked again and ran into the woods. The Daniels followed him until he arrived at a small hole and began barking again. John told Hannah to take Fonzie inside. When she returned, John told her the news.
"Buford's in the hole," she said. "It was getting dark, so we couldn't really determine the depth, especially since he's a black lab."
The couple went back inside for a few hours and wracked their brains about what to do. If Buford had sustained serious injuries, the thought of him dying in the hole was too hard to fathom, especially for Hannah who, one month prior, had to put down her 9-year-old black lab that was slowly dying from cancer.
With her new dog possibly drowning and dying inside this mysterious hole, this was not the way Hannah had hoped to spend Mother's Day.
Send In the Cavalry
Just after 7 a.m., members from the Coweta County Fire Rescue were changing shifts when the call came out.
Among those arriving at the property was Commander Craig Sherrer, who had been told the dog wasn't alive. After looking in the hole, he had some good news for the Daniel family.
"I said, 'I know you think I'm crazy, but that dog is probably fine,'" Sherrer recalled. "In my history, dogs do pretty good."
While a usual animal rescue wouldn't call for a large crew, approximately 14 members from the fire department showed up based on the shift change – some arriving in personal cars. Even Sherrer had to contain his enthusiasm for going down to rescue the dog personally.
It took crews about 30 minutes to set up, go down into the 33-foot hole and grab Buford from the hand-dug well. For nearly 12 hours, Buford had dog-paddled in the cold water, barely keeping his head up by the time crews rescued him.  
Hannah was overcome with emotion. Only hours before, she was grieving the loss of yet another dog in just the span of a month. Now, she was preparing to get Buford to the family vet to determine just what his injuries were.
Aside from nearly drowning, Buford had sustained very little trauma. X-rays and tests showed Buford wasn't injured but needed to be kept overnight for water in his lungs and possible hypothermia.
"I'm in absolute awe," Hannah said. "I've been up for over 24 hours without sleep and have run through every emotion in the book."
Before taking Buford to the vet, she personally thanked each and every member who assisted with the rescue. Crews then took an unused door from the home, placed it over the hole with a fence, rocks and caution tape around it.
Sherrer said the well has been turned over to the Department of Environmental Health to work with the landowner to ensure it gets fixed.
Hannah said she was beyond amazed by the proficiency of Coweta County Fire Rescue, and plans to take Buford back to meet those who helped save him, once he's out of the vet's care.
"They were so positive and calm in such a traumatic situation," Hannah said. "They literally went far and beyond to save my beautiful baby."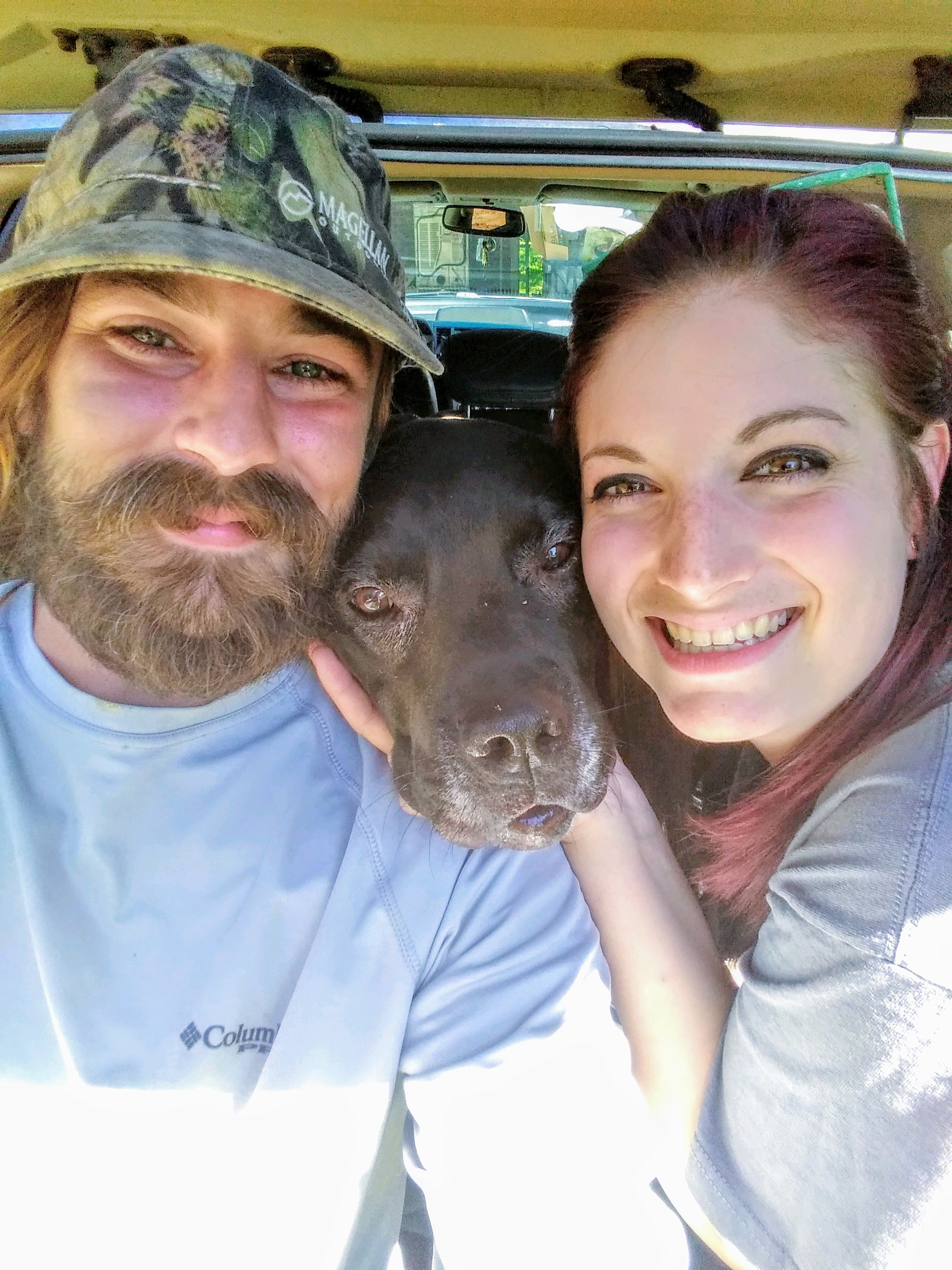 John and Hannah Daniel are seen with their lab, Buford, as he prepares to go home. Buford was rescued and survived after treading water in an abandoned well for almost 12 hours.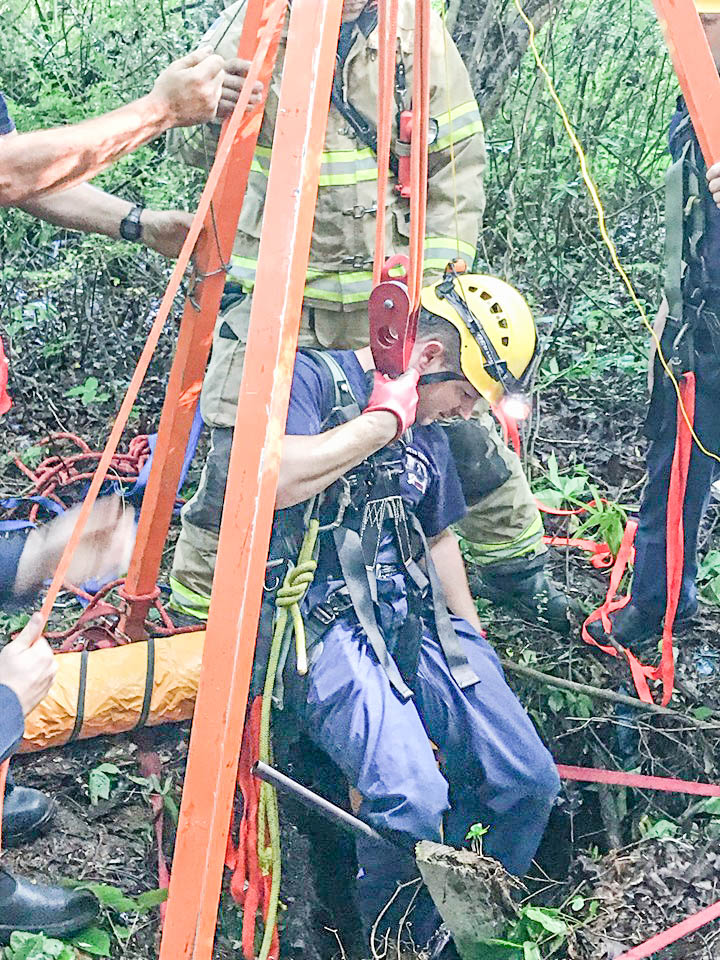 On the rope: In his harness, Eric Gasaway prepares to descend into the hole to rescue Buford.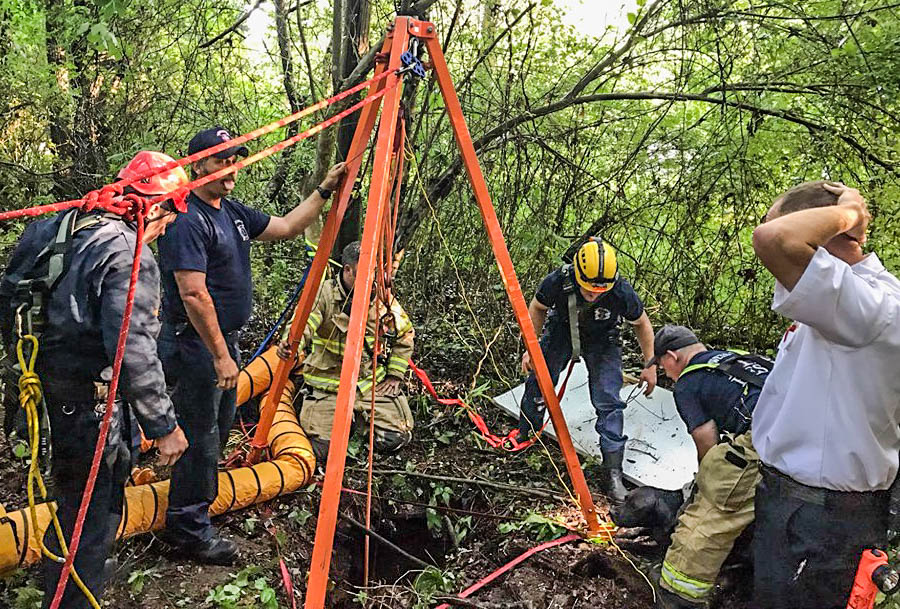 Members from Coweta County Fire Rescue live up to their name, rescuing Buford from an abandoned well on Old Corinth Road. From left are Firefighters Josh Thomas, Ronnie Smith, Kelly Pitts, Cody Darracott, Matt Ransome and Commander Craig Sherrer.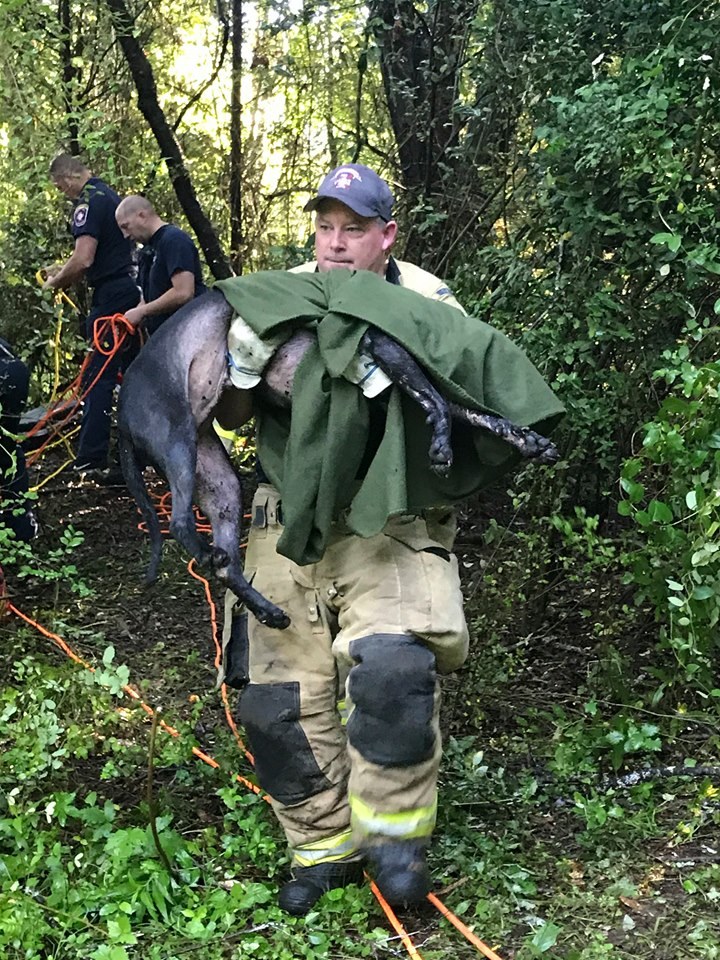 Firefighter Matt Ransome carries Buford after crews were able to rescue the dog from a 30-foot-hole. Buford had tread water for nearly 12 hours before he was rescued.