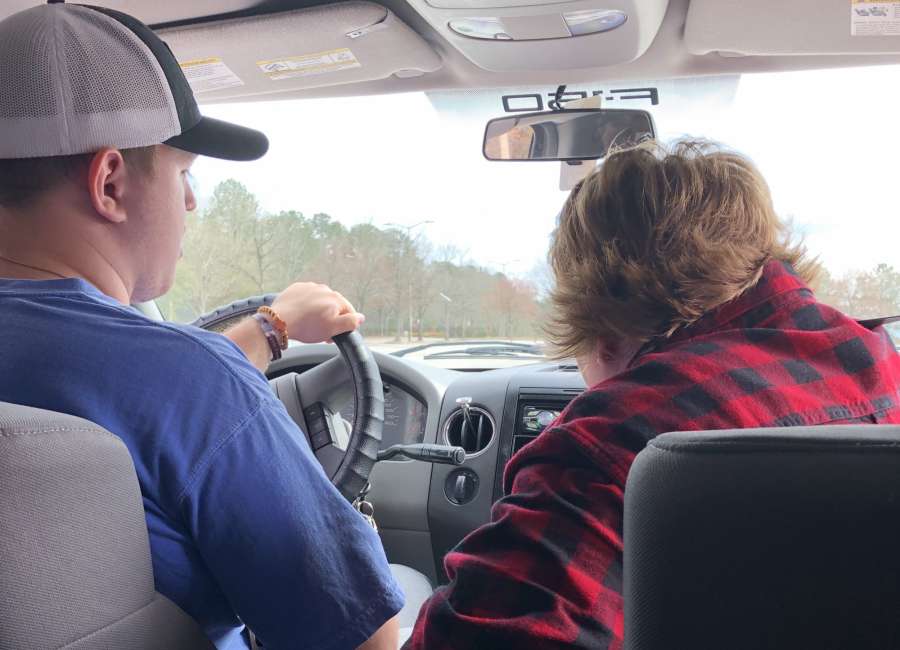 By KIM HINELY
Special to The Newnan Times-Herald
"I got this!" said the handsome, confident, young man behind the wheel to the
driving instructor – and to me looking through the rear view mirror.
His mother is sitting in the front seat beside her son. I hoisted myself into Hayden Haskins's backseat on a recent Sunday at the Coweta County Fairgrounds.
Hayden and his mother spent the previous Thursday night in the chapel of Newnan's First United Methodist Church absorbing difficult subject matter presented by Tim, a semi- retired police academy instructor who used to be a traffic homicide investigator.
The words the instructor used and the accident videos he presented stung.
Monique Haskins, sitting on the pew alongside her son, had to take a deep breath as she watched avoidable crashes unfold on the screen. Understandably, she was shaken, as she is a long time friend of Natalie Bacho, founder of Abby's Angels Foundation.
Monique volunteers her time to install, stock and re-stock the Abby's Angels Closets found in area schools and she chairs the foundation's only fundraiser, The Abby Angels Rainbow Run.
Monique works hard without monetary compensation to carry out the good work of the foundation, but today  she is a mom wanting accident avoidance training for her much loved son.
Monique signed up her newly licensed driver for the afternoon option of the accident avoidance training offered by the Teen Vehicle Operations Course (TVOC) a non-profit founded by Woodrow Gaines of Snellville. Abby's Angels Foundation sponsors the course in Newnan each month and offers the class at a reduced rate for local teen drivers.
Natalie Bacho often drops in on Thursday night to give a personal talk and to gift each teen driver with an Abby's Angels bracelet with the hope it will be a reminder to hold on to their safe driving practices once the class is over. Natalie makes her way to the front of the room as a public service announcement featuring her beloved daughter, Abby, plays.
This same video loops each day for all Georgia drivers to see in Department of Motor Vehicle Offices all over the state. The somber moment brings silence and reverence to the course.
The founder of TVOC, Woodrow, is a middle-aged man with a mustache, a tilt to his head and a purpose in his walk and talk. He wears black.
He started a defensive driving non- profit 16 years ago because the government disgruntled him. They were not educating new teen drivers, and parents seemed uneducated and naïve about the dangers of putting an unprepared driver on the road at 16.
He owns a special skid car to simulate hydroplaning. This morning there had been no need to wet the pavement – with rain dampening the roads, lending a helping hand to Woodrow in teaching his carefully orchestrated and monitored lessons. The afternoon group has abundant sunshine for their session.
"Natalie is an amazing lady," says Woodrow Gaines. He is honored to have Hannah Bacho, Abby's older sister, as a student this afternoon. His affection for the Bacho family and the work of the foundation brings a smile to his face.
Riding in the vehicle offers a personal, up-close view into the instruction given at the class and insight into a male teen driver's mind. I hear the commanding instructor prepare the young driver for an exercise in parallel parking by saying, "You have to work harder 'cause you want to drive this pickup truck."
From my backseat view, I look across the parking lot to see Hannah Bacho in her shiny black car smiling beautifully with Steve, her dad, in the passenger's seat looking proud. They had both been passengers in the car the night of the wreck which took Abby Bacho's life. They both had sustained serious injuries. They are years away from the tragedy with Abby still close in their minds, hearts and spirits.
Hannah is a senior at East Coweta High School. Bravely, she has learned to drive and is taking the course sponsored by the foundation created to honor her younger sister.
Abby should be 15 and turning 16 on July 22. It is with an honorable determination and faith Woodrow and the foundation try each year to connect with this age group that Abby would now be a part of if she her life had not been taken.
Natalie clearly states she needs no recognition. She wants to pass the mantle of responsibility to Abby's peers. She wants this group to know the power of change is theirs. They can help Abby's Angels foundation to "put an end to the fact that every year car wrecks are the leading cause of fatalities of this age group. They can now change what took the life of their friend and classmate."
With parallel parking and some other driving sequences behind the small group of young male and female students and their parents, it was time to for some "Skid-Stop" maneuvers. "Fear This for Life, as the course is often referred, prepares the students with strict instruction and demonstration on how to hit 30 and 35 miles per hour and, then, they are instructed to use their antilock breaks to screech to a complete stop at the spot designated by small and large orange cones.
"Hop in!" says Tim to Hannah. With a tentative smile, she gets in the passenger seat
of her car as Tim takes the wheel. Shortly, Hannah is flying by – smiling as they come
to a complete stop and Tim refers to her Volkswagen as a rocket.
It is time for the students to give the maneuver a try. I have to work myself back up into Hayden's truck because Hayden is insistent that I ride in the back as he completes the skid-stop, and he tells me to fasten my seatbelt and where to find the handle I need to hold onto.
He speeds towards the cones, and I follow his instruction. He executes his stop perfectly. Tim gives him some pointers and some practical information about his tires.
I leave as Hayden is gearing up for a more complicated skid-stop maneuver with a turn at the end. "So far," he quips, "I will not have to pay the money for any cones."
Woodrow and Tim like to have fun with the students. I ask for Hayden's cell phone number to follow up with him about what he has learned. I say goodbye to his mother.
I walk back to my car to find Natalie has driven up and parked. She is smiling, too. Sometimes, tears fall when I think of Abby, and sometimes I smile. Today, I am smiling along with the Bacho family, too, because of the good in this day.
You can learn more about Abby's Angels Foundation by visiting their website or by
following the group on Instagram and Facebook. You will soon get a sense of Abby's
colorful life and why the foundation's work is important.
The non-profit will be back at the Coweta County Fairgrounds on Saturday, April 27 – putting on its annual Rainbow Run to raise funds for all of its endeavors including scholarships awarded each spring to area seniors who have completed the TVOC
course and write a follow up essay. There is a link to donate, sponsor and sign up for the race.
You can also follow TVOC on Facebook and find a link to their website for upcoming dates for the "Fear This for Life" course offered in Coweta County and all over Georgia and Alabama.
A couple of nights after being at the fairgrounds, I texted Hayden some questions about the course and he said, "I like the class because it taught me different ways to avoid a wreck." "I was hoping to learn how to be a safer driver on the road", and "I am more confident in myself if something were to happen on the road."
"Yes, Hayden, you have this!" is my reply to this confident young driver.