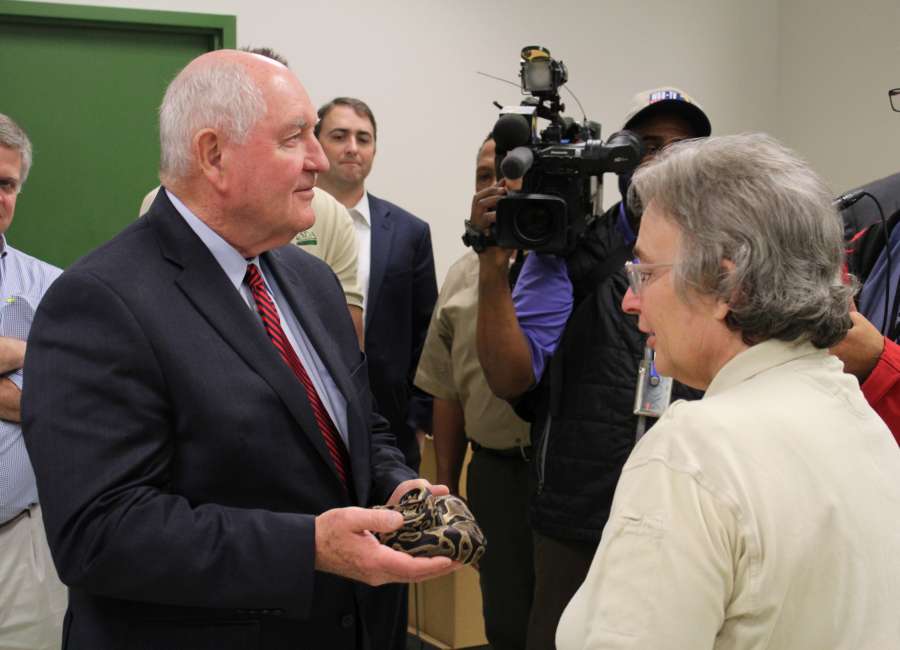 Sonny Perdue, the U.S. Secretary of Agriculture, toured the National Detector Dog Training Center in Newnan on Friday.
The U.S. Department of Agriculture uses the site to train dogs and handlers to find threats to American agriculture, such as invasive species and diseases, along the borders, at ports and in cargo.
"We use these very cute and smart canines in order to help protect our borders," Perdue said. "If we had to open up every bag, you can imagine how hard that would be at Hartsfield or other places. So these animals help expedite commerce."
The dogs at the facility are trained to detect four odors — apple, mango, citrus and pork — through clicker training, said Monica Errico, a training specialist.
"We have lots of things we work on, as far as responses to odors dictate," she said.
With the clicker training, a sound is paired with a response from the dog.
"When they hear a sound they know a treat is coming," Errico said.
According to Errico, the dogs go through five weeks of protocol training where they must earn a qualification with 80 percent before moving to the next level.
Cresandra Anderson, a training specialist, placed a black dog on a conveyor belt with several packages spaced across it. She turned the belt on and the dog trotted to keep its place while climbing over and sniffing packages for odors. When the dog encountered the box it looked for it scratched the box to open it.
Errico said the dogs are trained to have passive and active responses. A passive response is when a dog sits when it encounters an odor in a bag, package or piece of cargo. An active response is when the dog scratches the object when it encounters an odor.
"We want to be as minimalistic as possible on passive and active responses," Anderson said.
Perdue praised the facility after his tour and the demonstration of the dogs abilities.
"These animals help us protect against invasive species," Perdue said. "Some of it is nefarious, some of it is people trying to smuggle things in inappropriately, and some of it is very innocent. Someone from South America wants to bring in a fruit or a vegetable or meat they're used to having at home, but we can't afford to do that because of the variation of pests that can come."
According to the USDA, in October a detector dog discovered a roasted pig's head in a traveler's bag at the Hartsfield-Jackson International airport.
The dogs at borders and international airports are being used to monitor pork coming into the country for African Swine Fever.
"African Swine Fever is a devastating, deadly disease affecting all kinds of pigs, both domestic and wild – and keeping our pork industry safe is a top priority," Perdue said via press release.
During the tour, a handler and a Jack Russell terrier demonstrated to Perdue the dogs' abilities to find live animals hidden inside cargo.
The dog was placed on top of a large series of boxes. It climbed over them and sniffed until it scratched open a package revealing a plastic container with a live ball python inside.
The handler opened the container and allowed Perdue to hold the snake.
"So cool," he said.
The handler said to Perdue that historically the Jack Russell terrier hunts rodents and reptiles.
"This is our first line of defense," Perdue said. "We want to be safe. That's why this training facility is so important."
Perdue has held the agriculture post since April 2017. He was governor of Georgia from 2003-2011.