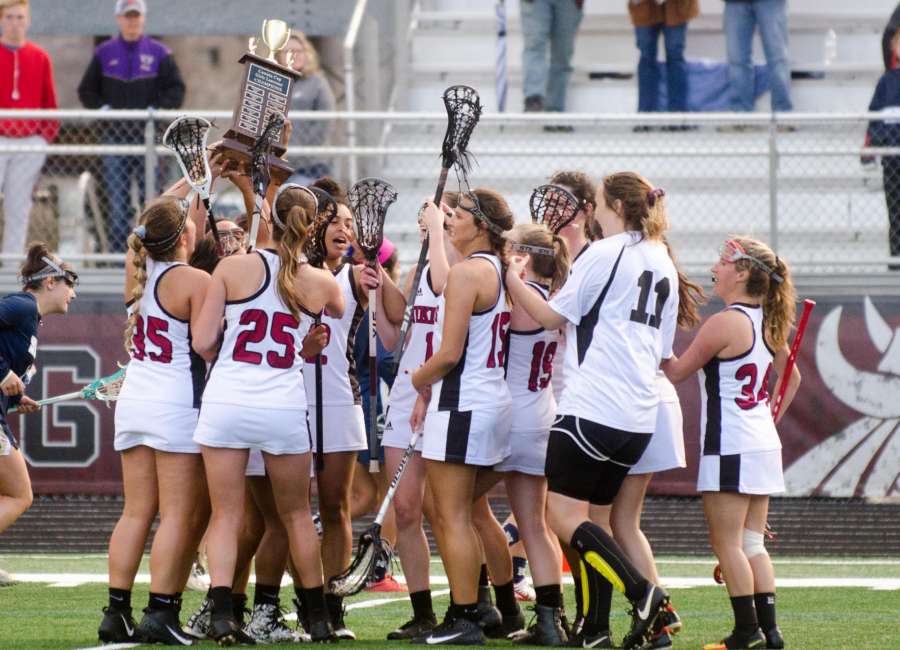 BY CHRIS GOLTERMANN
Cowetascore
In another sign of the growing roots of high school lacrosse locally, the Coweta Cup trophy officially runs out of space in 2019 after naming its first dozen teams to win a championship.
And when it's time to find more room next spring for a 13th winner, two schools will be all tied up among its number of girls champions.
Northgate matched Newnan's string of six Coweta Cup crowns on Friday on its new home turf at Henry Seldon Field, defeating the Lady Cougars 14-5 to close out a sweep of its closest rivals while also solidifying the No. 3 seed from Area 3-6A/7A in this year's GHSA state playoffs.
This year's boys champion, however, will have to wait an extra week to be determined.
Newnan got the better of Northgate in a lopsided 23-1 decision against a Vikings program just finding its footing again at the varsity level after opting to play only a JV schedule in 2018.
Both of next week's Coweta Cup finales between Newnan and East Coweta will carry even bigger ramifications in the area standings.
The winner between the Lady Cougars and Lady Indians will clinch the final state playoff spot in 3-6A/7A, while the loser has their 2019 season come to an abrupt end.
Last season, Northgate, Newnan and East Coweta all qualified for postseason berths in the same region for the first time since varsity programs began GHSA play in 2018.
Reclassification in the GHSA and the reunion of the three locals with Cobb schools Harrison and Hillgrove have left only two playoff berths to divide among them.
Northgate's girls clinched one of them between wins over McEachern, East Coweta and Pebblebrook. The most recent effort over Newnan on a brisker evening than usual for mid/late April provided another milestone for the Lady Vikings, who set a single-season school record with its 13th victory.
Junior Callie DuBose scored five goals while among five teammates with at least a pair in the victory.
Morgan Robertson and Olivia Sims celebrated Senior Night for Northgate players by combining for three goals, two of which from Robertson. Kennedy Halpin, Lexi Whiddon and Mia Griswold also scored twice.
The Lady Vikings went to halftime with a 9-2 lead, but Newnan chipped away to come as close as a five-goal deficit after the break.
Lady Cougars leading scorer Kailey Laudicina got on the scoreboard early to pull within a 2-1 deficit just less than five minutes into the game.
But Northgate's defense, led by Robertson, clamped down the rest of the way.
Newnan goalie Lani Roth helped keep her team in the game, stopping Halpin while trailing 4-1. The deficit stayed at three after Parker Stanhagen scored the first of her two goals for the Lady Cougars while wrapping around the right post from behind the cage.
But a pair of Northgate goalies — senior Hannah Mercer, in her final varsity home game, and sophomore Tia Stephens — each made four saves on opposite ends of halftime to keep their team ahead from start to finish.
Stephens began the second half by making a stop on a free-position play before Newnan picked up tallies from Stanhagan and Maelynn Strickland, also on her way to a two-goalgame. North gate, however, ramped its offense back up among a transition game led by Griswold. After carrying a clear end-to-end, she took a perfect feed from DuBose from the outside for her first goal of the game.
The Lady Vikings closed out the win and the Cup clincher with four unanswered goals after Newnan's Roth made three stops of her own over an eight-minute span as a 10-5 score held.
The Lady Cougars fell to 2-3 in area play and 6-7 overall. The team will host Stratford Academy on Tuesday to get ready for Friday's showdown at East Coweta and a chance to clinch a playoff berth.
Newnan's boys closed out an undefeated week that began with a 12-7 victory over Carrollton.
It included a four-goal effort from senior Colton Sink among balanced scoring. Jack Carroll and David Rembert scored twice, with Rembert adding a team-high 16 ground balls including a majority from wins in the faceoff circle.
Jack Johnstone, Caleb Morris, Luther Morgan and defender T.J. Hill also scored against the Trojans.