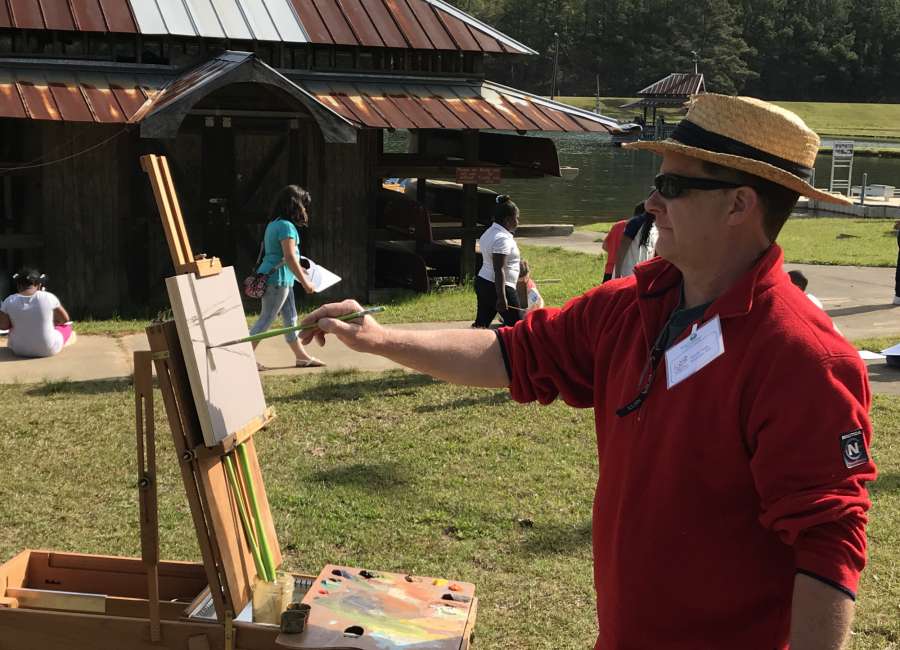 Several Coweta artists are among those taking part in Open Air Meriwether.

The third annual Plein Air painting event began Tuesday and continues through Friday when a reception is planned. A total of 21 professional Georgia artists are participating.
The artists are painting landscapes, waterscapes and landmarks around Meriwether County and its seven cities. The resulting art will be displayed at Artisans on the Square in downtown Greenville from April 12 through May 11.
The opening reception will be April 12 from 2-5 p.m.
Paintings will also be posted at www.OpenAirMeriwether.com as they are completed. The event is co-sponsored by Arts Meriwether, a Meriwether Chamber of Commerce committee which promotes art throughout the county,  as well as by Big Red Oak Plantation, a hunting preserve in Gay which provides lodging for the artists, and Artisans on the Square, a fine art gallery in Greenville.
The mission of Open Air Meriwether is to encourage and support arts education in Meriwether County. Proceeds from the event will be placed with Meriwether Educational and Community Improvement Foundation, Inc., a 501(c)(3) corporation established by Meriwether County Chamber of Commerce. The goal for the money raised by Open Air Meriwether is to establish an ongoing and sustainable program to promote arts education in Meriwether.
Each year students are included in the Plein Air activities. Noelle Friend-Schilke, the art teacher at Mountain View Elementary in Manchester, brings her second-grade students for a morning of observing, talking to and painting with the artists. Community supporters Ellen and John McEwen open the Cotton Pickin' Fair Grounds in Gay for the event.
Coweta artists in the group are David Boyd, Millie Gosch, Martin Pate and Cindy Shaw.
Others artists come from as far away as Dahlonega and Woodbine.