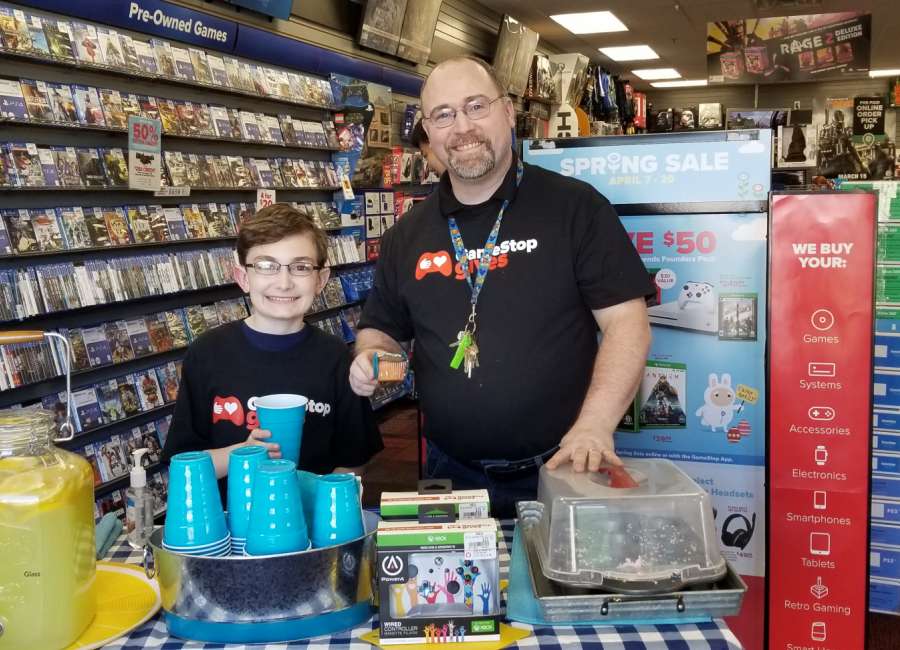 When Newnan GameStop store manager Robbie Kreller's son, Dante, was diagnosed with autism and a severe anxiety disorder in the first grade, the family's world was turned upside down.
But now, Dante and his family are working to help other families in similar situations.
Autism – or autism spectrum disorder – refers to a broad range of conditions characterized by challenges with social skills, repetitive behaviors, speech and nonverbal communication. Autism has many subtypes, and each person with autism can have unique strengths and challenges, according to www.autismspeaks.org, an organization whose mission is dedicated to promoting solutions for people with autism and their families.
During the month of April – Autism Awareness Month – Dante is operating a lemonade stand inside the Game Stop in Ashley Park. Dante and his family prepare homemade lemonade, cupcakes and sometimes snowcones to collect donations for Autism Speaks.
Dante has participated in similar fundraisers in the past. Kreller said Dante usually sets up on the weekends from the end of March until the end of April. The family accepts donations for the lemonade and other items. He said some donors have given up to $20 at a time, and often Dante gets donations from people who are just passing by..
Dante – who is now in the seventh grade– said he wants to help other children.
"People don't have to feel the way I used to," Dante said.
Dante even came up with his own speech to pitch to potential donors.
"He's got a huge heart," Kreller said. "He doesn't like to see other people struggle. He will be the first one to help."
Kreller said although Dante does struggle with his condition at times, he fights through it.
"It's probably a little harder for me and mom," Kreller said.
Last year, Dante's goal was to raise $300. He raised $1,500 and said he is hoping to match that this year.
Kreller encouraged anyone who has or has a family member or loved with autism to find an organization in their area that offers support.
The money Dante raises also helps adults with autism learn how to develop video games, something Dante said he wants to do when he grows up.
About 1 in 59 children has been identified with autism spectrum disorder, according to estimates from the Centers for Disease Control Autism and Developmental Disabilities Monitoring (ADDM) Network.
ASD reportedly occurs across all racial, ethnic, and socioeconomic groups and is about four times more common among boys than among girls, according to ADDM Network.