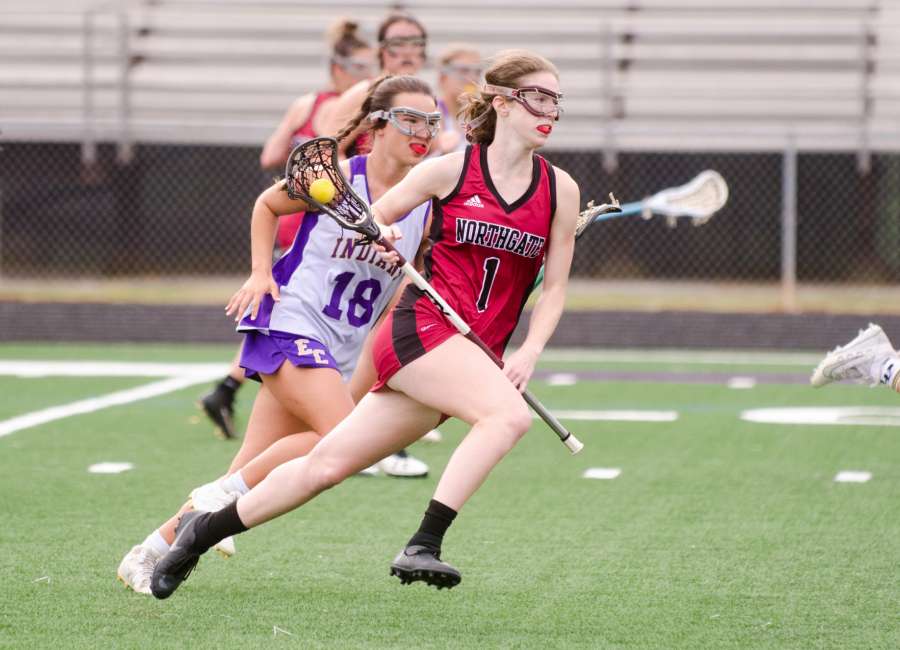 By Chris Goltermann
Cowetascore
In its excitement securing a 10-5 victory over East Coweta to open the annual round-robin Coweta Cup girls lacrosse tournament, Northgate players snatched the trophy they've held in its possession for the past five-plus years and held it aloft in the victory celebration.
Lady Vikings coaches were quick to point out that the team was only halfway through the journey to a sixth straight title.
But it was hard to fault players in their jubilation.
Northgate withstood a much heavier push from the host Lady Indians in the last of two meetings during the 2019 regular season between programs that have shown mutual respect from one another in recent years.
It's been enough that the programs will collaborate to offer the first-ever NorthEast Lacrosse Camp this summer for young players in hopes of maintaining the sport's growth in Coweta County.
A game that was much closer than a previous 13-5 effort at home by the Lady Vikings was equally a contrast among pace.
The two teams let defense dictate in the first 25 minutes, combining for just four goals and working the clock methodically between possessions, some of which lasted three to four minutes at a time while trying to find the perfect set up.
It wasn't until the final 13 minutes that Northgate began to finally see some open space, turning a slim 6-5 lead into a more comfortable victory that was led by Mia Griswold's five-point game.
Griswold was on target after being forced to squeeze through East Coweta's defense, with the Lady Indians quick to add a second defender on ball carriers on the point of entry in the shooter's circle.
But when gaining shooting space with a whistle, Griswold made the most of free position plays that provided open looks on net, burying three opportunities among her team-high four goals scored to go with an assist.
The cup opener, however, showcased both teams' depth in the lineup, enough to produce a stalemate early on.
East Coweta senior Kris Odum and Northgate freshman Sara Page traded tallies less than two minutes apart to open the scoring.
By then, however, 10 minutes had rolled off the clock in a scoreless deadlock.
A two-goal lead by the Lady Vikings at halftime didn't last with offenses slowly picking up as the game carried into the final 25 minutes.
East Coweta teammates Kailynn Alford and Kenedi Wisenbaker immediately tied the game on consecutive goals in the opening 90 seconds.
A 3-3 game carried through another five minutes as respective goalies Katie Owens of the Lady Indians and Tia Stephens of Northgate held their ground.
Northgate used free position shots from senior Morgan Robertson and Griswold to regain a two-goal edge, but East Coweta responded with two of the next three tallies between rivals on efforts from Alford and Maura Ann Ray to pull back to within 6-5.
With Page staying strong on draws at center, Northgate quickly regained momentum, getting a bang-bang play on a feed from the right side by Kaitlyn Maita to Kennedy Halpin in the middle with 11:25 remaining.
With the Lady Vikings' returning core of defenders from last year's Cup champions holding their ground, the team added insurance both from another free position goal from Griswold along with a feed behind the cage between Callie DuBose to Page to push the score to 9-5.
Possession was consumed by Northgate over the final five minutes, getting a pair of ground ball scoops to keep the ball on East Coweta's end of the field.
Robertson later capped off a two-goal effort after emerging from behind the cage off the left post for a point-blank shot past Owens with 1:27 remaining.
Both teams still have to face Newnan as the county's three public school programs are left to settle two state-playoff berths out of Area 3-6A/7A over the next two weeks.
The win kept Northgate ahead of the pace at 3-2 and 11-4 overall.
Newnan sits in fourth at 2-2, having now won four straight games following consecutive non-region victories over Trinity and Bremen (see related story).
East Coweta, at 1-3 and 7-4-1 overall, remains alive while needing only to beat Newnan to gain a second consecutive playoff berth.
Unlike last year — where all three rivals made the postseason for the first time ever collectively — one local team is guaranteed to be left out of the GHSA tournament.
Lady Vikings 10, Lady Indians 5
Northgate 3 7 — 10
East Coweta 1 4 — 5
Goals: Northgate —  Mia Griswold 4, Morgan Robertson 2, Sara Page 2, Kennedy Halpin, Callie DuBose; East Coweta — Kaitlynn Alford 2, Kris Odum, Kenedi Wisenbaker, Maura Ann Ray.
HOST INDIANS TOO MUCH FOR NORTHGATE IN BOYS CUP OPENER
East Coweta made sure an ensuing boys contest at Garland Shoemake Stadium didn't carry the same ambiguity as the previous girls game, dominating play from the opening faceoff en route to a 20-1 victory over a Northgate varsity program that is still getting back on its feet under a new head coach.
The Vikings didn't field a varsity team in 2018 and didn't fare well in their first Coweta Cup game in two years.
East Coweta's play was a big factor, with the Indians using quick and equally crisp passing to set up wide-open looks at the net.
The Indians scored 11 unanswered goals to begin the game and had a shutout bid broken up by a scramble in the final minute of the first half that produced a Vikings goal by captain Caleb Williams.
Otherwise, the scoring was dominated by players in white and purple home jerseys.
Maddox Gelband scored five of his six goals before halftime and Indian teammate Ben Easley contributed seven of eight points over the opening two quarters while finishing with a hat trick and five assists.
The win evened East Coweta's Area 3-6A/7A record at 2-2 and equally put the Indians over .500 among total victories at 6-5 overall heading into Tuesday's trip to Campbell.
Jack Owens added two goals and three assists in the win, while Cade McGraw, Chase Swilley, Ryan Mitchell all had multi-goal games.
Logan Woodward also had a goal and an assist for East Coweta. Goalies Hunter Beckworth and Bradley Gunnin both saw action for the Indians, with Gunnin playing the final period under a running clock for the final two quarters.
Indians 20, Vikings 1
Northgate 0 1 0 0 — 1
East Coweta 7 4 6 4 — 20
| | |
| --- | --- |
| | ReplyForward |