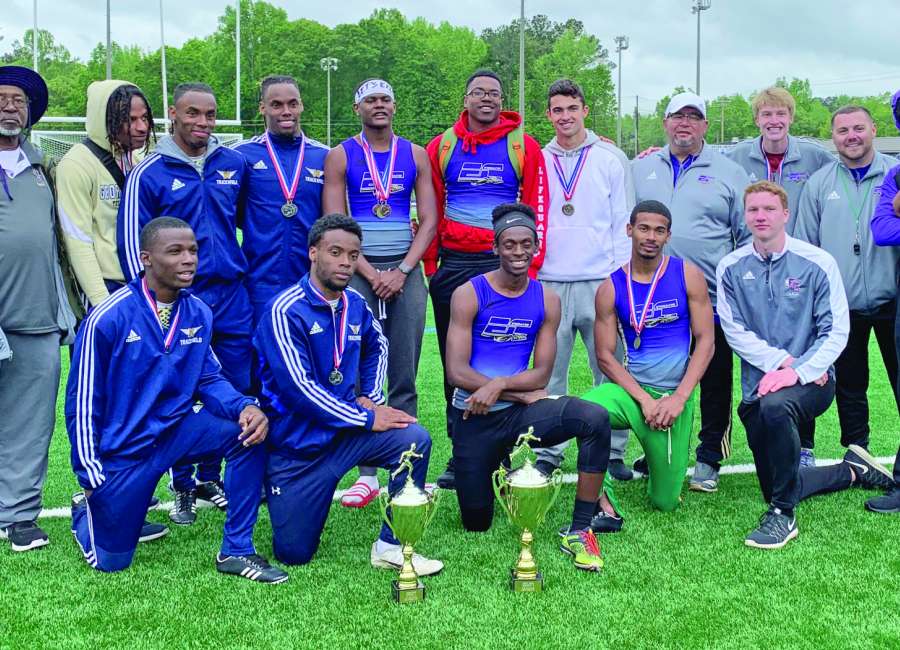 There's a formula to success for a track team looking to win a championship, and math doesn't have to be a prerequisite.
Numbers certainly come into play in the process. But without needing to pull out the calculator, it takes specific ingredients that allow points add up into a team's favor.
A successful lineup certainly needs a handful of top-notch athletes capable of winning a variety of events, and East Coweta's boys team had its share during this week's Region 2-7A championships.
Of seven Indians that placed first individually, only junior Kyle Harkabus doubled up on victories.
But a 179-point effort from East Coweta over two days at Drake Stadium required contributions from throughout the lineup. With both co-host Newnan and Westlake making a late charge during Saturday's remaining running finals, that depth pushed the Indians over the top.
The Cougars also walked away with hardware after tying with Westlake for second place with 113 points.
Among girls, Campbell and Westlake both outdistanced the field with 197 and 163 point efforts to claim first and second place, respectively. East Coweta's girls were third with 76 points and Newnan's girls scored 41 points to place sixth.
The Lady Indians added sectional qualifiers in senior Paishence Collier and sophomore Shannon Ferry, who placed second, respectively, in the 400 and 1,600.
The Lady Cougars were led by Grace Smith's school record during a victory in the 1,600 in 5:39.24.
East Coweta's boys secured nine more spots in this year's Class 7A state sectionals during day two.
After being greeted by 80-degree temperatures to open Wednesday, the meet concluded among elements more fitting mid March among highs that didn't even crack the 60s.
The Indians stayed the course while more chipping in another 100 points from Wednesday's early total. East Coweta scored in all nine running finals on Saturday, coming up with another first-place effort by Harkabus, this time in the 800 meters, to go with a sweep in the hurdles from teammates Ahumad Williams and Ramal Holston.
In his final varsity season, Williams crossed first in the 110-meter high hurdles in 14.54 while just a tenth of a second slower than Wednesday's preliminaries.
After placing fifth in the 110 hurdles, Holston led the field in the 400 intermediate event with a time of 39.90 that compared to a season-best of 39.86 in late March. Williams also advanced to sectionals by placing third behind Holston.
Harkabus will now turn his attention to challenging for a repeat of state titles in the 1,600 and 800 in Class 7A after capturing region titles this year. Crossing in 1:58.49, the Indians standout led a field that had Newnan's Bo Palmer just a couple of footsteps away in second at 1:59.66.
In all, 17 athletes contributed to East Coweta's victory in individual events, with 11 of them now moving on to compete in the state sectionals following top-four finishes in the region.
Following a season-best effort of 6-4 to win the high jump along with a third-place finish in the long jump to also qualify for sectionals, senior Brayden Carey added a third-place effort in the 400.
Sophomore Colby Butts, who qualified in Wednesday's 1,600 final with a fourth-place effort, added a runner-up finish in the 3,200 with another personal-best effort. .
Seniors Dantarius Chunn (100) and Braden Ray (3,200) also qualified with third-place efforts.
Other scorers for the Indians included Isaac Jones, who missed advancing in the 200 by three-hundredths of a second with a fifth-place finish in the 200 (22.72). Christopher Pitt, who won the long jump to clinch a trip to sectionals, placed sixth in the 100.
East Coweta's 'A' relay in the 4x100 also moved on by placing third in a tight finish with Newnan that had the two local lineups crossing in 42.86 and 42.89.
They won't be the only local representatives headed to the Class 7A-B sectional at Archer High School on May 4.
Newnan seniors Tyriq and Malik Hussie each qualified in two individual events and took part in second-place relay efforts in the 400 and 1,600 with seniors Elijah Williams, Vyshawn Wright and Trey Bridges.
Tyriq finished as runner-up in both the 100 and 200 behind Pebblebrook's Kilbren Moore. Moore led the 100 in 11:01 just ahead of the Newnan standout (11.13) and East Coweta's Chunn (11.21).
Moore then crossed first in the 200 at 21.82, ahead of both Hussie brothers starting with Tyriq in marks of 22.53 and 22.64.
Malik Hussie added a second-place finish in the 400 in 51.30 behind Campbell's Egarnoise Evans.
Newnan's qualifiers from Wednesday included Williams and senior SanJuan Warner in field events.
Over the two days, long-distance runners Beck James, Gray Frederick and Finlay Warner joined Palmer in also advancing. The efforts were led by James' victory in the 3,200 while leading four local runners in 10:25.23. Warner also qualified by placing fourth in 10:38.47 while holding off Westlake's Taylor Battle.
Also advancing to sectionals for Newnan individually on Saturday was Quinterrius Bowles with a fourth-place performance in the 110 hurdles.
Newnan's girls received points from Zahria Owens (5th, 200; 7th, 400), Kaylen "K.K." Madrey (6th, 200), Makhia Dorsey (7th, 100), Rachel Woods (7th, 1,600) and Crystalyn Driver (6th, 300 hurdles).