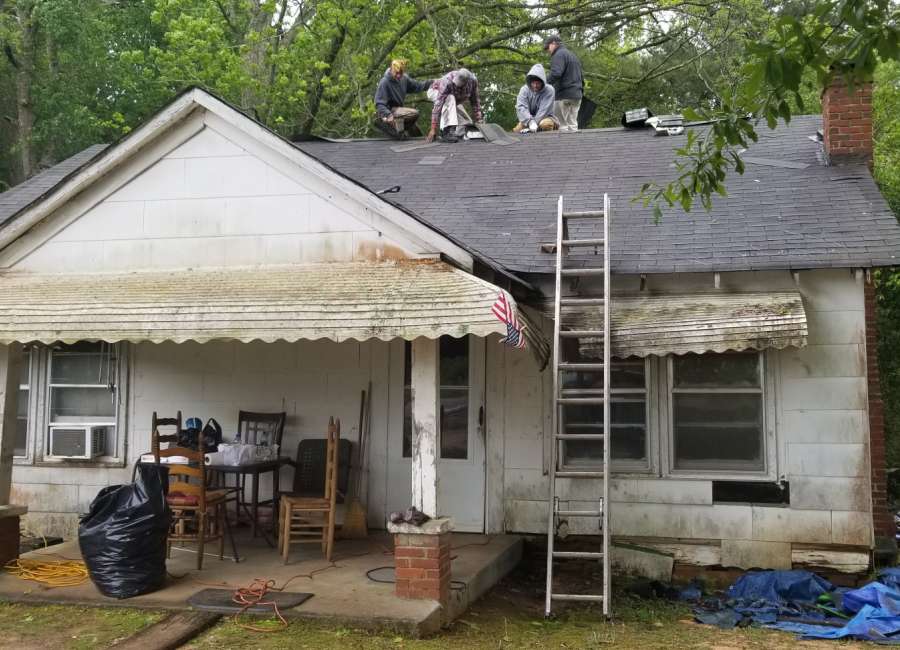 After years of dealing with a leaky roof, Grantville resident Wanda Rosser was finally able to get it repaired free of charge, thanks to Jim Sells and some volunteers.
Wanda's brother, Bubba, died a few weeks ago. Wanda and Bubba were the only two residents of the home of the home on Roger Arnold Road in Grantville – the same house they grew up in. Sells said he bought the property next door to the Rossers, and Bubba came over to ask to use the tarps that were on top of the roof.
Sells, a former mayor of Grantville, owns a property management company and hundreds of rental homes in Grantville and surrounding areas. Sells currently serves on the Grantville City Council.
Sells said he has no doubt the damaged, leaking roof may have had a negative effect on Bubba's health. He said he could not stop worrying about Wanda and what could happen to her health.
"The leaks in the roof would do irreparable harm to her," Sells said. "I just couldn't get over it and stop worrying about her, especially with Bubba no longer around."
In addition to structural damage, one of the biggest health-related consequences of water damage is the growth of molds and fungi within the home. These organisms produce spores that, when released into the air, can prove hazardous to your long-term health.
The most common symptoms of mold exposure include nasal congestion, difficulty breathing, coughing, and sneezing fits. If someone exposed to mold has a pre-existing condition or a compromised immune system, the impact is even more severe, with the possibility of mold growing internally, creating even greater health complications. For infants, growing up in a mold-infested household increases the likelihood of developing asthma.
Sells and a crew of five volunteers – including some of his employees and volunteers from his church – started on the roof Saturday morning and finished that night.
Sells posted on his Facebook page asking for volunteers. He said those wanting to help but unable to climb onto the roof provided snacks and lunch.
In addition to repairing the roof, Sells also provided propane so Wanda could heat the home and cook.
Wanda, who said the roof had been leaking for at least a year, said she was "very thankful" for the roof repair.
"We just weren't able to fix it," Wanda said. "This is wonderful, great, fantastic – all that stuff. I am so grateful to Mr. Sells and God."
Sells said the roof repairs on Wanda's home normally would cost around $6,000.